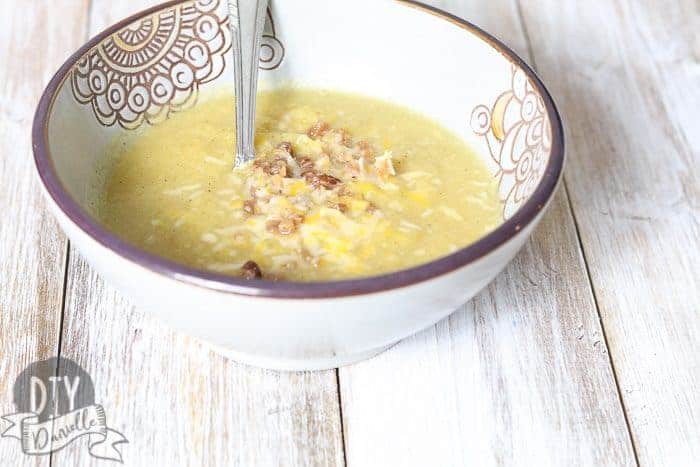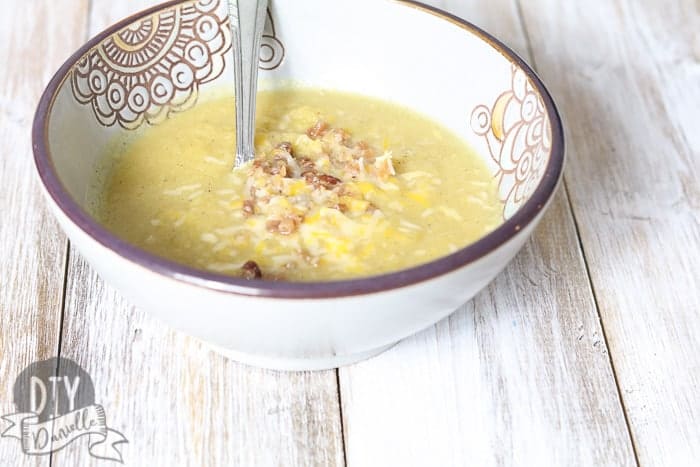 How to make pumpkin soup in the crock pot with pumpkin from your garden. This is the best pumpkin soup recipe ever and it's fantastic for a cold day.
This post may contain affiliate links which may earn me commissions should you click through them and take certain actions. As an affiliate for Amazon, Cricut, xTool, Home Depot, and other sites, I earn from qualifying purchases. Please DIY carefully. View my full legal disclosures here.
Please read the whole post so you don't miss any important information!
Did you grow your own pumpkins this year? We had a volunteer and ended up harvesting one pumpkin from the vine. It was so early in the year that using it for Halloween was out so I decided to cook it!
It was DELICIOUS. I froze it then defrosted it on a cold day and it was a wonderful comfort food for the Fall (or winter!).
Supplies
Pumpkin
Peeler
Knife
Crockpot
Mixer (hand mixer might work or you can use a stand mixer)
Crockpot Pumpkin Soup Recipe
Peel your pumpkin. I had help. Some people peel after cutting the pumpkin.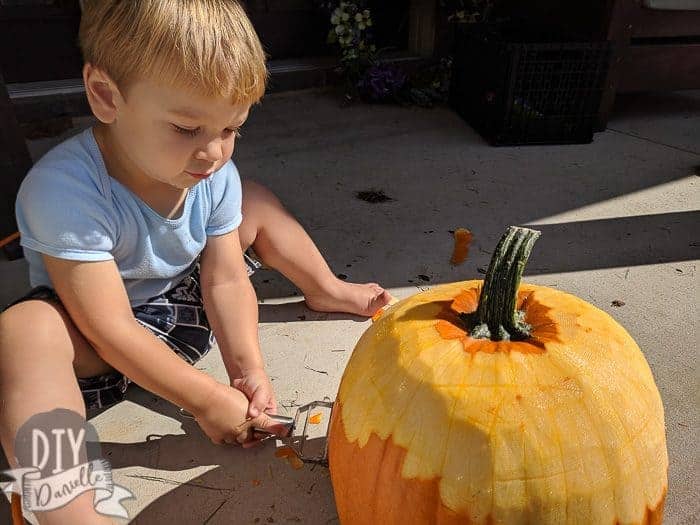 Cut your pumpkin in half. Scoop out all of the seeds.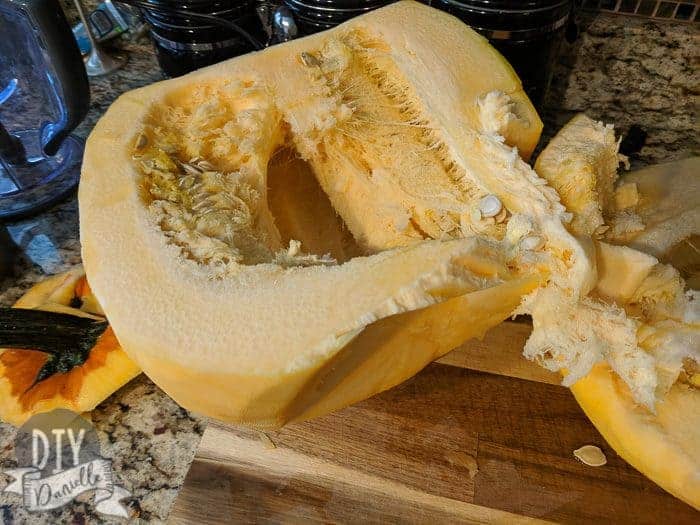 Tip: Set seeds aside to soak in water overnight, then dry. These can be eaten or saved to plant for next year.
Now you can cut your pumpkin into quarters.
Cut the pumpkin into approximately 1-2″ squares.
Fill your crock pot about 80% full with the pumpkin squares. I saved the rest of squares to cook the next day. I'll use them in another recipe.
I added the onions, butter, and garlic too.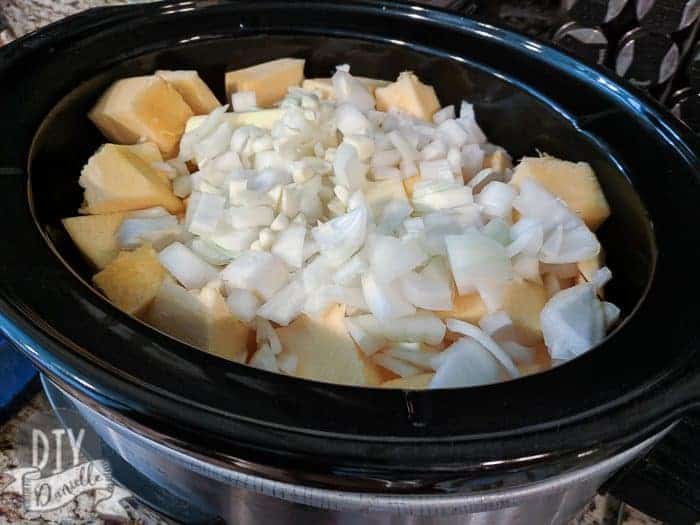 In a separate bowl, I whipped up the rest of my ingredients, then I added them to the crockpot.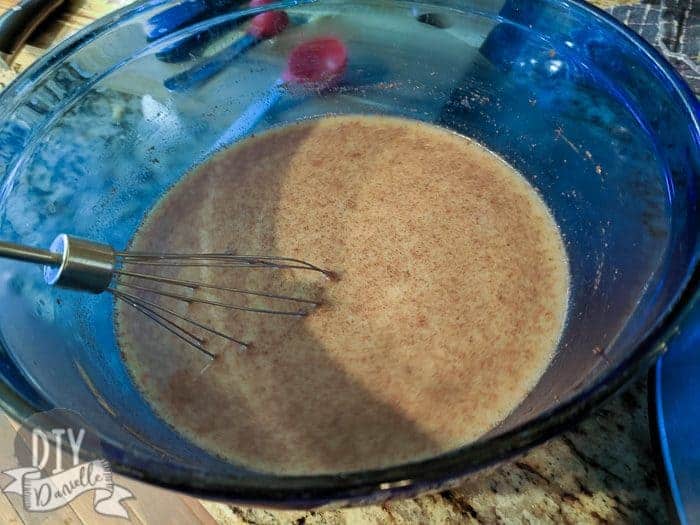 Now I just added the rest of my ingredients.
I put my crock pot on high for 4 hours, checked to see if the chunks were soft. Once soft, I turned my crock pot off to let the mixture cool, then I used a mixer to mix thoroughly.
Once COMPLETELY cool, I divided the soup into two bags (or you can use mason jars) to freeze. Label.
I love adding bacon bits to this soup and shredded cheese!
I put the rest of the pumpkin into the crock pot to cook until soft, then blended a bit. Now I can save it in the freezer (or fridge) to use instead of canned pumpkin from the store. It won't last a very long time in the fridge so make sure to freeze it if you don't plan to cook with it soon.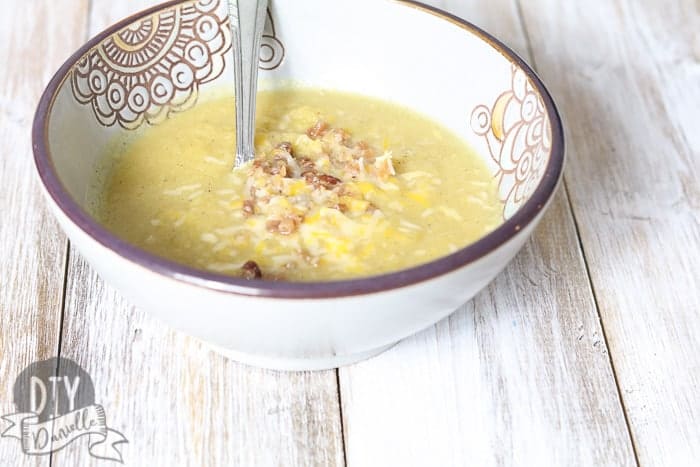 Fresh Pumpkin Crockpot Soup
This easy pumpkin recipes is the perfect soup for a cold day. Make it using fresh pumpkins from your garden.
Ingredients
1 small or medium pumpkin
1 tbsp pepper
2 tbsp kosher salt
3 c chicken broth
1 c milk
2 onions
2 garlic cloves
2 tbsp brown sugar
1.5 tsp cinnamon
1 tsp nutmeg
1 stick of butter
Instructions
Cut your pumpkin in half. Scoop out all of the seeds.

Once peeled, cut the pumpkin into approximately 1-2″ squares.
Fill the crock pot about 80% full with the pumpkin squares.
Add the rest of the ingredients. Cook until soft, around 4 hours.
Let the mixture cool.
Use a mixer to mix thoroughly.
Serve or freeze.
Notes
Depending on how big of a serving you want, some mason jars would be perfect for freezing your soup to take to work for you or for quick lunches.
Recommended Products
As an Amazon Associate and member of other affiliate programs, I earn from qualifying purchases.
Please share and pin this post! If you make this project, share it in our Stuff Mama Makes Facebook Group. We have regular giveaways for gift cards to craft stores. You can also tag me on Instagram @doityourselfdanielle; I love seeing everything you make!