How to make a fake axe to use for an outdoor Halloween decorations on a Haunted Trail. This was setup to swing in front of the kids as a jump scare.
Our Halloween trail involved three moms (including me) and our au pair, Max, who LOVES to make their own cosplay costumes and is SO awesome with making stuff from scratch. Max made this axe and I took pictures along the way. I'll describe what they did! It was such a great way to tackle this project and it primarily used items that were free.
DIY Fake Giant Axe for Halloween
Supplies:
Pool noodles
Duct tape
Red spray paint
Rope
Brown spray paint
First, Max cut out the axe shape from a cardboard box. To make it safer to swing at/in front of the kids, they added PVC along all of the edges and duct taped it all on.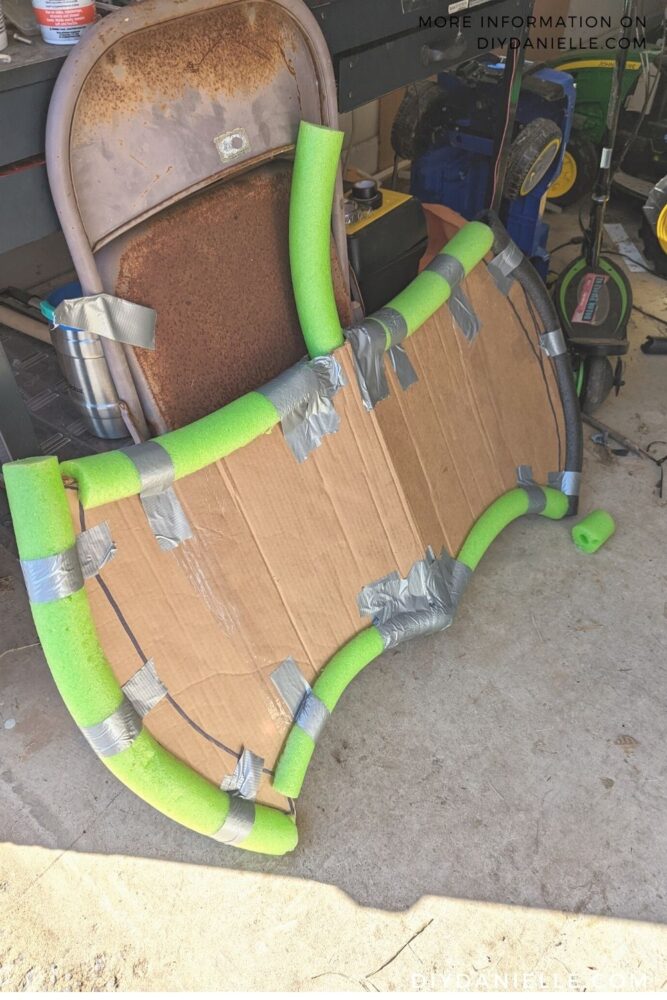 Once finished, Max added more duct tape until it was completely covered. Silver duct tape works great for this! Then they spray painted/splattered the duct tape with red paint.
The pool noodle that goes in the middle is painted brown and a rope goes through that and the axe.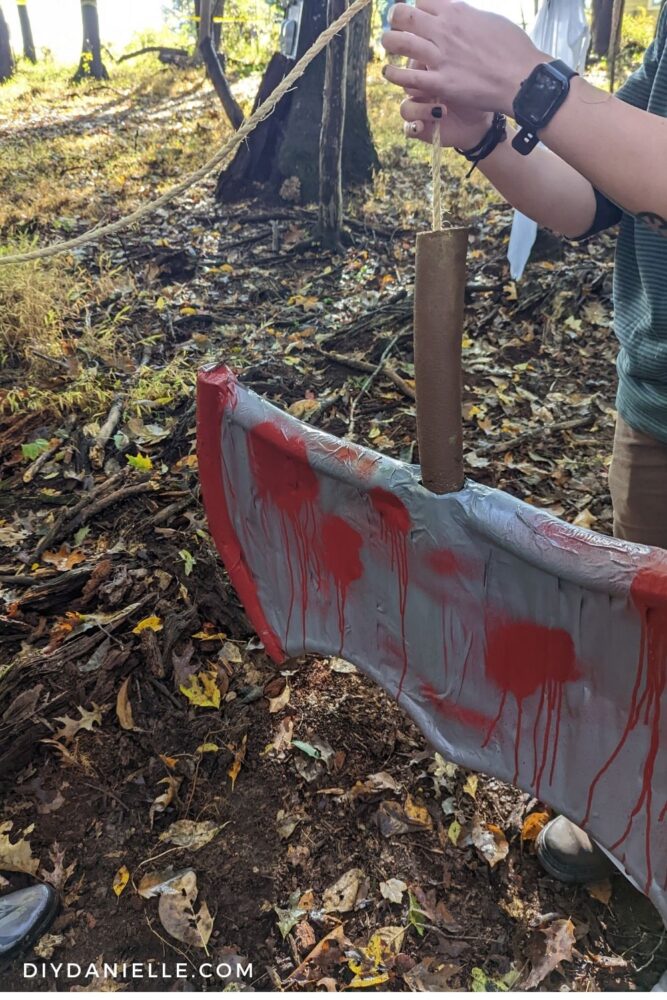 In the end, you'll have a rope out the bottom and top. Tie a big knot in the rope right below the axe.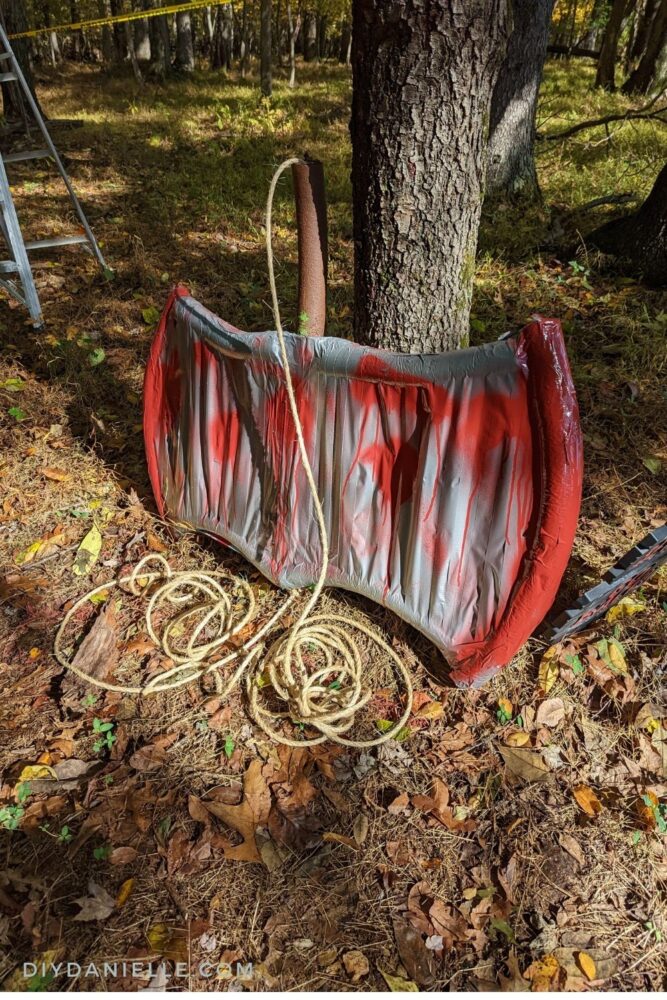 We added a hook on the tree. This allows us to hook the bottom rope to the tree when not in use. The person in charge of that portion of the trail can unhook and swing the axe as people walk the trail.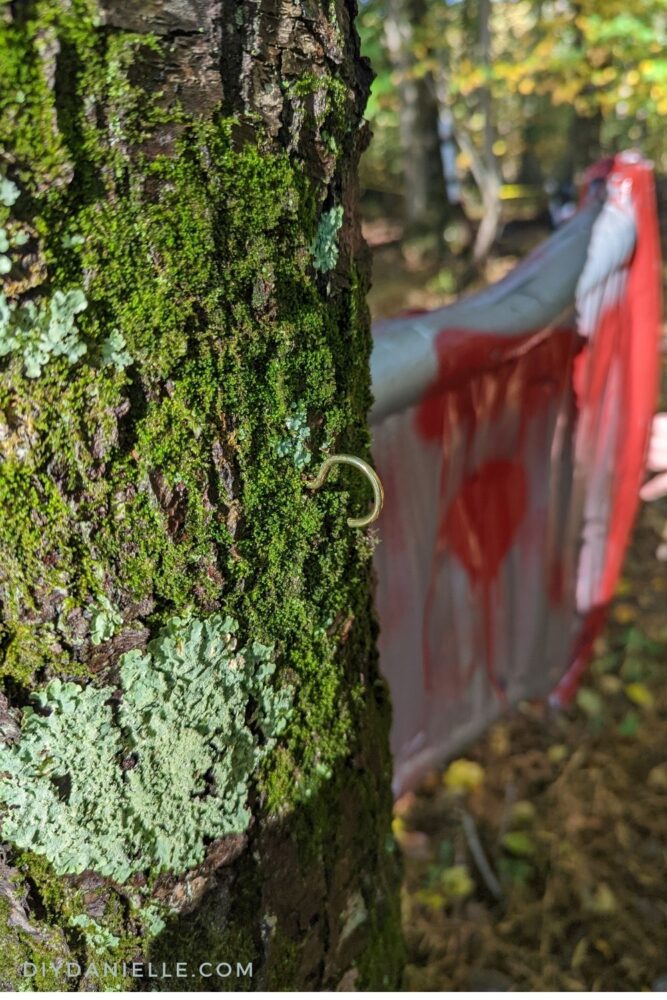 Not pictured… and I'm not sure why I didn't take photos… is the vinyl coated wire that we hung high up in the trees, above people-height (probably 6-7′ up). We used tensioners to tighten it, then hung the axe on a carabiner on the wire so it would slide across.
The axe came out great, but next year I'd like to hook up the axe better. It worked, but I think we could probably get it sliding more smoothly. It would be fun to make multiple of these and have them swinging opposite each other, like one of those fun courses.
As a side note, this axe ended up being fairly heavy. It's NOT a light weight item, although it's obviously far lighter than it would be if we made it with wood instead of cardboard.
Projects from the Haunted Halloween Trail:
Please share and pin this post! If you make this project, share it in our Stuff Mama Makes Facebook Group. We have regular giveaways for gift cards to craft stores. You can also tag me on Instagram @doityourselfdanielle; I love seeing everything you make!