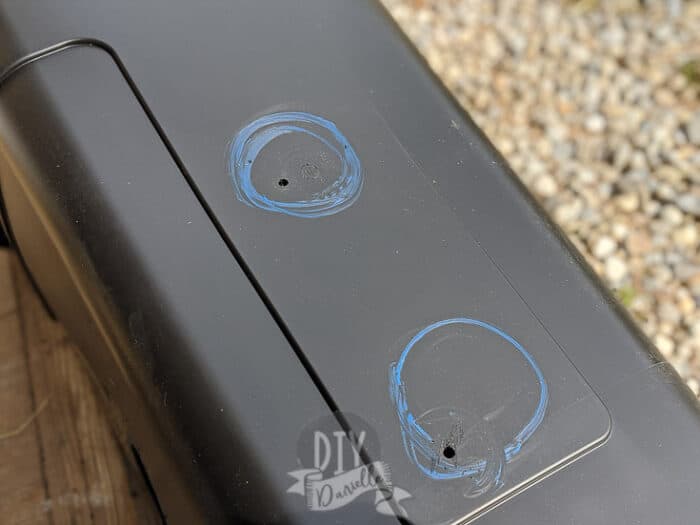 How to make a DIY rolling hay feeder for goats so you can move a bale of hay out to their field.
This post may contain affiliate links which may earn me commissions should you click through them and take certain actions. As an affiliate for Amazon, Cricut, xTool, Home Depot, and other sites, I earn from qualifying purchases. Please DIY carefully. View my full legal disclosures here.
Please read the whole post so you don't miss any important information!
This DIY hay feeder is my latest in my attempts to find the PERFECT solution for the goats. I'd like to reduce my hay waste, make feeding them easier, and try to avoid touching the hay too much (had a batch that I believe had poison ivy in it last year).
You'll need the following supplies:
You want to make sure your garbage bin is fairly stable because goats are jerks. They're going to push it around, rub their heads on it, and possibly jump on top of it to jump over their fencing.
Many people use bins that don't roll, but I have neck and back injuries so a rolling bin was better. I also like to work smarter, not harder.
Start by drawing circles where you want your holes to be. I put some lower to ground and some higher up. Remember that your lowest hole is the lowest the goats can grab hay from… leaving you with bits in the bottom of the bin.
I added four holes because I have four goats and they like to eat at the same time.
Once I drew out where I wanted the circles, I used my drill bit to create a small hole in each circle. This allowed me to place my jig saw in and cut out the entire circle. Very simple.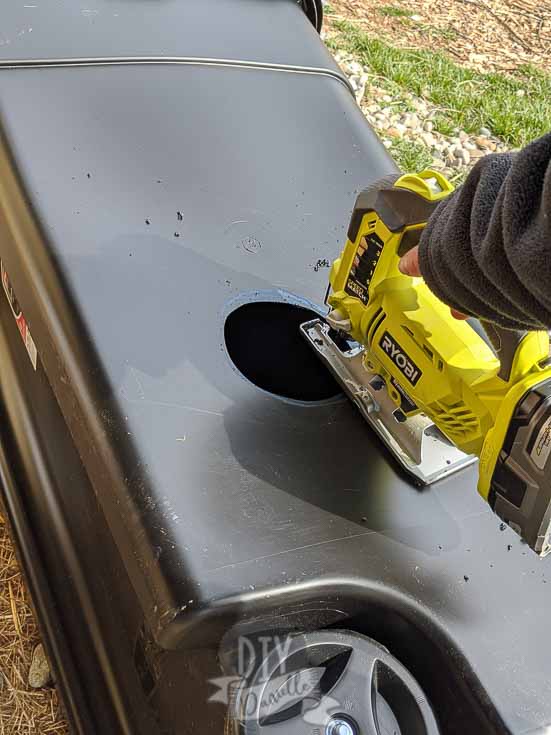 A hole saw might work, but you need a fairly large size one.
Your edges will be raw so you can sand them down, but I found the plastic wasn't very sharp. Just look them over and see if it's necessary.
Plop your hay inside and you're done! My bin fits a square bale of hay but this will depend on your hay bale and garbage bin size!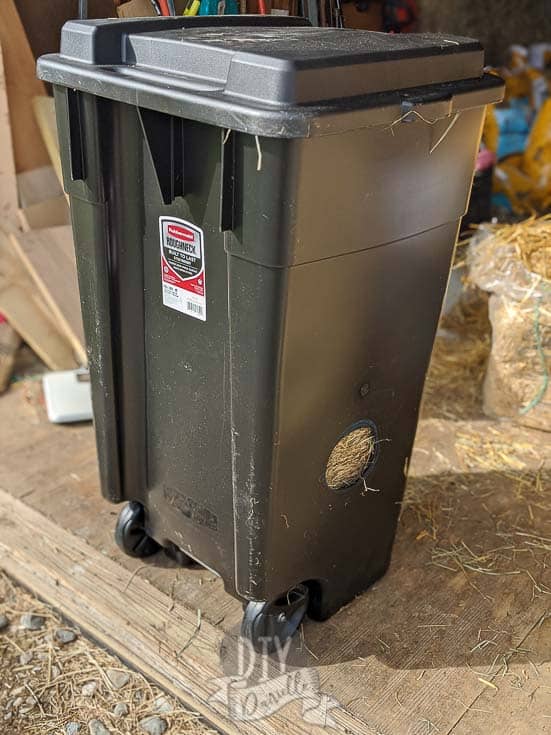 I didn't add drainage holes to the bottom of the bin as I feared that would let in moisture from the ground. Fortunately, I haven't noticed water getting into the bin and rotting the hay inside (yet). I'm not sure if the humidity will be an issue in the summer. If so, we may need to use the wire rack again.
Make sure you place your bin against a high fence. Don't make it too easy for them to use the bin as a jumping point to get over.
Here are some other DIY hay feeder ideas. Other goat blog posts: DIY goat diapers, the goat playground I built my Nigerian Dwarf Goats, and the goat lover shirt.
Please share and pin this post! If you make this project, share it in our Stuff Mama Makes Facebook Group. We have regular giveaways for gift cards to craft stores. You can also tag me on Instagram @doityourselfdanielle; I love seeing everything you make!