How to make your own photo board for the Pinewood Derby. This project gives your troop a place to display their cars and take photos!
I saw this idea on Pinterest where some had made a photo board where you could hold it up to take a picture with your Pinewood Derby car, and I decided to recreate it using my Cricut. Apparently these photo boards are often called "Peep Boards" or a "Photo Stand In" or "face-in-the-hole boards." Honestly I was hoping there was a better name for these… but alas…
Regardless of the silly name, this was a fun and easy project. I had leftover 1/4″ plywood from making my DIY Card Box and I always have a nice stock of vinyl on display in my Cricut Vinyl Wall Storage. I plan on donating this to our troop and everyone will be able to use it each year at the Pinewood Derby. My oldest son is moving up to Boy Scouts next year, but I have two younger sons who will be in Cub Scouts for a few more years.
Pinewood Derby Photo Board DIY
Supplies:
Drill and drill bit
9.5 x 4.25″ piece of scrap wood (I used a decent piece of pine scrap)
Optional: Lattice or something else to frame the photo area
Primer and Paint (White)
Permanent Vinyl: Black and blue
Cricut File / Canva File (if you need to make corrections)
Use the Discount Code DIYDANIELLE on cricut.com for 10% off any cutting machine or heatpress (no minimum). Excludes: materials/accessories/mystery boxes/etc. Applies to US/CA only, code expires 12/31/23.
Step 1: Cut your 1/4″ plywood to 21.25″ tall by 30.5″ wide
Step 2: Use a pencil to draw your desired placements on the plywood. This is a good time to plan- you don't have to make it the same as mine! My race car window is 9.5″ wide by 5.5″ tall. The face window is 12.5″ tall by 9″ wide.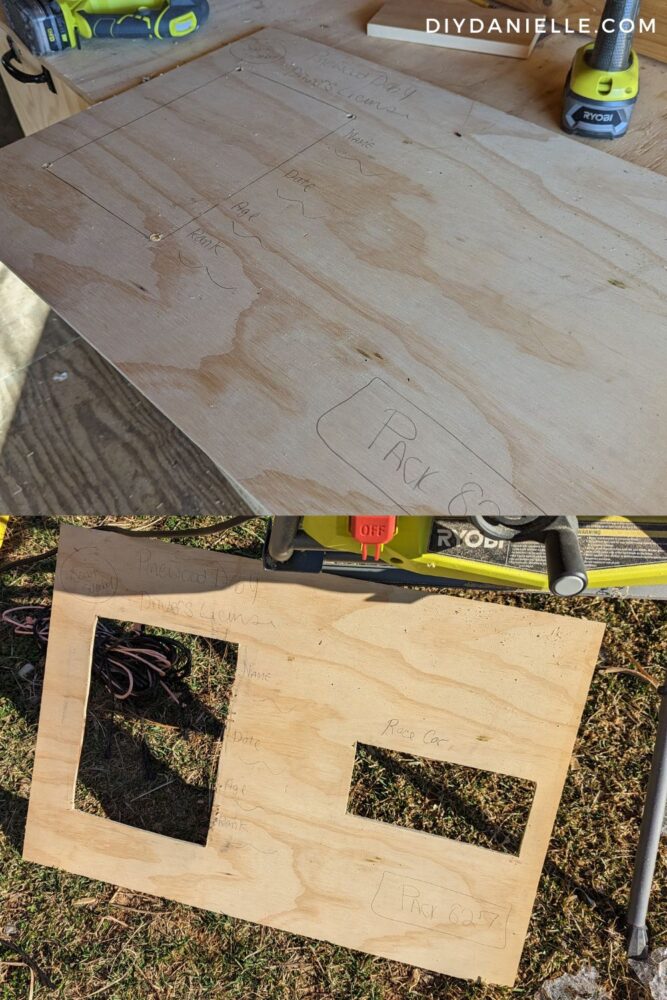 Step 3: Use a drill bit to drill a hole in the inner corners of your two windows. Then use the jig saw to carefully cut out the windows. Go slowly and make sure your setting is correct- I forgot to change my setting and I ended up breaking off some of the plywood (hence my use of the lattice).
Step 4: Sand the edges of the windows and the frame.
Step 5: Cut a piece of scrap pine wood to fit in the window (9.5″ x 4.25″)
Step 6: Lower your table saw blade so you can cut a groove down the center of your pine wood (along the width). You may need to run it through a few times to get the full 1/4″ width.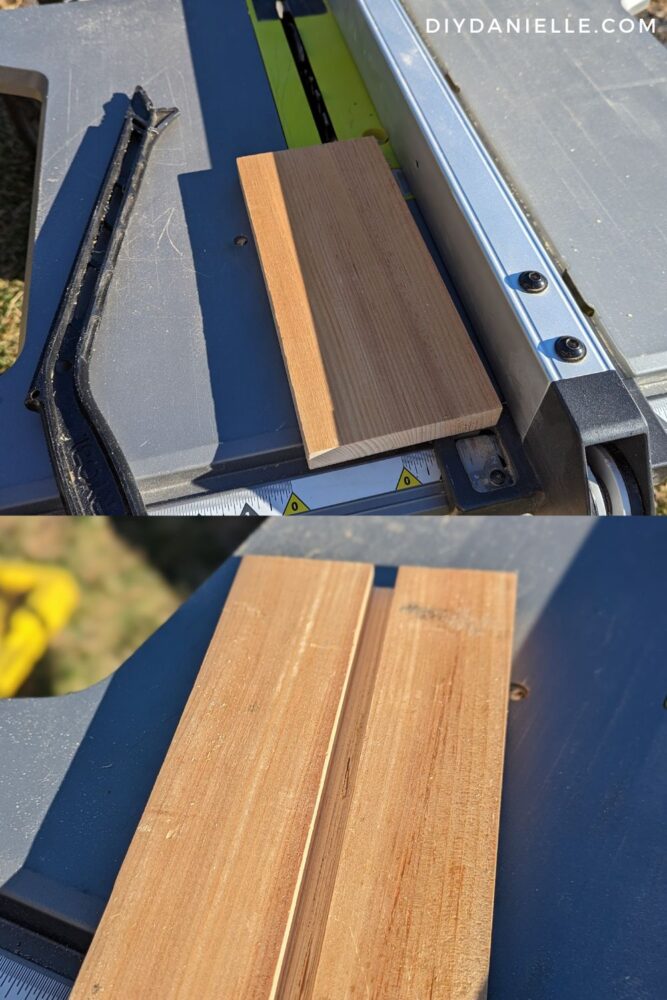 Step 7: Prime and paint the main board and the board for the car display.
Step 8: Cut and glue on your lattice if you want to frame the photo area of the board.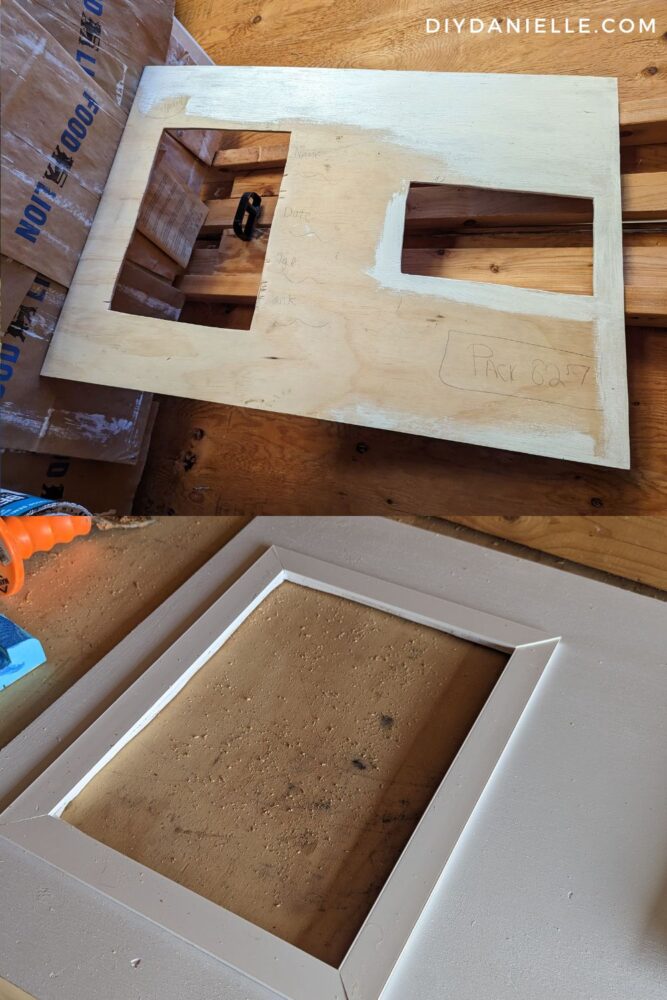 Step 9: Once dry, use the Cricut Maker to cut permanent vinyl for your text. You can hand paint the text on if you don't have a Cricut machine.
You'll need to adjust your permanent vinyl to fit where you want the text to go. For example, my "Pinewood Derby Driver's License" text needed to be a max height of 3″ to fit between the face window and the top of my board. I adjusted all of my text to fit where it needed to go.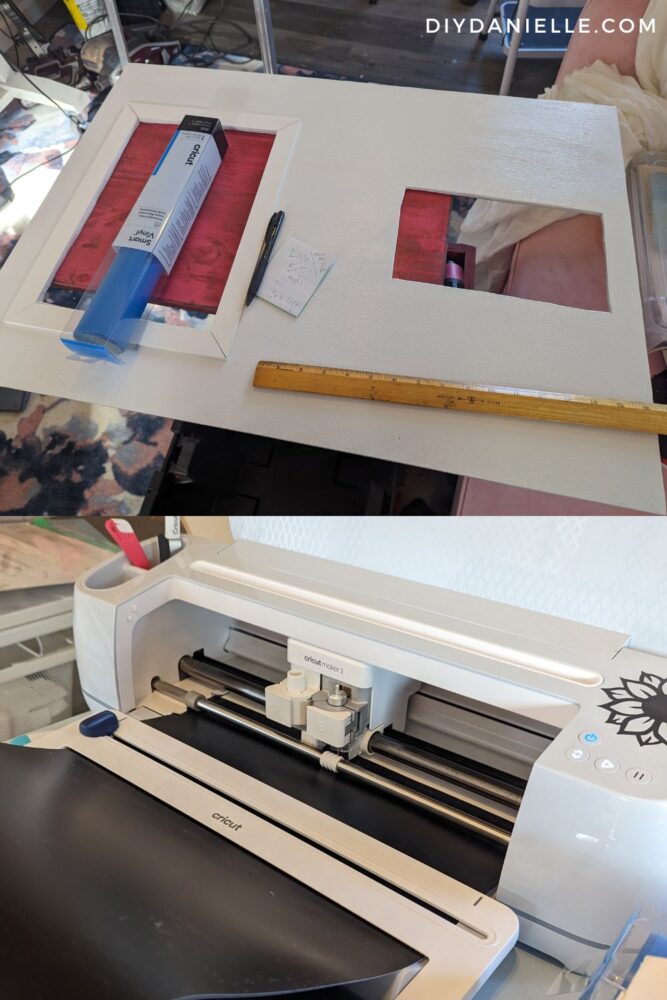 Step 10: Transfer your text and Scouts logo onto your peep board using transfer tape. Remove the transfer tape.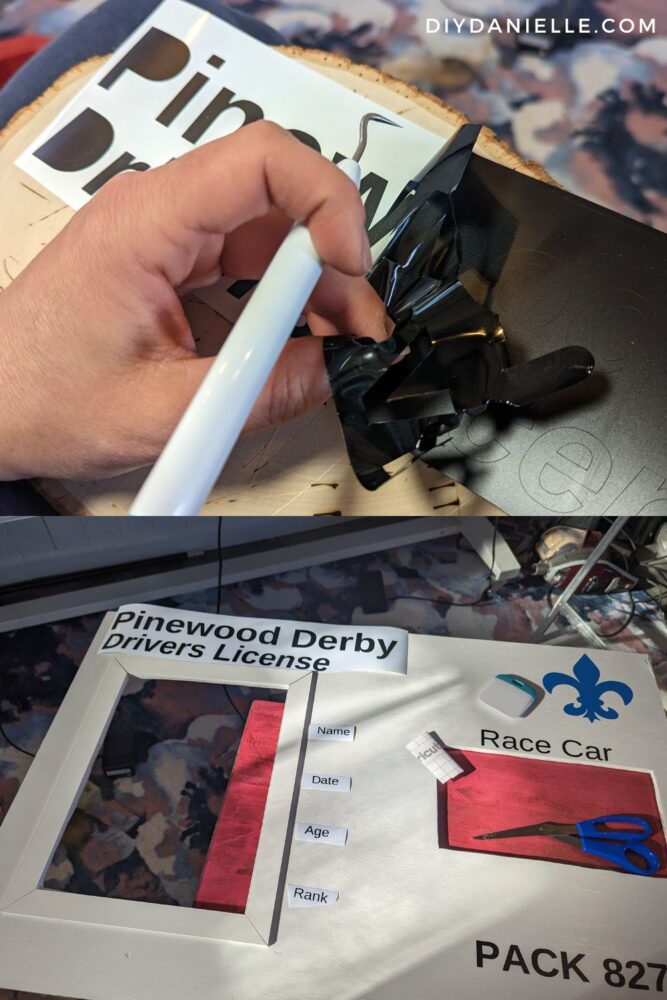 If the vinyl doesn't stick well, I've had luck using a hair dryer to warm the vinyl and finger pressing the vinyl into the wood. It's a bit difficult to get it to stick to rougher cut wood which is why it's a good idea to start with higher quality plywood. Mine adhered pretty well so I didn't need to do this.
Step 11: Glue on your pine board for the car display.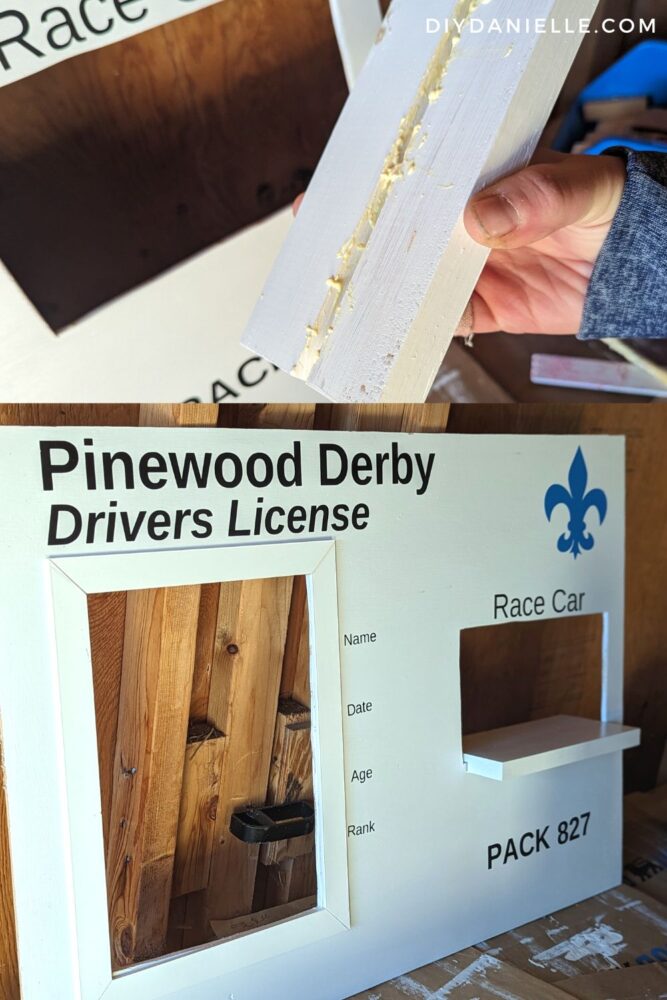 Please share and pin this post! If you make this project, share it in our Stuff Mama Makes Facebook Group. We have regular giveaways for gift cards to craft stores. You can also tag me on Instagram @doityourselfdanielle; I love seeing everything you make!