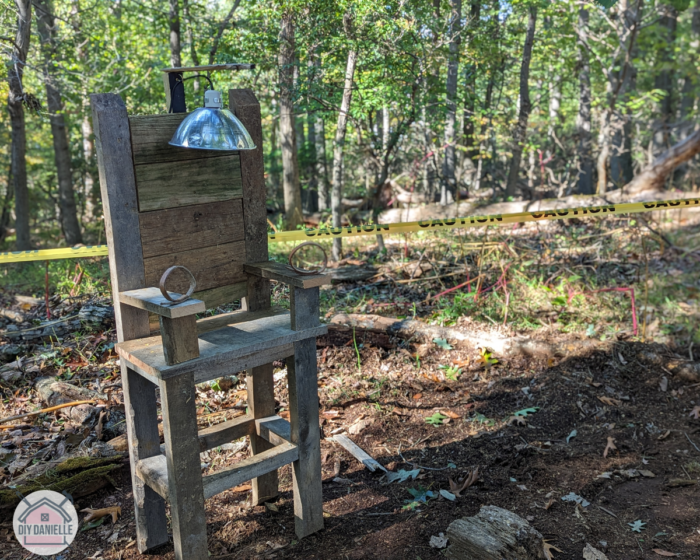 How to make a DIY electric chair prop. This outdoor Halloween decoration is made out of lots of aged scrap wood!
I am on FIRE this year! Between this DIY electric chair project, my DIY stocks, the creepy dolls, Halloween signs, and several DIY costumes, including our horse's kelpie costume, I am SO proud of myself. I usually struggle to get things done before Halloween. But this chair was my masterpiece for this year. I LOVE it. I'm a bit of a scrambled builder… I'm still learning so I tend to build as I go vs. planning things out. With this project, I thought it might be evolving into something that just wasn't proportionally what I wanted… but it is PERFECT.
---
This post may contain affiliate links which may earn me commissions should you click through them and take certain actions. As an affiliate for Amazon, Cricut, xTool, Home Depot, and other sites, I earn from qualifying purchases. Please DIY carefully. View my full legal disclosures here.
Please read the whole post so you don't miss any important information!
---
DIY Electric Chair for Halloween
Supplies
Scrap wood
Screws
Screwdriver
Screw Hooks
Thin leather straps
Old heat lamp with bulb and guards removed
Tutorial
Step 1: I was working with scrap wood so I grabbed these two longer pieces of wood that were already cut and the same size. I cut the 3rd piece (that was the same size) in half with the straight edge being the part that would hold the chair seat..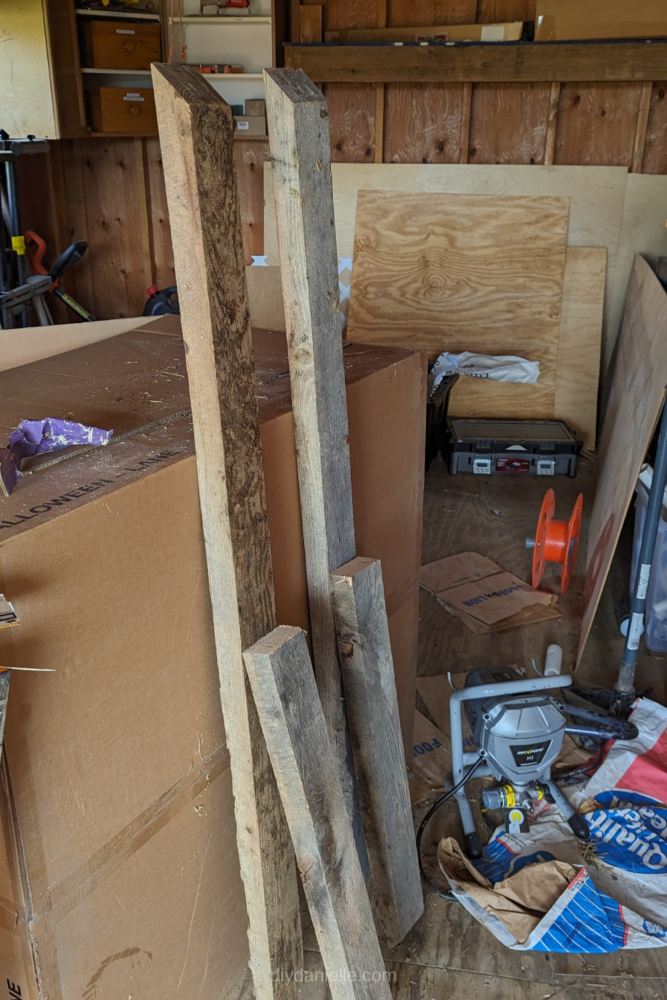 Step 2: I assembled each side of the chair like this, adding two horizontal boards across as supports.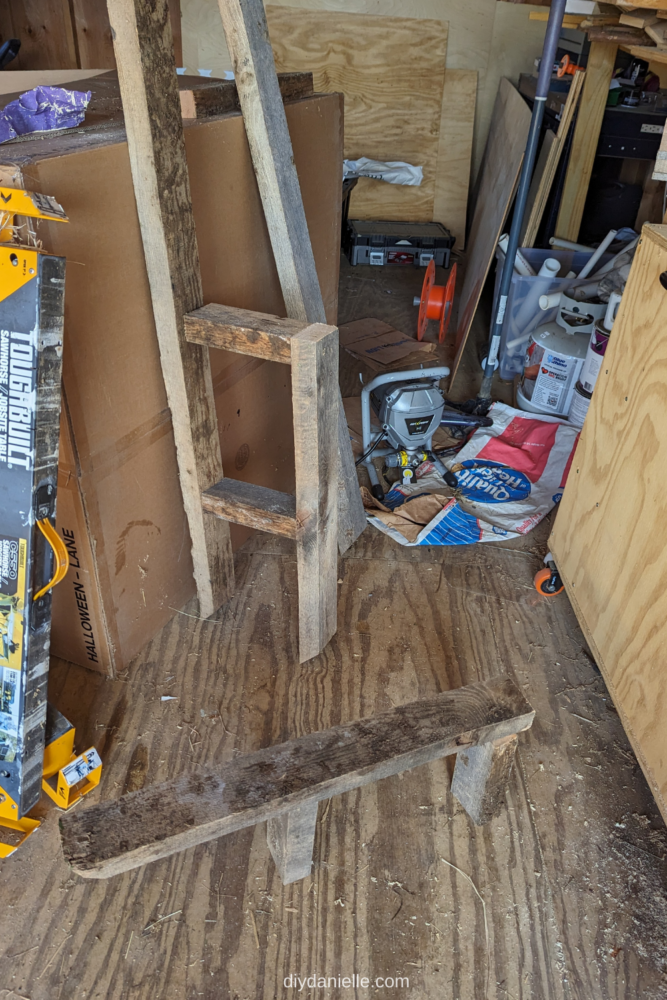 Step 3: I connected the two sides together with front and back pieces.
Step 4: Once that was done, I used an old fence board and cut it slightly wider than the seat. This works as the chair seat. The board towards the back needed to be cut with my jigsaw to fit between the two back support pieces.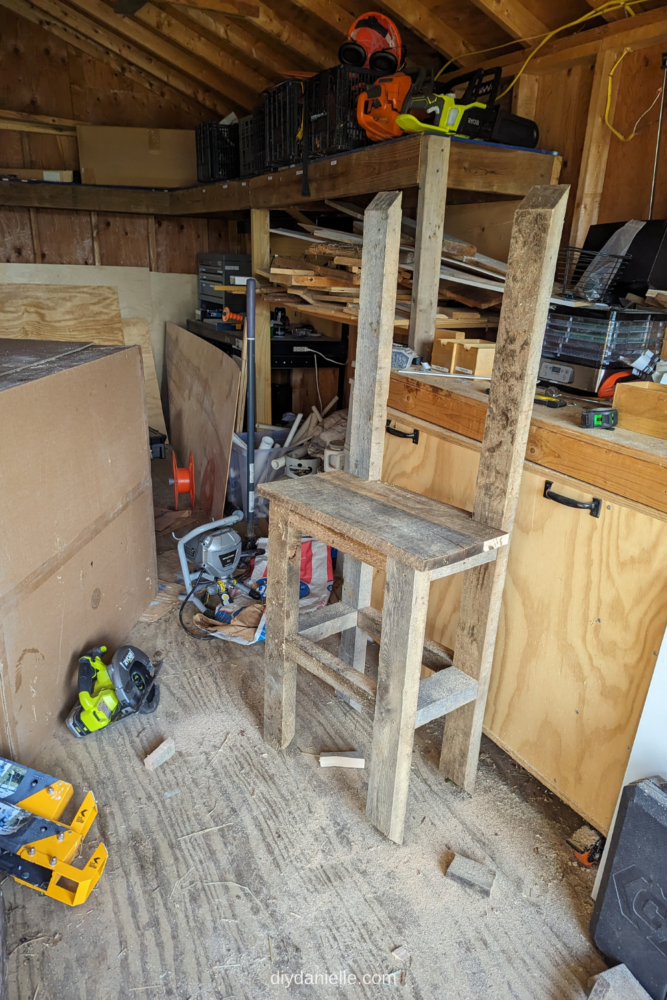 Step 5: Now… I have ADHD. I take medication and I'm pretty functional most of the time. But when I'm stressed and in a rush, it sort of all goes to hell. I was like, yay I finished… and moved the chair out to the jail area of our 2023 Halloween Trail. Notice anything missing? Yeah….. so I moved in out and I'm like 'Oh gosh I forgot arms…' (yes… I know… if you see it, you see it…)
I trekked back to the garage and brought out scraps to make the arms.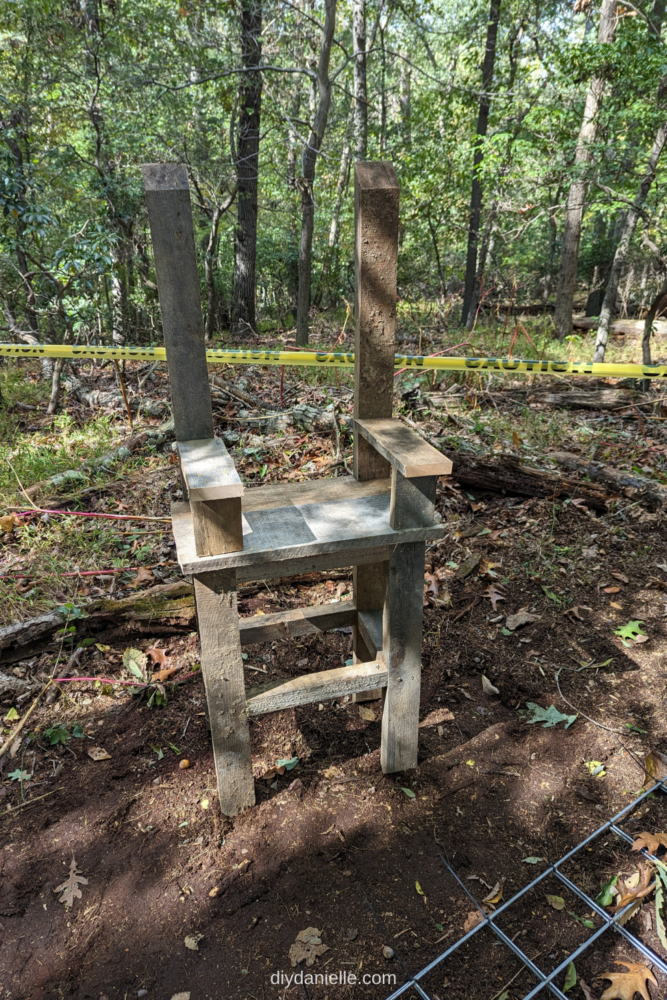 Weee…. look at that… finished… or am I? I get back to the house to eat lunch and I'm scrolling through photos, considering what I should use for the 'hat' of the electric chair and I'm like, "Huh. Something is missing." (face palm)
Step 6: At this point, I really should have just brought the chair back to the woodworking shed, but I'm committed here. I cut and hauled over the wood for the back. Then I brought it back to shave off a tiny bit more to get it to the right width. These were TRULY a pain to screw into the back. I didn't want to do pocket holes (the screws are expensive for a prop that will be living outdoors and it's extra work). I screwed them in at an angle the best I could (from the back), and then added two pieces of scrap wood to connect them, right up the middle back. You'll see this better in the video.
One of the scraps comes up above the back of the chair to hold the electric 'hat.'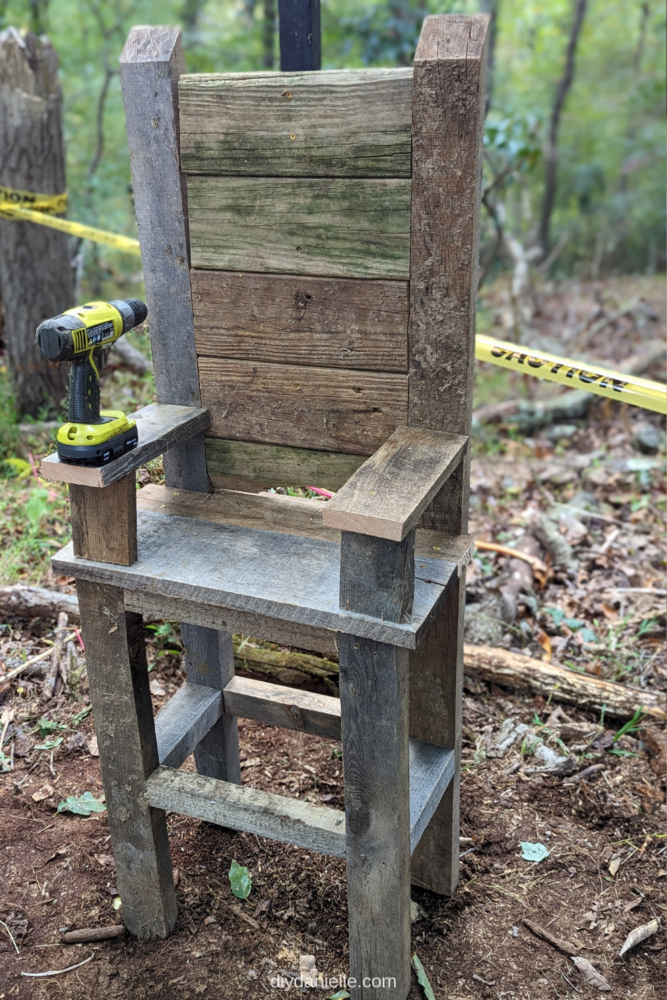 Step 7: I decided to add an additional horizontal piece and two screw hooks to hold my old chicken brooder heat lamp. I removed the light bulb and the wire guards.
Step 8: I cut two short leather straps off an old horse bridle that was pretty gross. I screwed them in as a loop for the hand holds. I may add leg holds too, but I'm pretty satisfied with this currently and it doesn't really seem necessary.
And 'that's it!' It really was a fairly easy project that I made harder than it needed to be. The story of my life.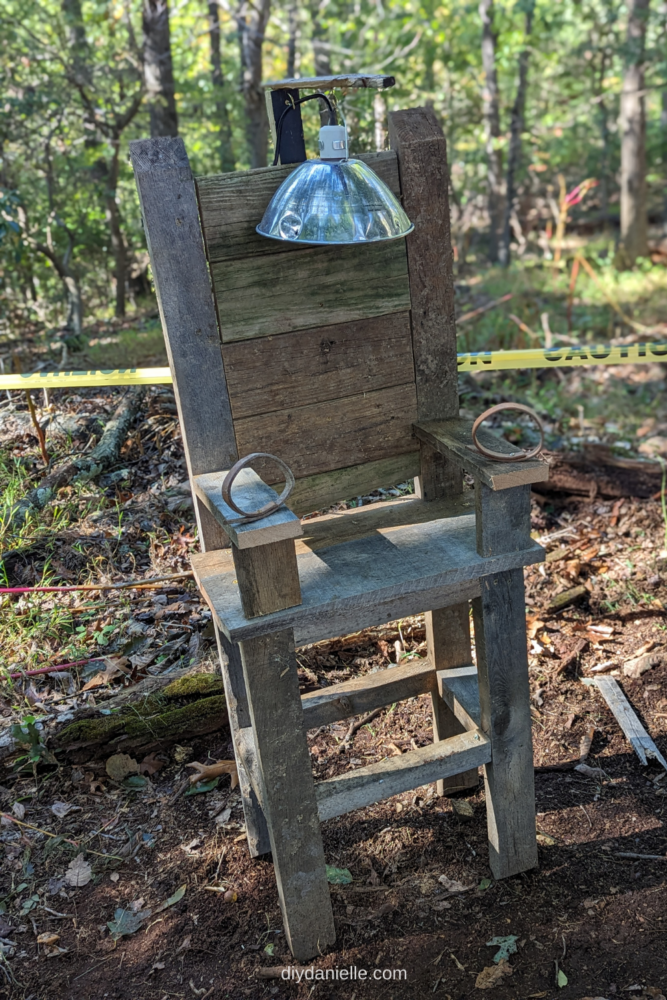 The rustic look is a lot easier to achieve with older scrap wood so it was nice to be able to upcycle old stuff and still end up with a pretty durable chair.
I have some measurements in the video, but please let me know if you're interested in a woodworking plan. I can put something together if I get enough interest.
Electric Chair Tutorial Video
Please share and pin this post! If you make this project, share it in our Stuff Mama Makes Facebook Group. We have regular giveaways for gift cards to craft stores. You can also tag me on Instagram @doityourselfdanielle; I love seeing everything you make!