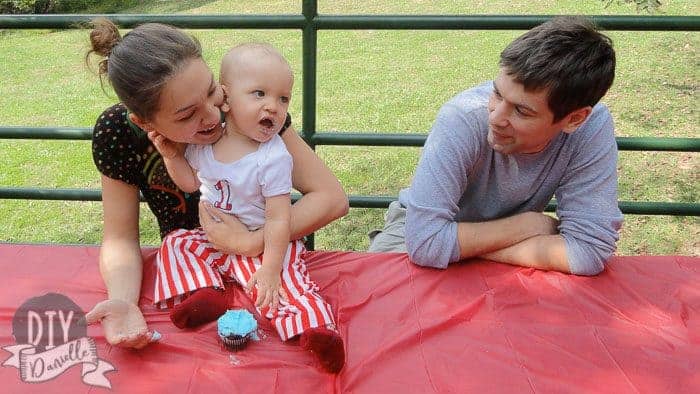 Some Dr. Seuss birthday party ideas that are perfect for your Cat in the Hat fan!
This post may contain affiliate links which may earn me commissions should you click through them and take certain actions. As an affiliate for Amazon, Cricut, xTool, Home Depot, and other sites, I earn from qualifying purchases. Please DIY carefully. View my full legal disclosures here.
Please read the whole post so you don't miss any important information!
In planning Baby G's first birthday, we decided to rent an outdoor pavilion to celebrate with our family and friends. It's at a beautiful park in our town, on a lake. We have 5 picnic tables in a small, open building to enjoy the nice weather. Our party theme was "Dr. Seuss." I probably should have called in Cat in the Hat, but whatever. You get the idea.
Dr. Seuss Decorations
Red and white streamers
Red and white tablecloths to go over the picnic tables. We taped them to the table so that they wouldn't blow away.
Red and white balloons, threaded together to hang upside down. No helium… better for the environment.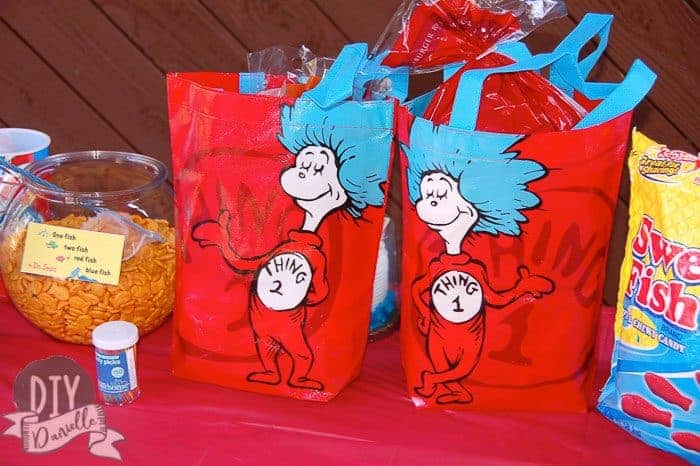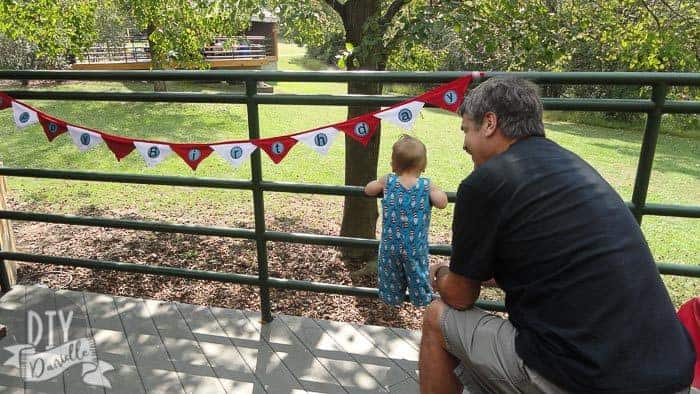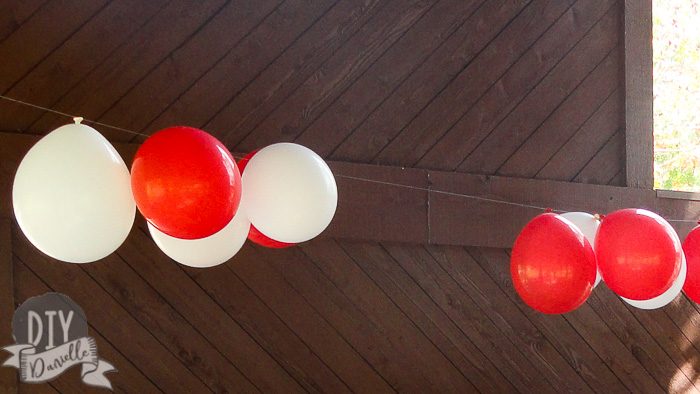 Dr. Seuss Themed Food for the Party
Drinks: I saw an idea of jello with a fish in it, but I decided this would be a better look for drinks (figured the cupcakes would be enough dessert). I didn't want to force everyone to drink the same exact beverage so we just got a variety of drinks, added a Swedish Fish on a Frill Toothpick, and plopped them into the cup. I used clear cups so they'd be like a fish bowl.
Cupcakes: I loved this idea with the cupcakes that looked like Thing 1 and Thing 2. I decided to do this instead of a cake because it's within my skill to make them and I didn't really want to have Baby G do a full cake smash… it just seems wasteful to have all that food go to waste. I was going to make them all, but I decided to get them from the grocery bakery so I had more time to visit with family that came into town for his party. I made these labels to go on each cupcake.
Goldfish crackers inside a fish bowl with a fish net as a scoop. I found this idea here.
Hot dogs and hamburgers, buns, and an assorted of other less "themey" type foods.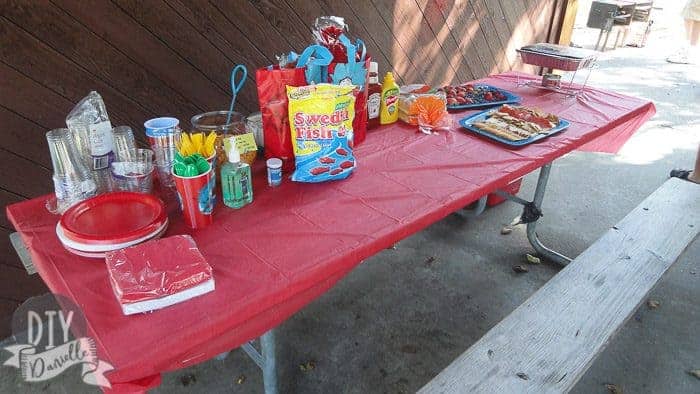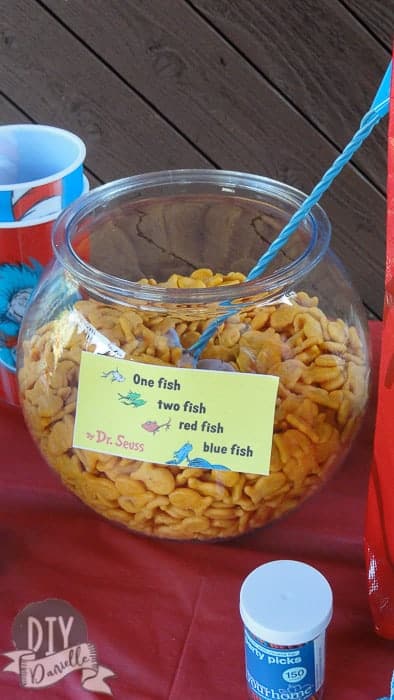 Handmade Dr. Seuss Items for the Party
The following posts are all in-depth tutorials on how to make different items for the party, in particular clothing.
Posts and projects that are Dr. Seuss or Cat in the Hat themed: Dr. Seuss Birthday Party | Dr. Seuss Romper | DIY Dr. Seuss Shirt | Cat in the Hat Hat DIY | Dr. Seuss Pants DIY | Fabric Birthday Banner in Red and White
Birthday Memories
Baby Book: I brought Baby G's baby book for the party. I took an envelope and some slips of paper, glueing the envelope to the 1st Birthday page in the baby book. I made a small sign to let people know that they can write their favorite memories, thoughts, advice, etc for Baby G on the slip of paper to put it in the envelope.
Eco Friendly Party Ideas
One of my concerns was having an eco-friendly, yet affordable party. I hate lots of garbage. I knew I wouldn't likely to be able to solve the problem completely, but cutting down on the amount of garbage was important to me. I don't mind a little extra work, like laundry or dishes.
I decided to try a few small things to cut down on waste:
Happy Birthday Banner: I made this out of cloth so it could be reusable.
Filling balloons without the use of helium
Sticking with finger foods. For cooking and dispersing, we brought big spoons from home.
Invitations: We used evite for our invitations, instead of sending out invitations.
Thank You Cards: We would've liked to go green with these, but alas… I feel like handwritten thank you cards are important. As an alternative to a card that people would just throw away, we decided to print one big picture of Baby G on card stock and leave the back blank to write a thank you note.
Thank You Card Front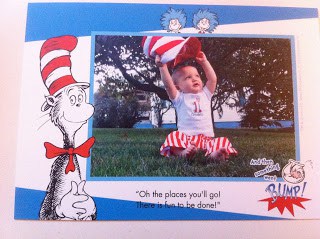 Back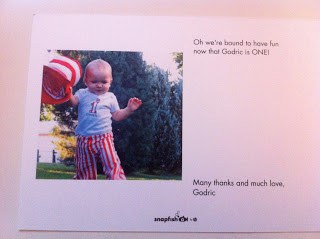 Please pin and share this post! Thank you!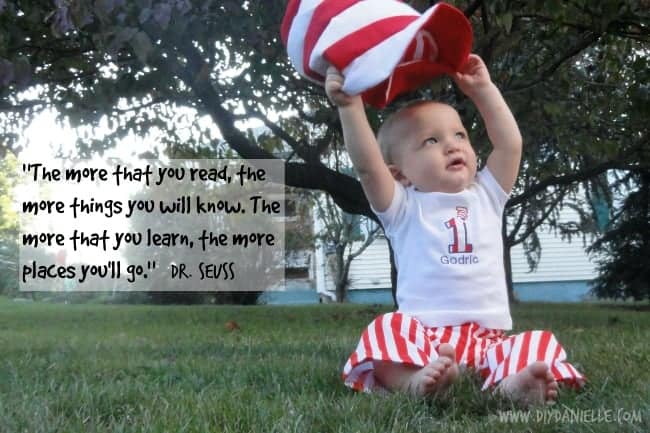 Some of these photos were taken by my friend Jody of Jody McKinley Photography in Columbia MD before she went pro.