… Because lets be honest, this is among the more miserable tasks ever.
The realtor gave us brutally honest input. Fortunately, the changes didn't cost much. Phew. It's good to have a small place… staging a big house would be even harder. We better buy a house we love because we may never want to move again! Selling a home is sort of like childbirth in that it takes a very long time to forget how painful it was…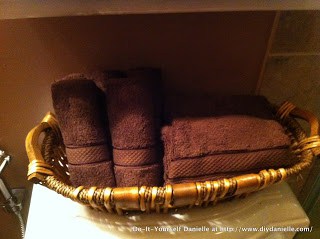 Accomplishments:

Ordered nice towels for the bathroom in earth tones to match the current tiling and "look." I bought Pinzon Basics 100-Percent Egyptian Cotton 725-Gram 6-Piece Towel Set, Coco.
We are going to use our shelf to roll the towels onto, but they need to have that spa look. Matching, for example. These towels weren't too expensive and had a good rating.
Ordered some basic supplies… like Mr. Clean Erase and Renew Magic Eraser, Original, 2-Count
Our realtor recommended 65W indoor floodlights for our recessed lighting. I purchased the Sylvania 15172 65-Watt 130-Volt BR30 Indoor Flood Light, 6 Pack from Amazon.com and they made a HUGE difference in how bright our home looks.
My black bureau had a lot of dings in it. He recommended taking a black marker to it. Fortunately, I have an office supply fetish and had plenty of black sharpies. AND I love coloring. Who knew fixing this up would be so fun and easy…
Packed up any photos. The ones in Baby G's room got to stay… Guess its a good look in a nursery (within reason, I'm sure). Cool.
Decided to squeeze all of our stuff into our back storage area to avoid the expense of a storage unit. I'd like to leave our storage area empty to showcase how wonderful our storage space is (really, our units have amazing storage), but alas… $40+ per month adds up if the place doesn't sell immediately and most of our stuff probably isn't worth much.
That being said, our in-laws offered to take our dogs temporarily! This is wayyyy exciting because showing a small condo with pets is difficult… Odors are more obvious and dog crates take up a lot of room. Plus they bark… Which makes for a short showing. So they are way awesome for doing this and hopefully it'll only be for a short time so Baby G's heart won't be broken. We will probably list it before the in-laws are able to get the dogs so in the meantime, we'll be taking the dogs to the park during showings. This is going to be INSANE to take the baby and dogs out together for 2 hrs at a time, but hey… I'm super woman.
Baby G's room was the one room that was okay, mostly. The only thing we had to do was remove all of the non childlike decorations. Done!
We repaired the walls, filled in holes, fixed up the paint as needed, and mostly just decluttered like crazy.
Freecycled what we didn't need. Donated the items that no one picked up.
We packed up my sewing room so now all of my sewing things are in our hall closet. My computer desk is also empty of all the clutter that I usually keep on it… this is going to throw me off for a while. I like putting sticky notes everywhere!
I made wall art!
The hardest part for me is decorating because I just generally don't keep decorative things out. They're expensive to buy. So I tried to find affordable solutions to decorate. For example, I have too many vases and I used them to create decorative pieces. I talked to a salesperson at the craft store who recommended using those balls inside the vases. Bingo. I also bought a bunch of the colored rocks to use. I got some silk flowers free from someone on Freecycle to make a bouquet. I'm not sure if I'm impressed with my skills (or lack thereof), but I think it will suffice. Here's what I got… the pregnancy/baby statues were from my mom.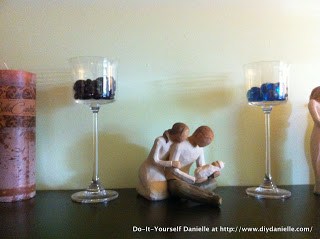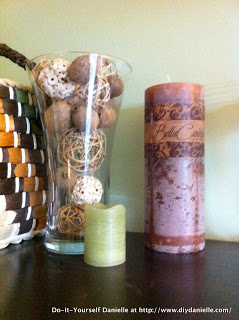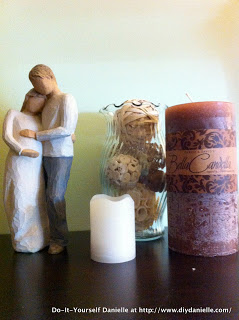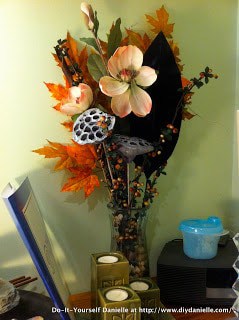 My bouquet… I like it.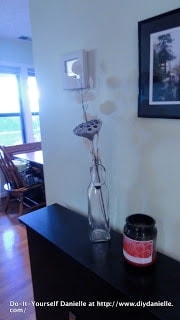 We kept this gorgeous bottle from when we had some "Adult Chocolate Milk."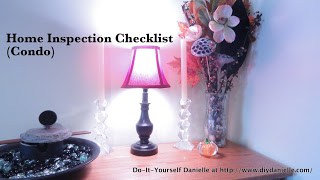 Tips
Listen to your realtor. But get a good realtor first. Haha.
Make a list. Check it twice. Your realtor will know if you've been naughty or nice.
Good lighting is awesome… don't ignore it.
Make your place smell nice… we went to see a couple homes today and the odor was a bit of a turn off. I'm not even sure what the smell was. It wasn't bad, it was just weird.
It's miserable. Buy a bottle of liquor. Just kidding- but you might want to have easy meals ready while staging and also set some "treats" aside for yourself for a good job done. We got TBCY one day… it was amazing and fun.
Don't get a storage unit if you don't HAVE to… we got one before and we had the place on the market so long that we probably spent 2-3x as much as the items inside were worth. What a waste! Really think hard about if you NEED to keep items or if you just want to. If you put a price on the cost of storing that item, it helps you reevaluate. We were going to keep Daddy B's desk, but we needed to put it away for the staging… if we'd kept it, we would've needed to get a storage unit. We donated it as a result because one months rent at a storage unit would buy us a brand new desk.
Know yourself… I need to power through tasks. Daddy B needs breaks. We tried to accomodate both. I also find it helpful to look through homes for sale to motivate me more to get the task done.
I rounded up all my decorative items before I set out to decorate. It's nice to avoid buying things if you don't need to. I used some decorate glasses and put colored rocks in them… it came out pretty decent and didn't cost me anything.
Neutral colors. The purple had to go. Anything that's too decorative and takes away from the home has to go. For example, our toilet seat covers were too much and took away from the new toilet.
We filled in any nail holes and repainted areas as needed. I keep all the little color cards for my rooms. In retrospect, I wish I'd kept more detailed information on each card including: which rooms the color was used in and when it was painted and what type of paint it was (ie. flat).
Least favorite part: Deep Cleaning… I washed the baseboards, the bifold doors, and the inside/outside of all my windows and my sliding glass door. I also washed my microwave and oven. Of course, you have to do the normal cleaning too…
I'm still not confident about my decorating skills, but I think they might suffice.
Before and After Photos

Here's some before and after pictures of the condo decluttered and depersonalized (the "after" photos weren't my best photography, but I decluttered my tripod… oops). They're all pretty subtle differences, especially as I cleaned/decluttered some before the "before" photos. A lot of the hardest work was behind the scenes because in the first set of photos I was shifting the clutter out of the way for photos… in the after photos I shifted nothing.
Living Room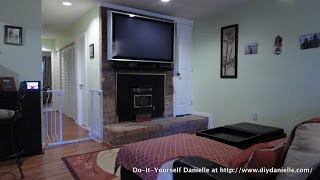 Before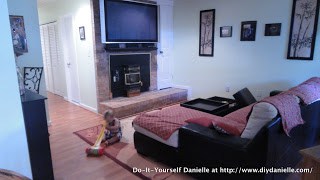 After (couldn't declutter the baby, sorry)
Dining Area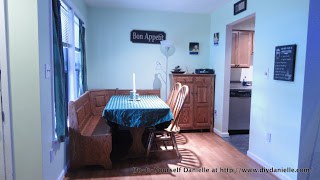 Before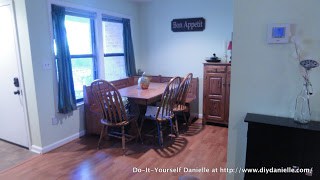 After
Kitchen
Before After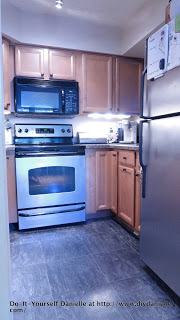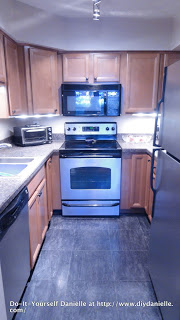 My sewing area relocated into the closet… sad, but I'm proud of how neatly organized that closet is.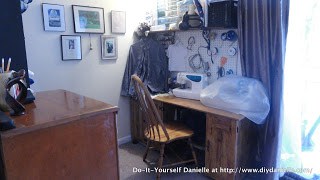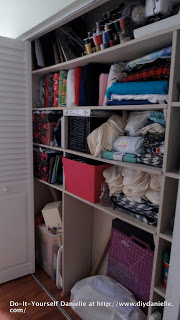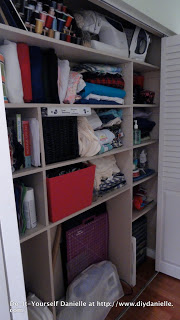 Master Bedroom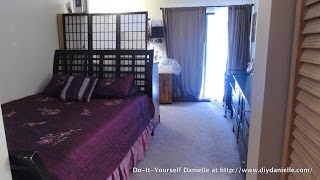 Before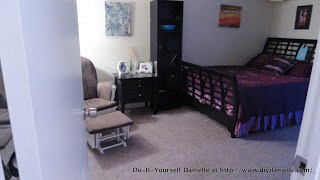 After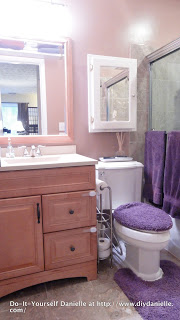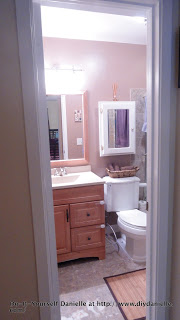 Master Bathroom
Before After

Update October 13, 2012: To Stage or Not To Stage
Today I realized that the difference between me walking into a home and using language about it being "my" home or not is whether the home was staged well or not.
When I walk into a cluttered home I am thinking about how I'm going to need to do work to make it "mine"… specifically, I'm thinking about how I'll need to clean SOMEONE ELSE'S drains (ew).
When I walk into a home that's staged with furniture and good lighting, then I'm thinking about how cozy it is and enjoying all of the specific features that I'm looking for in a home.
When I walk into an empty house, I'm just… confused.
I'm thinking more about if my furniture will fit and where. I might think it's too dark because even though there are plenty of windows, there are no lamps to help light the home on a rainy day or an evening showing. I'm a little confused about the size of the rooms… is this a big room or does it just seem big because it's empty?
A well staged home with a few pieces of furniture makes you feel like everything will fit, even though the room isn't any different. THAT is why you stage.