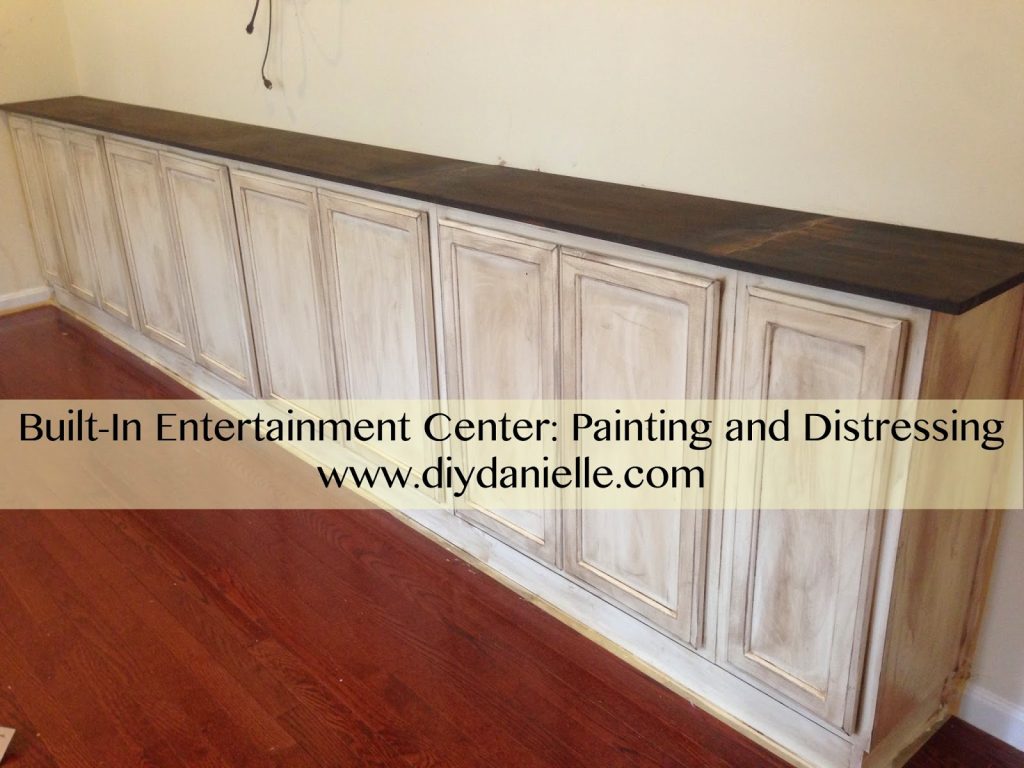 I always love painting BEFORE I start. Haha. So I decided that I wanted to paint these cabinets and distress them like I did with the bureau/tv stand.
I did decide to stain the countertop first with the same stain. If you notice, we added the stainable wood filler to combine the wood pieces nicely BEFORE we stained which was apparently a terrible mistake. We were able to get it to look decent after sanding and restaining a few times, but I was reading (afterwards) that it's better to stain first, THEN to do the stainable wood filler. I assume you then restain the area where the wood seams are. Gosh. Oh well. I think staining is pretty easy. Depending on how I feel about the same once we get the bookshelves done, I may end up deciding to sand, paint, and distress this. But right now I'm happy enough.
After I did this and it dried, I propped it up against the wall. Make sure you do all sides that show before moving on.
Now I'm on to paint and distress the cabinets. Way more work than I was thinking… I always get so excited to paint until it's actually happening, then ugh. Haha.
For the cabinets, I did 2 layers of paint (same color as the bureau that I linked above), sand to distress (go with the grain), stain and wipe stain as I go with an old T-shirt, polyurethane to seal.
Take your hardware… or remove the doors to paint.
I found it easier/faster to paint with them on, but I probably
didn't get all the nooks and crannies as nicely.
Before Painting
First coat of paint.
Second coat of paint.
Liquid courage (margarita).
Sanding to distress: Just doing outside of cabinets and
mostly only the edges. Go in the same direction as the wood grain.
All sanded. I only did the outside, not the inside. The inside
will remain just white.
Went over the whole thing with stain, wiping as I went with
an old tee-shirt. Then I let it dry for 24 hours. After I wiped
polyurethane on and let dry. I only did one coat of Poly.
Cost: $0 because I had all of the supplies from before. But I'm going to list the supplies cost from my bureau project because I was using leftovers from that project.
Free because I had them already…
Old scrap cloth (I upcycled a tshirt)
Paint Brush: $0
Sponge Brush: $0
Electric Sander: $0
Drop Cloth: $0
Plastic gloves: $0
Not free…
1 Gallon of Behr Swiss Coffee Satin Paint: $27.96 (I think a pint might have been sufficient)
Staining Pads: $3.98
120 Grit Sheets for the sander (a Mouse): $5.97
80 Grit Sheets for the sander: $4.97
1 Pint of Minwax Wipe on Polyurethane: $11.97
1 Pint of Minwax Wood Finish Dark Walnut: $7.77
Total Cost: $62.62
This project was initially inspired by the one done by Addicted2Decorating. My other posts on this project can be viewed here: