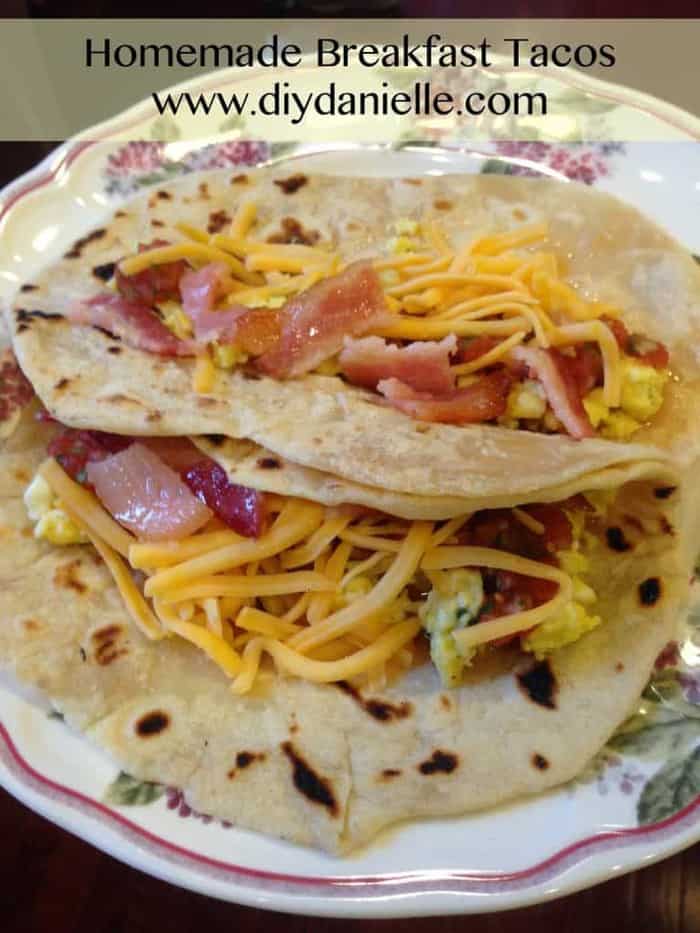 Breakfast tacos were my all time favorite when I lived in Texas, but a few years ago I tested positive for an egg allergy after having some stomach issues whenever I had eggs. I got retested recently and tested negative so doctor told me to go for it. And oh boy… I started buying eggs at Costco. I just used a carton and a half of eggs to make these yummy breakfast tacos. I made two batches of these
homemade tortillas
, made
scrambled eggs like this
, made
homemade salsa
(there's tons left over), added bacon and cheddar cheese. For the bacon, I cook it in the oven while I'm making the rest of the meal. Then I cut it up into pieces so that it is easier to mix in. I think most people add hot sauce, but I didn't have any (and I forgot) so I will try that next time.
So much mess everywhere. I'm sure the flour my son sprinkled
everywhere while we were making tortillas didn't help.
He even covered the dog in flour. Eek.
Freezing Extras!
I made the tortillas and the salsa which makes for a much yummier meal… although I think store bought tortillas might be easier to use for freezing because they're flatter and rounder (I'm sure I could perfect my tortilla making, but that's probably not going to happen anytime soon). The salsa I made from scratch… this was my first time. It's good, but it's pretty liquidy so you might find a thicker salsa is better to freeze.
For the frozen ones I just wrapped them in clear wrap, then in foil wrap to hold them together nicely. Label with date. The "word" (after much searching, I mostly came back with info on freezing breakfast burritos so I'm hoping it'll be about the same) is that you just remove foil/clear wrap and put them in the microwave in a paper towel for a couple minutes when you want to eat them. Kind of excited to have some of these to eat another time. The salsa was pretty liquidy so I'm hoping that doesn't effect how it tastes/freezes.