Learn how we built four easy DIY flower boxes to go around our gazebo posts to help weigh the gazebo down. Get the DIY Planter Box Plans!
Last summer we decided to have some hardscaping added to our backyard. We'd like to add a deck eventually, but that was well over our budget. It made sense to add a smaller patio area, then eventually attach the deck and patio with more hardscaping. It will be AWESOME when the whole thing is finished.
In the meantime, we finally got the gazebo set up on the new patio… but this brought up an IMPORTANT question…
How can I anchor a gazebo WITHOUT drilling into concrete or pavers?
This post may contain affiliate links which may earn me commissions should you click through them and take certain actions. As an affiliate for Amazon, Cricut, xTool, Home Depot, and other sites, I earn from qualifying purchases. Please DIY carefully. View my full legal disclosures here.
Please read the whole post so you don't miss any important information!
We didn't want to ruin the new patio, but we get some wicked wind here. I don't want the gazebo flying and hitting our home or car during a bad storm.
At our last house, we screwed the gazebo into the wood deck with no issues. This time, we decided to get creative.
Each leg of the gazebo is screwed into a cheap $3.19 paver from Home Depot. Then there's two more pavers on top. The pavers each weigh 27.1 lbs, giving each leg 81 lbs holding it down, to a grand total of 243 lbs (along with the weight of the gazebo itself.
But this is obviously an ugly hack and we wanted it to look nice. We created these simple planters to go around the pavers and hide them. They look GREAT.
DIY Gazebo Box Planters to Anchor Your Gazebo
Here's the video tutorial, or keep scrolling for the photo tutorial.
How to make your own gazebo box planters
Supplies:
Step by Step Tutorial
Check out your legs for your gazebo.
2. Slip a piece of paper under there and mark where the holes are. This creates a template you can use to mark your pavers.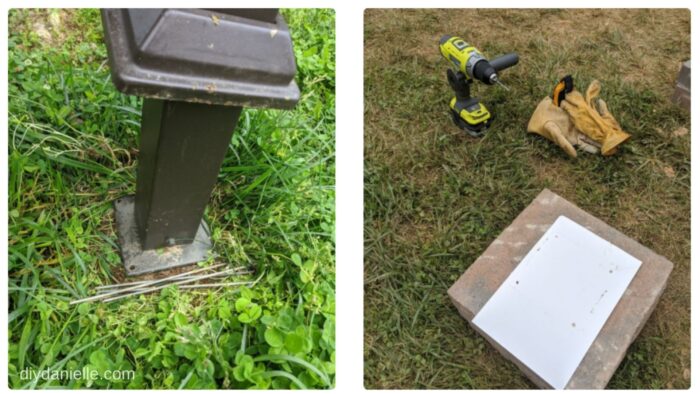 3. Pre-drill the holes for mounting your gazebo on your pavers. You'll need a special drill bit meant for concrete and a Ryobi Hammer Drill
4. Once pre-drilled, place all of your pavers in approximately the right area.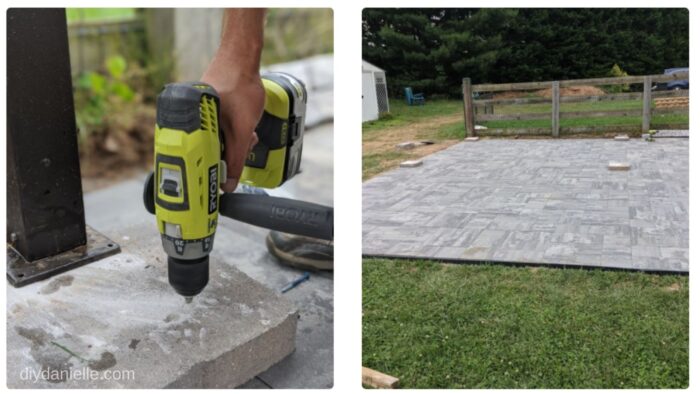 5. Move your gazebo onto the pavers.
6. Screw the gazebo into the pre-drilled holes and use two additional pavers on top of the flat paver.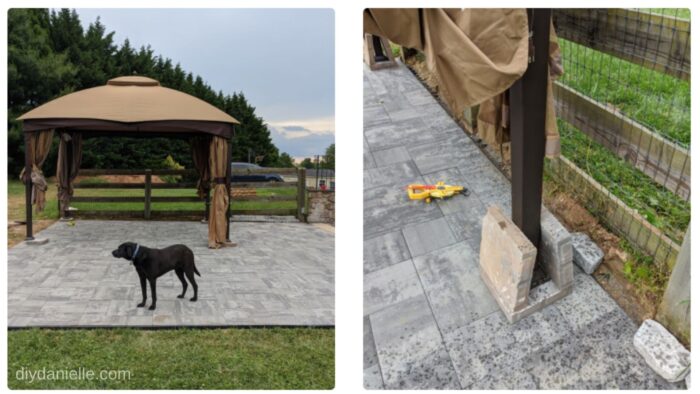 7. Cut all of your wood and add at least one pocket hole to each side. Two pocket holes would be better.
8. Connect your four pieces of wood and screw them into a 2×2. Use wood glue.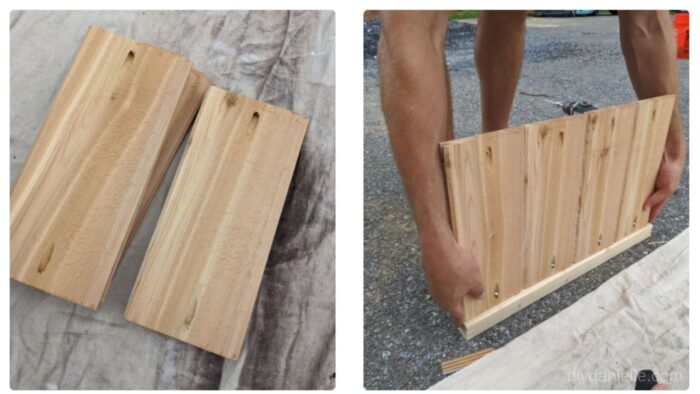 9. Connect three sides. The middle side should have the pocket holes facing out if your boxes are as small as mine.
10. Slide your three-sided planter around the leg of the gazebo. You can attach your fourth side now.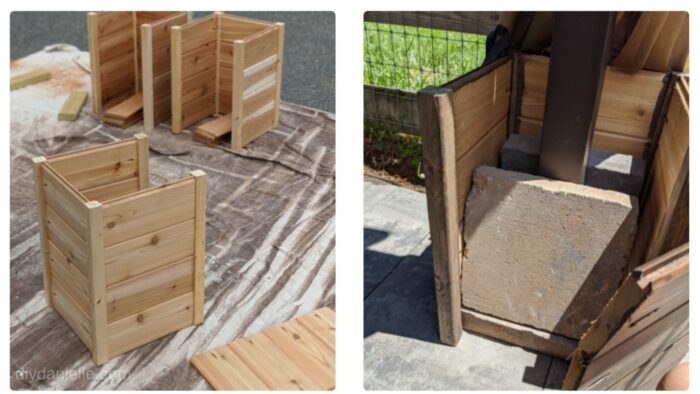 Here's what it looks like from above.
11. Add glue along the top of your planter.
12. Add your trim. Use a nail gun to attach the frame to the planters.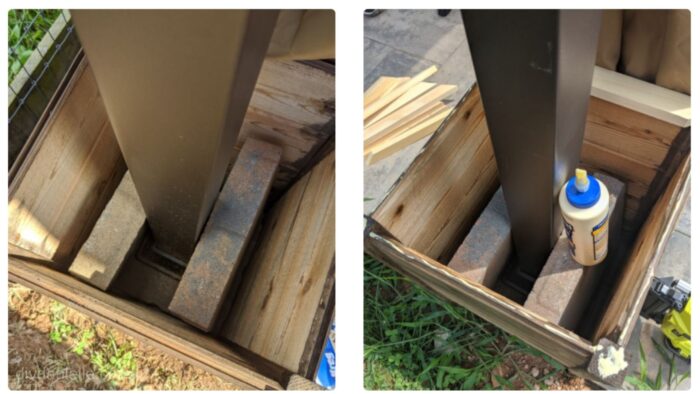 13. Stain or paint your whole box. You can use pocket hole plugs first if you want to hide the pocket holes.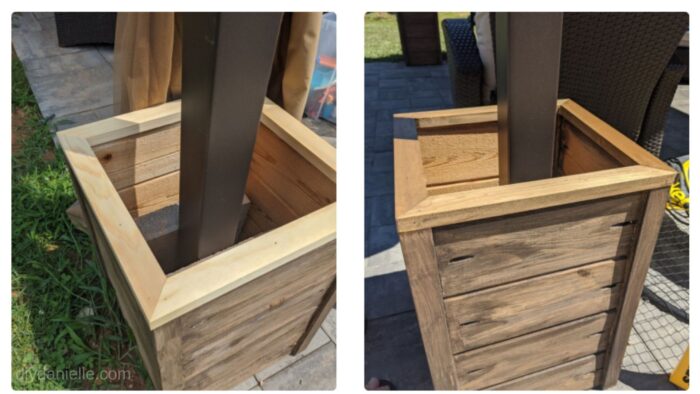 14. Add landscape fabric to the inside of your planter.
15. Add soil and plants. Keep watered.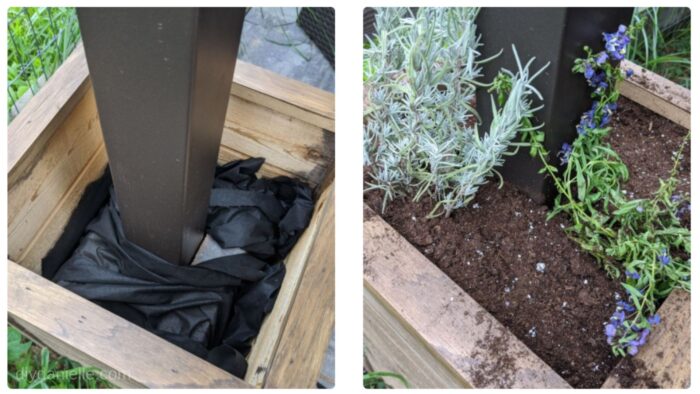 Notes on this project:
It may seem a little odd that there are pocket holes on the outside of the box, but we couldn't have fit the screwdriver inside to attach those sides so we were sort of stuck with it. If you don't like the look, you can insert plugs, cut and sand them, then stain or paint over the "patched" holes. You could also make the box a little larger so your screwdriver would fit.
When finished, these boxes were 15″ x 15″ and 21.25″ tall.
Now I just hope 243 lbs of weight is enough! So far, so good!
Want the woodworking plan? Get on the waiting list. If enough people are interested, we'll put one together:
If you love gardening and being outdoors, you might like these posts:
Please share and pin this post! If you make this project, share it in our Stuff Mama Makes Facebook Group. We have regular giveaways for gift cards to craft stores. You can also tag me on Instagram @doityourselfdanielle; I love seeing everything you make!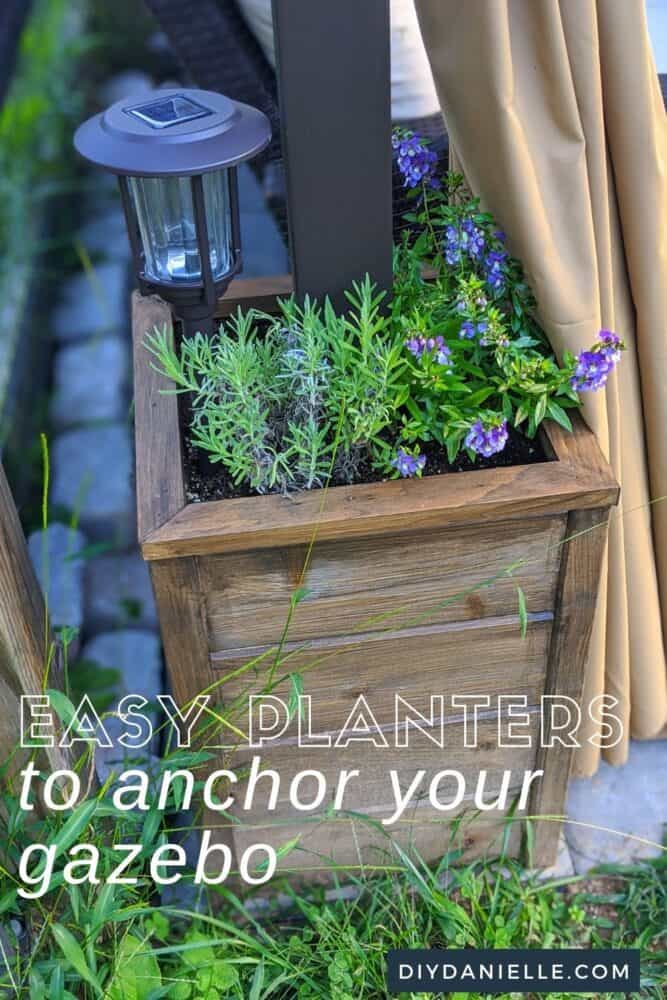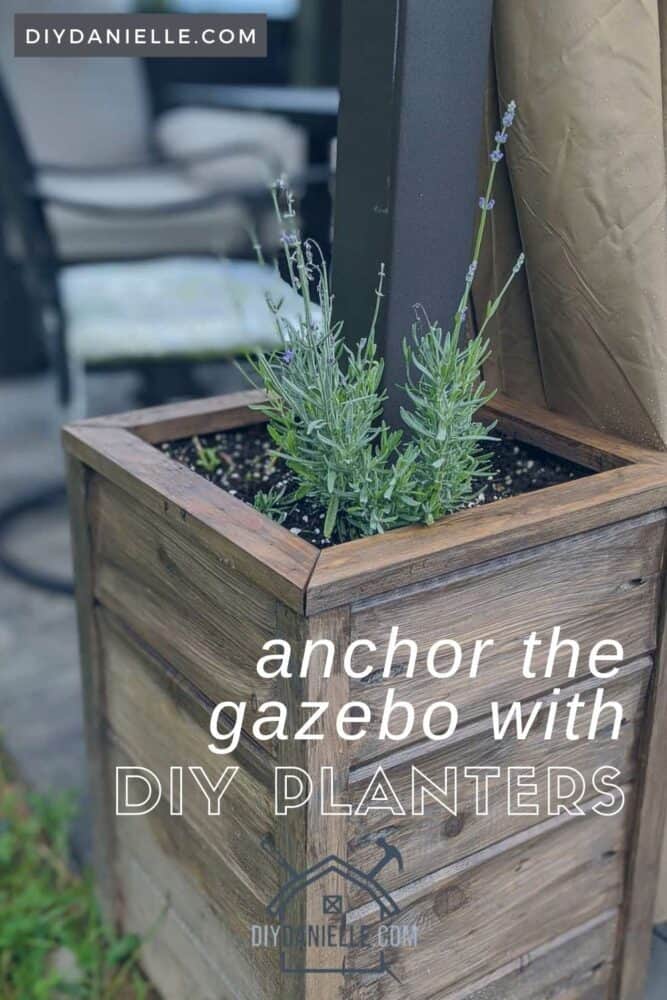 Google Web Story: DIY Planter Boxes for a Gazebo