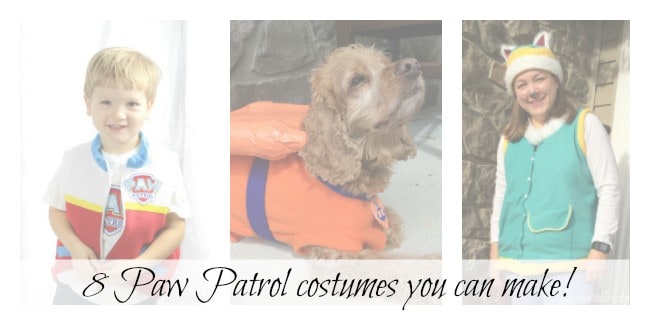 Paw Patrol costumes that you can make or buy! These are awesome for Halloween costumes or pretend play.

This post may contain affiliate links. If you make a purchase using these links, I may receive a commission from the sale. This does not impact the price of the products. Thank you!
My son is a huge fan of Paw Patrol, and so I have some adorable DIY Halloween costumes and costume ideas I've made and/or collected for creative inspiration and ideas. I'm sharing them with you today! Scroll to the bottom and I'll also include links to sites where you can buy Paw Patrol costumes if you don't want to make them.
10 Adorable DIY Paw Patrol Halloween Costumes
These costumes are perfect for your little Paw Patrol fan. Just a little time and love put into the creation of these costumes, and your child will be the cutest pup on the block! Don't worry, these are fast, easy and fun to make. So remember, "No job is too big, no pup is too small," Mom, you got this one!
1. Ryder Vest: With a little fleece and some simple sewing, this Ryder Vest is the perfect costume, and warm too!
2. Farmer Yumi: Farmer Yumi is our favorite farmer from the show… she's got GOATS and goat yoga! Yay! Plus I look enough like her to pull it off.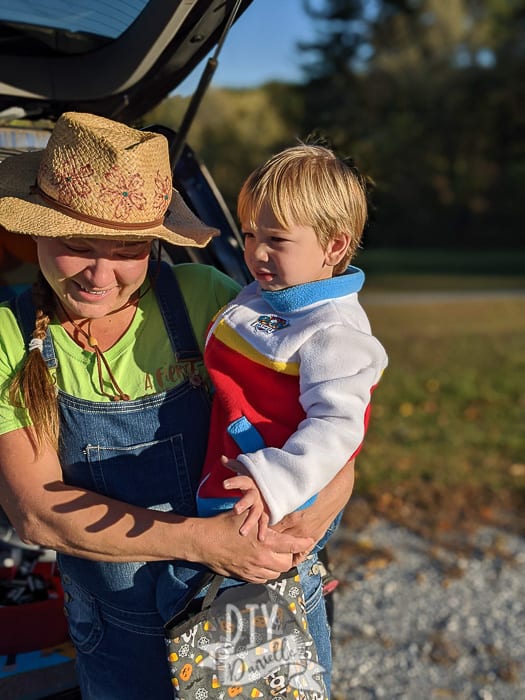 3. Marshall Costume: Marshall is a cute dalmatian firefighter, and always a favorite character. Copy the look by creating this Marshall costume.
4. Police Cruiser Car Costume: Bring the whole car with you! What fun it will be for your child – zooming from house to house – in this one!
5. Skye Costume: What can you make out of a pink leotard and tutu? Well, a Skye Halloween costume of course!
6. Toddlers and Babies: Here are more cute ideas for the kids, including toddler/child Marshall and Rubble costumes, and a baby Skye costume.
7. Zuma Dog Costume: Your dog can dress up too! Try out this Zuma Dog Costume. It would look great on your pup who accompanies your child on their candy quest this Halloween.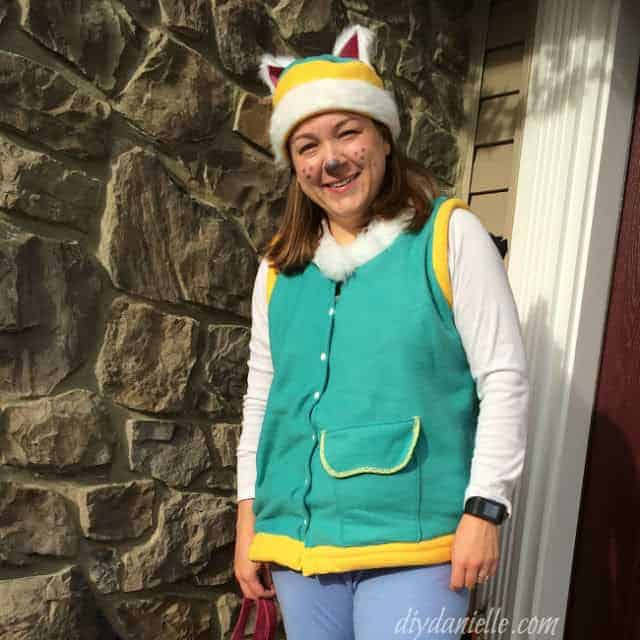 8. Everest Adult Costume: Wanna look the part too? Craft yourself this Adult Everest Costume and join your crew on the Halloween night fun!

9. Family Costumes: Why not disguise the whole family as rescue pups? Take a look at these themed family costumes.
10. Marshall & Chase Costumes: I LOVE these two costumes from blueistyleblog too! Such a cute and easy way to hack already existing pretend play gear into costumes.
Buy a Paw Patrol Costume!
If you want something custom made for your child, there are lots of Etsy sellers who sell these costumes too! I'll link them below. The tutus are so stinking adorable… look around a bit on Etsy. There's SO many option on there and every seller has their own unique spin to creating their costumes.
Handmade RYDER VEST | Marshall Tutu Costume | Everest Tutu Costume | Crochet Chase Costume | Paw Patrol Super Hero Capes

No time to make a costume or order a nice one on Etsy? Pick up one on Amazon by clicking the costume you want below.
Please pin this post!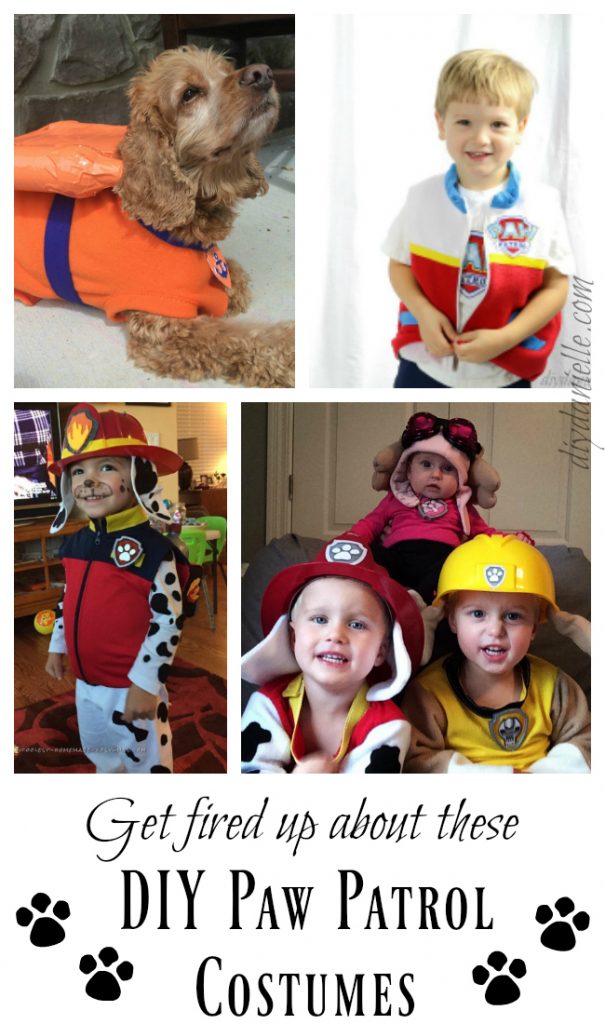 These DIY Costumes are so much fun! If you give any of them a try, let me know! Or, remember, you can always "Yelp if you need help" by leaving a comment below as well!
Paw Patrol Costumes