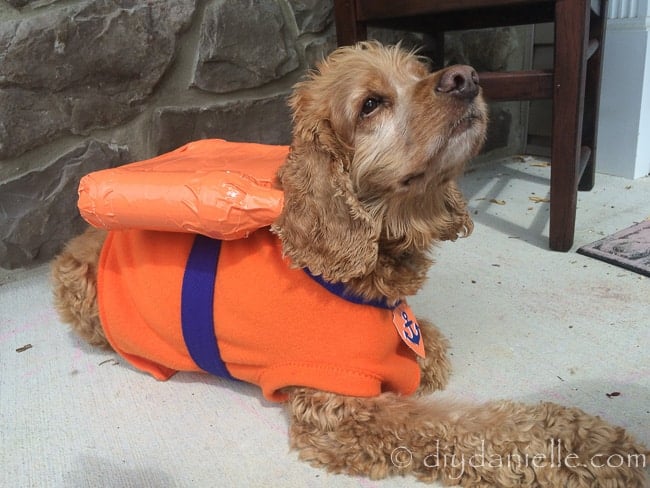 How to sew a Paw Patrol dog costume. This DIY Zuma costume is a super cute way to involve your fur baby in trick or treating!
This post may contain affiliate links which may earn me commissions should you click through them and take certain actions. As an affiliate for Amazon, Cricut, xTool, Home Depot, and other sites, I earn from qualifying purchases. Please DIY carefully. View my full legal disclosures here.
Please read the whole post so you don't miss any important information!
This site is not affiliated with Nickelodeon or any of its subsidiaries. This tutorial is for personal use only.
My sons love Paw Patrol and it's one of my favorite shows for them to watch… No true bad guys, no violence, PUPPIES, kindness, and it focuses on helping others. Last year I made G a vest for Halloween so he could be Ryder.
This year I wanted K to wear that costume, but I decided to make a costume for the dog as well so they can match. Ironically, they sell store bought costumes so kids can be the pups- but not Ryder- and they don't sell the Paw Patrol pup costumes for actual dogs.
Our dog, Tyson, is a cocker spaniel, and would probably be more appropriate to dress as Sky (I think she's a cockapoo?)… But I decided to make him Zuma instead as their coloring is similar enough and I had an idea for Zuma's pack. Sky's setup looked a bit daunting to DIY. I did skip Zuma's helmet because it looked hard and the dog already wasn't impressed.
If you're here because you want to make a Zuma costume for your child, you could easily follow this tutorial and make the pack similarly. Then just make a vest with Zuma's colors, similar to how I made the Ryder vest!
Anyhow without further ado… Zuma!
Supplies for a Paw Patrol Dog Costume
17.5″ x 2.5″ strip of blue fleece for neck. Make sure the stretch is along the long side. I didn't finish edges.
(2) 11 x 1.5″ orange fleece strips for legs, make sure stretches along the long side.
Orange fleece for the body of the costume.
Blue fleece for the belt
Two empty soda bottles
An empty box (I used a box of macaroni)
Dog Coat Pattern: This fits my medium size dog. He's a cocker spaniel. Not sure up to what sizes this pattern would fit, but you can print it and try the paper version on the dog. That's what I did. Get the pattern FREE by signing up for my newsletter below. Note: This is my first time scanning and uploading a big pattern like this so let me know if you have any issues!
How to Make Zuma's Scuba Pup Pack
I took two soda bottles with an empty macaroni box in between and used the orange duct tape to completely cover it so that it looks like Zuma's pack.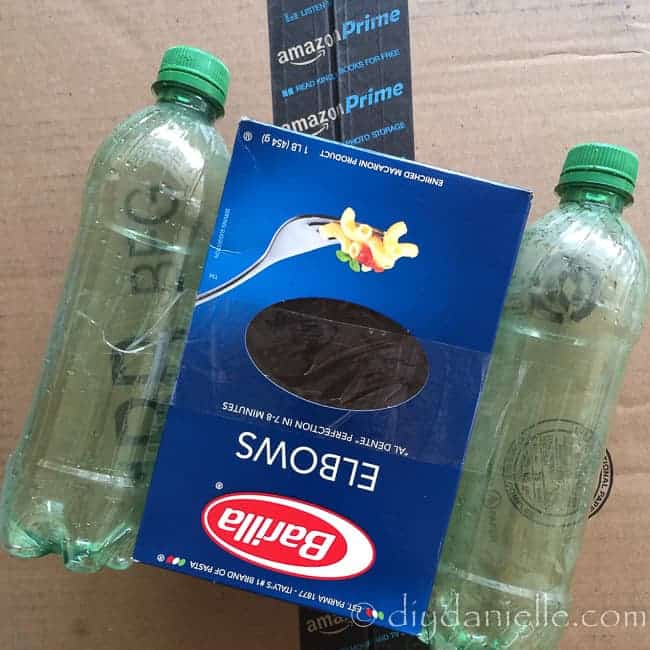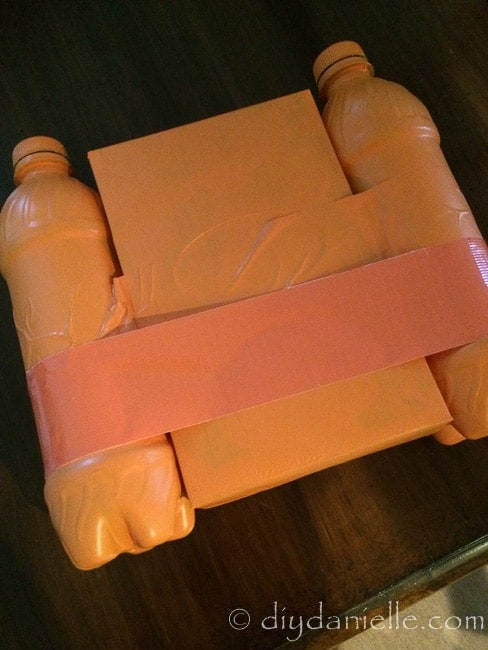 You need one strip of blue felt or fleece to use as a belt and to hold the pack on. You may want to measure your dog's girth to determine how long you want it. Once I cut the size I wanted (length measured x twice the width you desire). I wanted the stretch along the short way this time so it wouldn't stretch too much. I folded the fabric in half and sewed right sides together, then turned to top stitch.
I added snaps to the belt to make it fit… You could do Velcro instead, but I like snaps because they don't collect dog hair and fuzz. Plus they were faster to put on.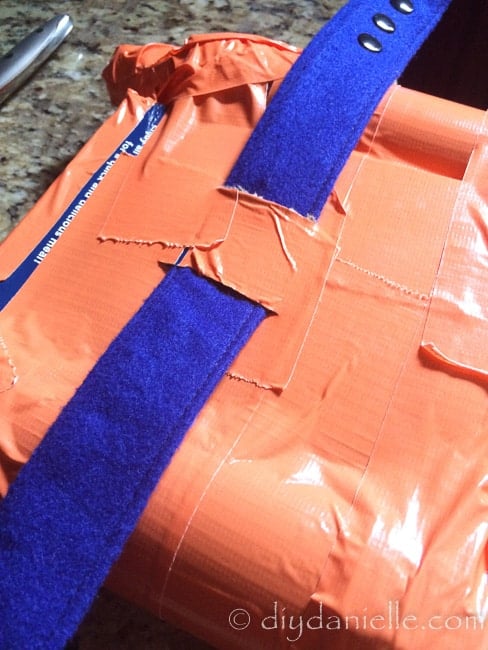 I cut two slits in the back of the backpack so I could slip the strap through. Buckle it onto your dog to determine where to sew the strap on. I just hand sewed a couple stitches on either side (under the pack) to hold the strap in place- otherwise the pack did slide a bit back and forth when my dog moved.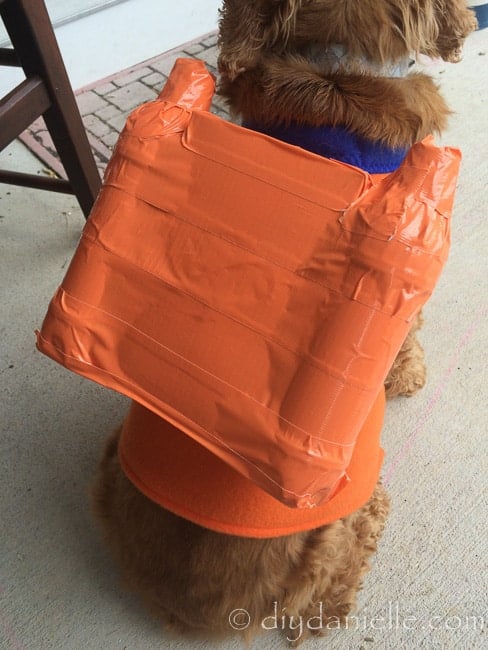 How to Make a Zuma Vest
You need to start by cutting out your dog vest pattern with orange fleece or felt.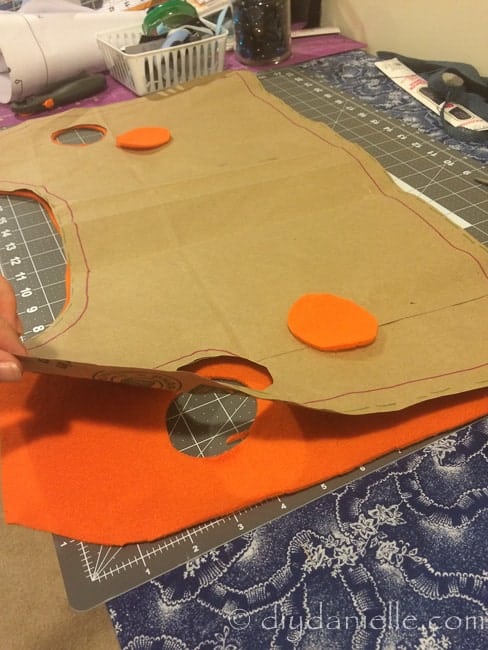 I made the neckband from blue fleece. You sew your right sides together (turning it so the length is folded over), sew that short end closed, then turn it right sides out. You can then fold it in half and sew the raw edges to the collar, making sure to stretch it as you go. It's easiest to mark the quarter points on the collar and the quarter points on the neck of the vest so you can match them up. JUST stretch the collar- not the vest too.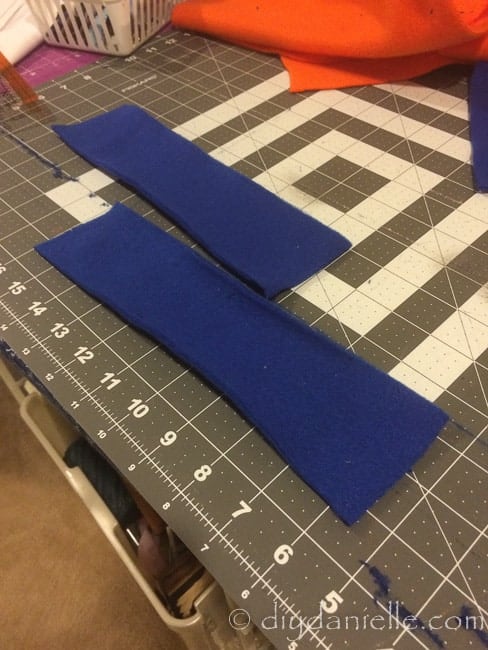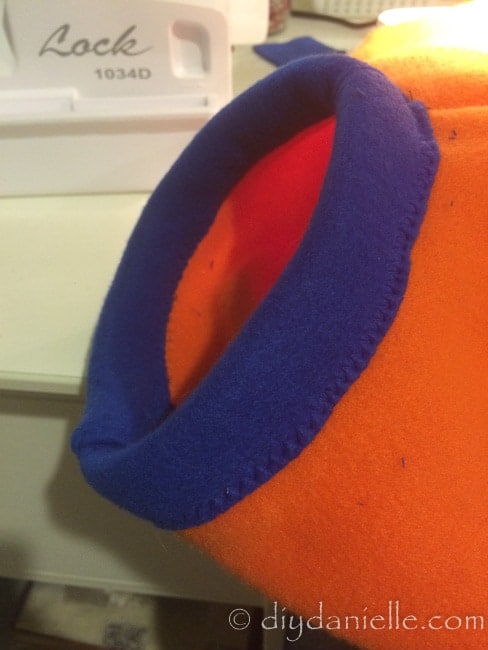 Next I used some orange strips for around the leg openings. I did the same thing as I did with the neck to add those on.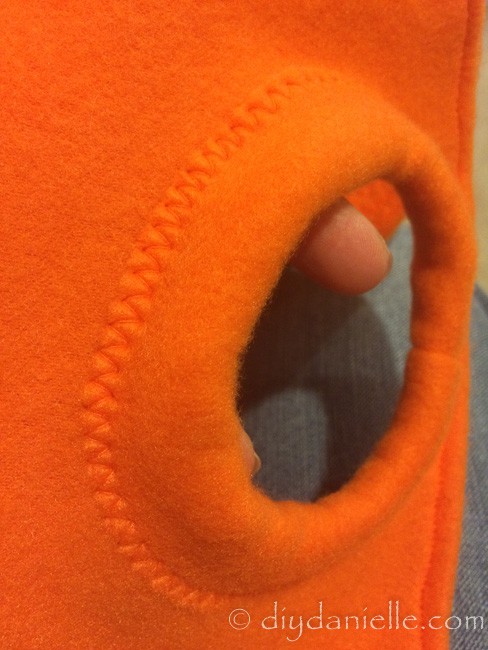 For the rest of the coat, I turned over the raw edges and finished with a straight stitch.
How to Make a Zuma Dog Tag
I took a piece of orange duct tape and stuck it onto a piece of cardboard. I stuck a sticker onto the middle, then cut out the shape of Zuma's dog tag. I hand sewed the tag onto the front collar of the costume.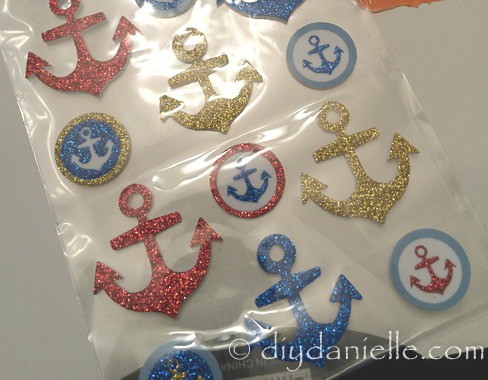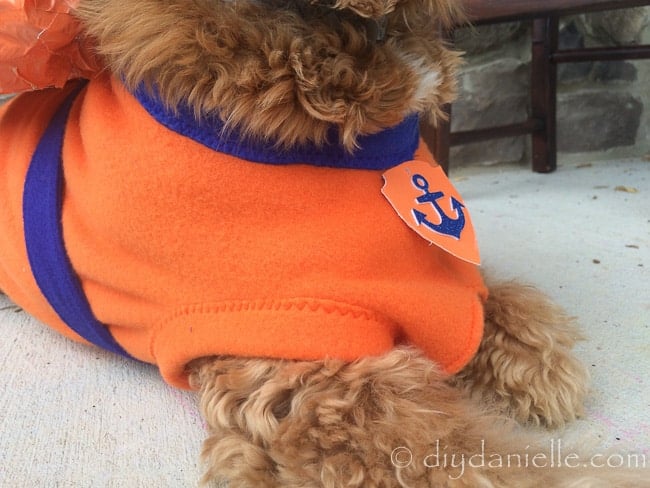 Other Paw Patrol Tutorials
Make sure to check out these other Paw Patrol tutorials on my blog.
Halloween Costume: Ryder / Paw Patrol Birthday / Paw Patrol DIY Painting / Paw Patrol Bookshelf / Adult Everest Costume / 8 Adorable Paw Patrol Costumes
And there you go… your child is thrilled and you've got coordinating costumes… assuming you already made a Ryder vest for your child! My oldest son, G, is modeling the Ryder costume below, but my youngest is the one who will be wearing it this year… G is dressing up as a policeman this year.
Please pin this!