How to make a clothespin bag from an upcycled shirt. This easy to sew project makes doing laundry loads more fun!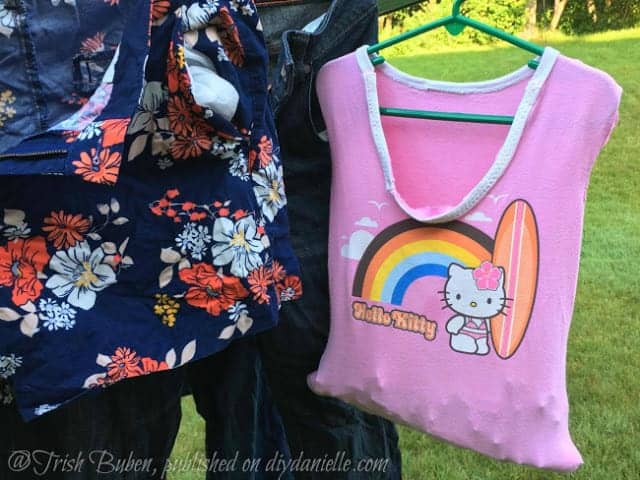 This post may contain affiliate links. Using these links helps support my blog. Thank you!
While I'm on maternity leave, enjoying some baby and mama time, my friend Trish is here to explain how to make an easy clothespin bag. For those of you who line dry, particularly cloth diapering mamas, this is going to be a great item to make to decrease how much time you spend bending down to grab clothespins to hold your clean laundry. The best part is that it's made from upcycled items that many of you will have around your home! -Danielle
Most people would probably describe me as a bit "crunchy." When my babes were little, I (mostly) cloth diapered. As time allows, I like to make my food from scratch. I have a composter and carry reusable shopping bags. Most of my crunchiness is just making different choices, like cloth over plastic, and isn't particularly hard. And, interestingly, the more crunchy choice is often cheaper — like buying clothes at Goodwill.
About two years ago, my family moved to the Pittsburgh area. Our house wish list had plenty of normal entries, like four bedrooms and more than one toilet. It is also had a few crunchy ones, like space for my composter and a laundry line. While composter location was easy, I struggled to pick a location for a clothesline! I have two babes and there are 10 times that on our street. They run and chase all over the place. A long line was just asking to catch someone. Finally, after visualizing a long line in numerous configurations all over the yard, I realized that I need to use the umbrella-style laundry line. I found Best Drying Rack (http://www.bestdryingrack.com/) and was smitten (I was not sponsored in anyway by them, these opinions are my own.)! I purchased a small sized one and waited eagerly for its arrival. Line dried clothes were soon in my future!
Installation was pretty straight-forward and soon I had my first load of laundry ready to hang. I had my basket and a bag of clothespins. And … I sure had to bend a lot to get those pins! I remembered as a child we had a clothesline and we kept the pins in a bag that hung on the line. You just pulled it along as you needed them. That kind of bag was just what I needed!
As I was bending to pick up laundry and pins, I was planning on how to make a pin bag. I was thinking of all the various remnants I had and was thinking of shape to make it when I had a great idea! I remembered the bag we had when I was a kid looked just like a little girl's dress. I had little girl's dresses and shirts just waiting to go to Goodwill! Just like that, I knew what I was going to do.
Supplies for a Clothespin Bag
Supplies listed below may include affiliate links to the products.
One child's t-shirt or dress

Pins, needles and thread

One child sized hanger
Tutorial for a Simple Clothespin Bag
By Trish Buben
I choose a shirt that had an open neck, because I knew I was going to be cutting it down to make access to the bag better. The open neck just made that access easier.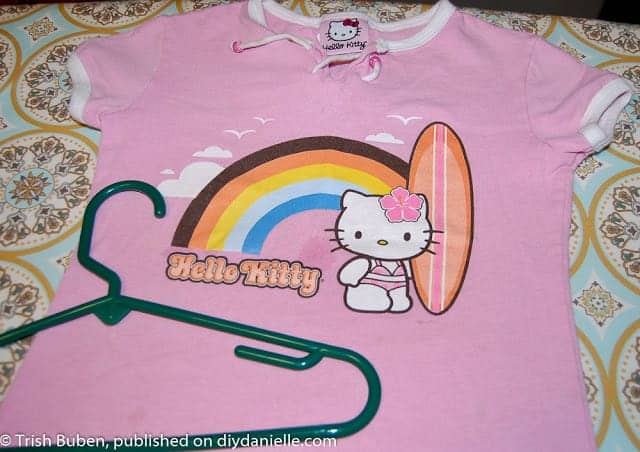 To start with, I turned the shirt inside out and cut the sleeves off near the seam that joined them to the main shirt. I wanted to keep the width at the top, as I was going to put the shirt on the hanger. I then took the remnants to work on the opening.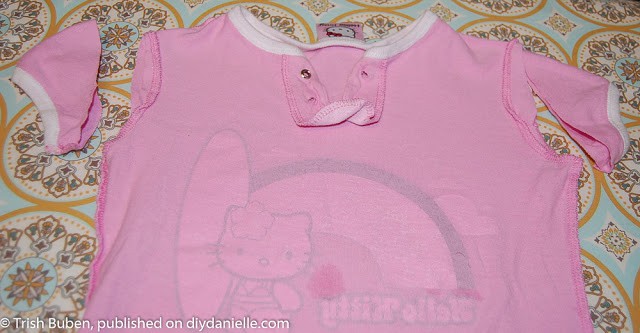 Taking the two sleeves, I messed around with them until I had a nice semi-circle opening. I traced the opening with some chalk, just to give me a line to cut.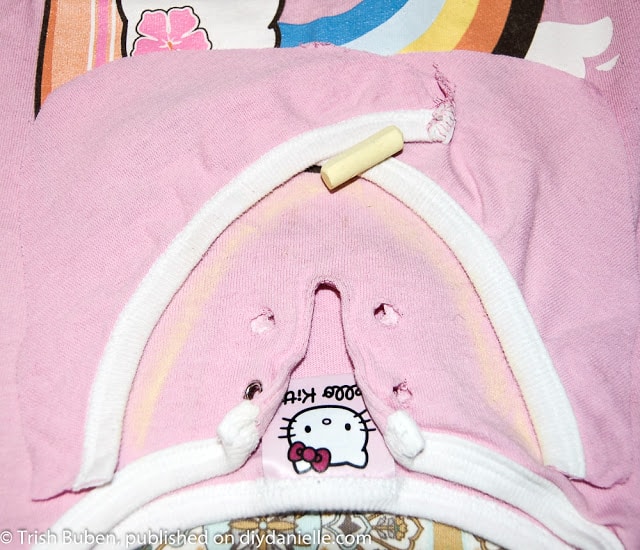 After cutting away the collar, I pinned down the two sleeve remnants with the binding on the front side. I trimmed them to fit how I wanted them, but kept the extra sleeve material on the back side to give a little reinforcement to the opening. The opening will need some strength to hold up.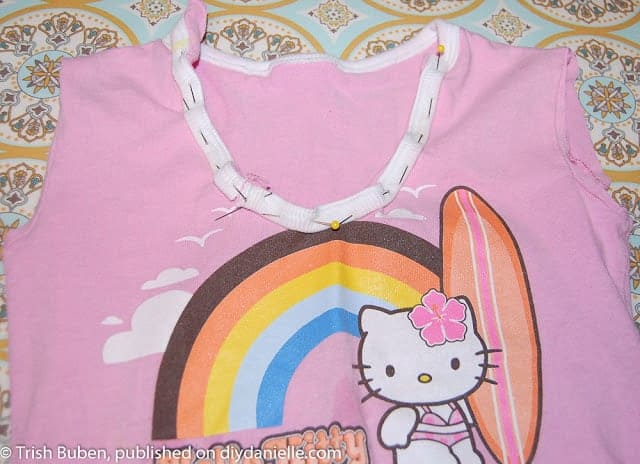 This picture of the bag is a little bit blurry, but you can see how it looks on the back side.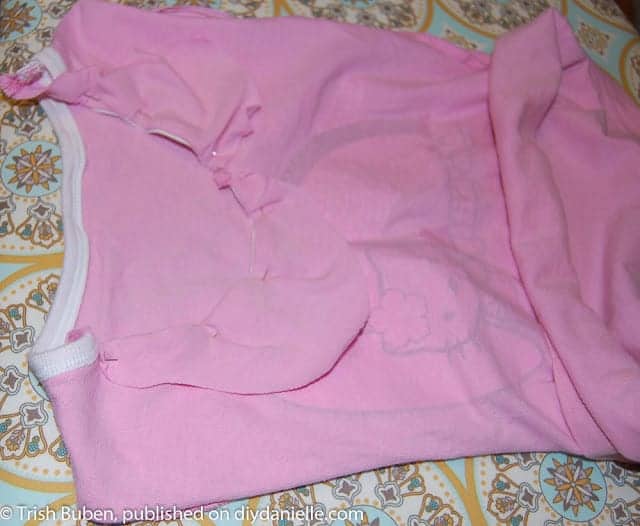 I didn't really set a seam allowance for sewing down the collar. I just went down the middle of the binding.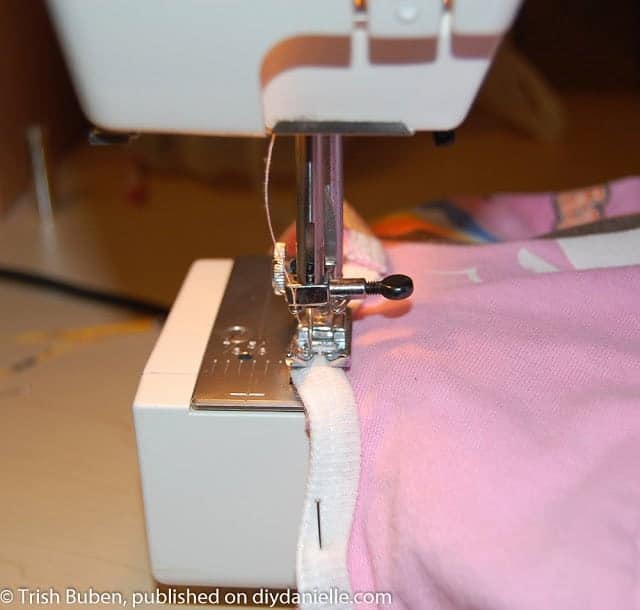 After finishing with the collar, I turned it inside out to sew down the sleeves and the bottom.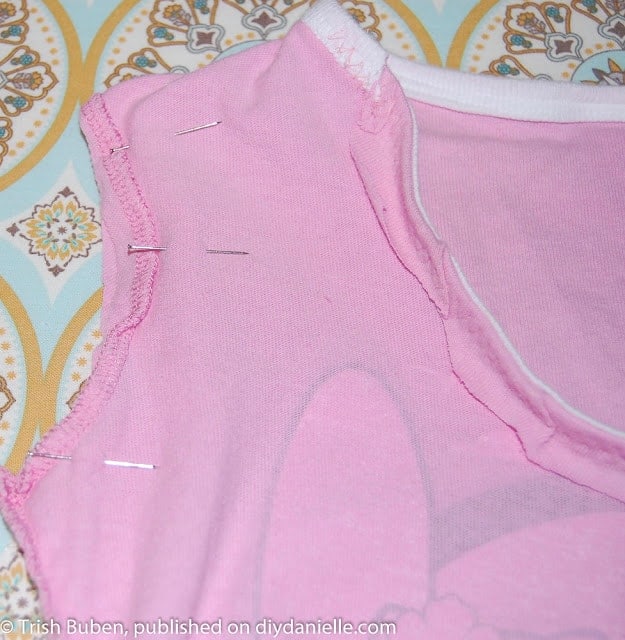 Turn it right side out and put the hanger in and ta-da! A quick little project to help with being crunchy!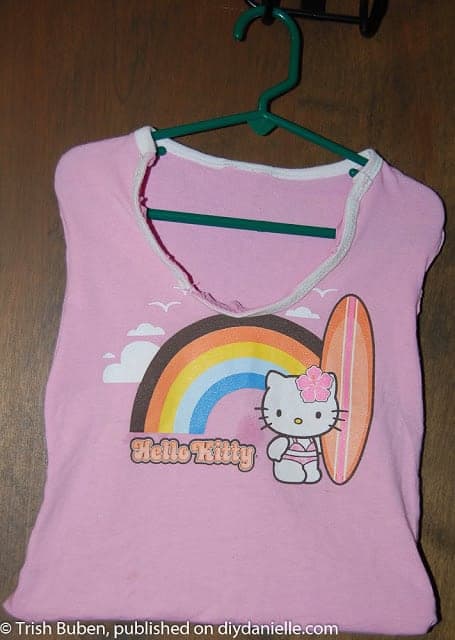 About the Author
Trish Buben is stay at home mom to 2 in Pittsburgh's North Hills. She enjoys being crafty!
Love it? Pin it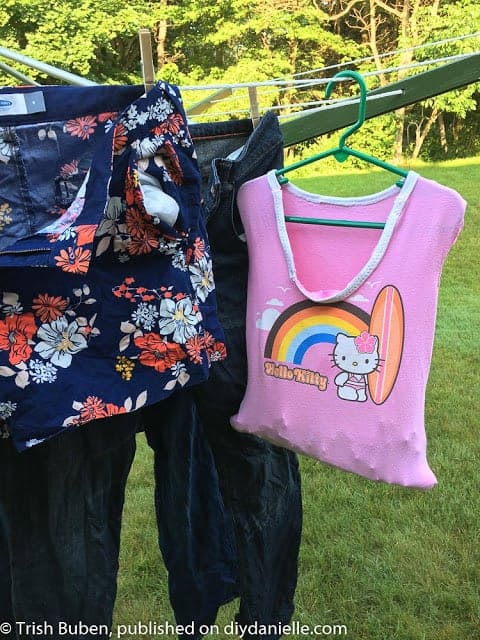 Thanks for taking the time to read this post! I really appreciate the time you've taken. Please share, like, and pin my post if you enjoyed it. Follow me on social media and subscribe to my email list to keep up to date on all of my latest projects!

Disclosure of Material Connection: Some of the links in the post above are "affiliate links." This means if you click on the link and purchase the item, I will receive an affiliate commission. Regardless, I only recommend products or services I use personally and believe will add value to my readers. I am disclosing this in accordance with the Federal Trade Commission's 16 CFR, Part 255: "Guides Concerning the Use of Endorsements and Testimonials in Advertising."