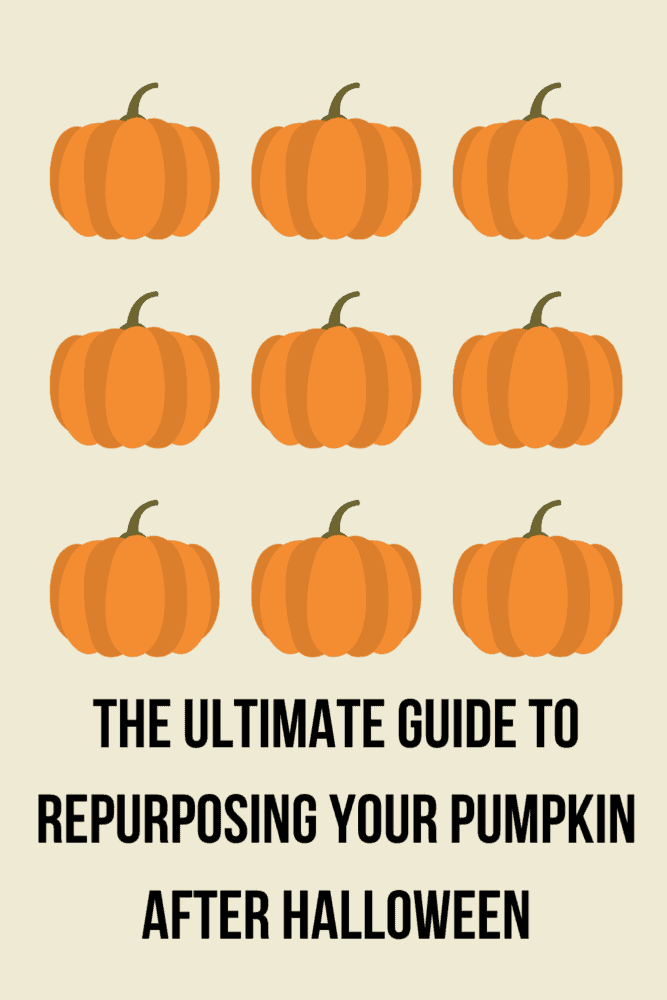 What to do with your pumpkins after Halloween. Pumpkins have many uses including as food, decoration, compost, and more!
This post may contain affiliate links which may earn me commissions should you click through them and take certain actions. As an affiliate for Amazon, Cricut, xTool, Home Depot, and other sites, I earn from qualifying purchases. Please DIY carefully. View my full legal disclosures here.
Please read the whole post so you don't miss any important information!
We stock up on pumpkins and carve out Jack-O-Lanterns in preparation for Halloween, only to be left not knowing what to do with them once October 31st has come and gone. Don't just revert to throwing your pumpkin away like every other year. There are so many uses for it!
What to Do with Pumpkins
Here are some ways to eat, redecorate, or dispose of your pumpkin this year:
Eat Your Pumpkin
Not every pumpkin is going to taste the same. All pumpkins are edible; however, you should never eat a pumpkin that was previously carved and used for decoration. Larger pumpkins tend to be less sweet and stringier than the smaller pumpkin varieties. Whatever size pumpkin you have, it will be packed with nutrients such as vitamin A, potassium, fiber, and vitamin C. This makes pumpkins a nutritious food that also tastes good.
If you have an uncarved pumpkin leftover from Halloween, here are some recipe ideas to repurpose your gourd decorations.
Redecorate with Your Pumpkin
Pumpkin decoration doesn't have to end with Halloween! These colorful gourds are a great addition to any porch or table centerpiece throughout the fall months.
Listed are ideas to help you reuse your pumpkin decorations this year:
Pumpkin planter- Pumpkins make a great natural planter for most any type of fall plant. All you need to do is carve out the inside, cut a drainage hole at the bottom, then you can add potting soil and the plant to the planter. It will look great on your front porch!

Candle holders- This is a fun project to utilize little pumpkins. Carve out a hole on top (removing the stem) just deep and wide enough to fit your candle. This is a great way to garnish any table this fall.

Pumpkin centerpiece- If you need the perfect centerpiece for your table this Thanksgiving, consider using any leftover pumpkins. You can paint the pumpkins, add flowers, or simply leave them in their natural state. Pumpkins add a festive, earthly touch.
How to Dispose of Your Pumpkin
If you have already carved your pumpkin and it won't serve a second purpose, or if you simply want to dispose of your pumpkin safely, there are a variety of options available.
Here are some ways to toss your pumpkin without having it take up space in a landfill:
Compost– If you already have a compost bin, you can add the pumpkin like you would any other vegetable. If you do not have an established bin, you can individually compost the pumpkin by removing any decorations or wax, cutting the pumpkin into bits, then placing the pumpkin in a sunny place in your yard before covering it with leaves.

Beware, burying it in your yard may lead to pumpkin plants the following year! I usually do this intentionally though and it makes for a very pretty garden the next year! I often have pumpkins growing in a field or along a fence (where I kicked them).

Feed to livestock- For any pumpkin that does not have rot, wax, or paint, feeding the leftovers to livestock is a considerable option. Pumpkin can be enjoyed by cattle, chickens, ducks, sheep, goats, and more. If you don't own any of these animals, search out a local farm.

Feed to wildlife- More animals than just livestock will enjoy the leftover pumpkin. You can dry out the seeds and spread them in your backyard for birds and squirrels. Or, you could even carve out the pumpkin, combine the pumpkin seeds with bird seed, and hang it up in a tree. Another idea is to cut the pumpkin into pieces and leave it in the woods, away from your home, for other wild animals to eat.

Donate to the zoo- Check with your local zoo, they may accept pumpkins to feed the animals there as well!

Pumpkin smashing- Some cities offer local pumpkin smashing festivities. This is a fun, eco-friendly way to jumpstart the process of decomposition for the pumpkin. After, the remains are typically collected and composted. Check with your local municipality to see if there are any pumpkin smashing events near you.
My chickens and ducks LOVE pumpkin and many farmers consider it a natural dewormer for their livestock. I've heard goats and sheep will eat it as well, but mine don't eat it.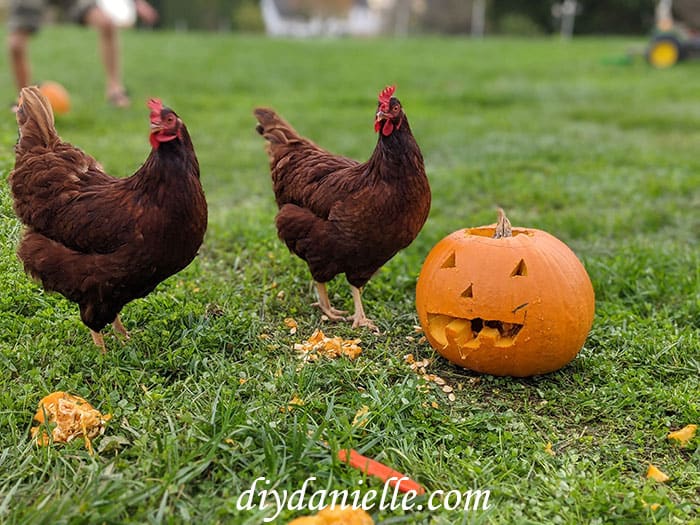 Simply surrendering your pumpkin to the fate of a landfill can have detrimental effects towards the environment. An article from the US Department of Energy informs us that a pumpkin decomposing in a landfill will lead to the release of methane, a harmful greenhouse gas.
Reverting to other methods of disposing the pumpkin can convert waste to energy. There are many options for what to do with your leftover pumpkin. Be creative!
Gather ideas and make it a family project to reuse your pumpkin this year.
If you have used one of the ideas above or came up with another way to reuse your pumpkin, share it in the comments below!
Please share and pin this post! If you make this project, share it in our Stuff Mama Makes Facebook Group. We have regular giveaways for gift cards to craft stores. You can also tag me on Instagram @doityourselfdanielle; I love seeing everything you make!