How to sew a soap holder from upcycled fabric.

My older son is almost 3 years old and we've been trying to encourage him to soap himself in the bath more, but that slippery soap just gets away from him… It's hard not to get frustrated when you fetch it the four thousandth time. I saw some nifty soap holders on Pinterest and decided to replicate, except I added a strap so he can put that around his wrist.
This is a great project for scrap or upcycled fabric. An adult tshirt arm would work well. T-shirt fabric requires no finishing as it won't fray so it works particularly well if you want to cut holes in it like I did for my bath toy storage. It also requires less sewing.
I decided to use some scraps of towels for two, and then leftover fabric from my knit baby pajamas for another to show how it would work for knit fabric.
I redid this project and it's much prettier now. Check it out at https://diydanielle.com/how-to-sew-soap-bag/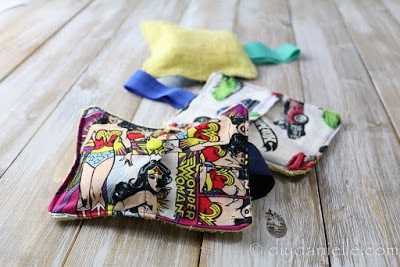 First Two Soap Holders
I backed the towel pieces with upcycled fabric (minky) from reupholstering my glider. I saved the brown fabric from my initial attempt to upcycle, rather than tossing it (it's fairly worn, but still works fine for some stuff). I used the minky for the straps too.
If you missed those posts:
To make this, I cut one big piece of the towel and then two pieces of minky… There should be one longer piece and one shorter so they overlap when placed over the towel cut.
I serged the edges of the straps so they wouldn't fray, as well as both of the exposed ends of the minky. For the long piece of minky, I then turned over and stitched with my sewing machine. If you don't have a serger, all you really need to do is finish the edges nicely… ie. turn over once, then over again and straight stitch… this is just to keep the fabric from fraying. Some fabrics fray more than others… I don't know that minky does, but towels fray a ton. Knit does not.
Then I placed the towel piece right side up, the strap, the long minky piece right side down, the short minky piece right side down. Pin.
Sew all the way around. I used my serger, but a regular sewing machine is just fine too.
Turn through the overlapping minky pieces and you're done.
Verdict after using this: I REALLY like the minky… it's soft and the soap suds up nicely through it. The towel side is rougher (old towel), but I think it's good to have the two combined. This option is better for smaller pieces of soap- in fact, you could just put a bunch of soap slivers in here and save soap by doing so.
Knit Soap Holder
I did the same thing to sew my knit soap holder except I cut holes in the knit fabric on the long side. It doesn't fray but it will allow you to see soap through it. I also didn't finished the edges on the knit seeing it shouldn't fray. Lazy. I used ribbon on this one for the strap.
Yeah I didn't cut very even… but I just trimmed after. I was
trying to be quick.
Sewed around and just turned right sides out after.
Finished product.
Verdict: I haven't used this yet, but I found that the sliver of soap slips out the holes I made. I recommend making them just slices, not bigger cuts like I did. It will work fine for a normal large bar of soap, just not the small slivers.