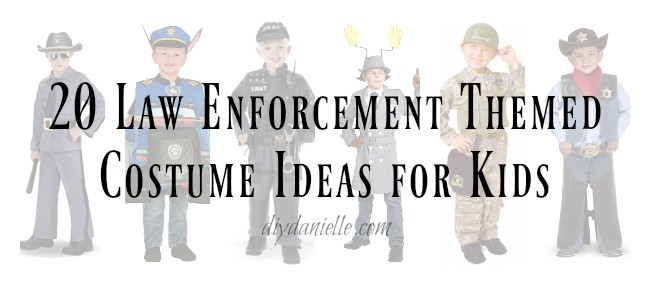 Here's 20 ideas for making your own policeman and policewoman costumes for kids this Halloween! From county police costumes to state troopers and beyond, this round up has all of the best police costumes for kids (and adults)!
This post may contain affiliate links. Using these links helps support my blog. Thank you!
My son is absolutely positively sure that he wants to be a police officer when he grows up. As such, he requests a police officer costume for Halloween each year.
It started with the police costume he wore in 2015, but now it's two years later and I asked what he wants to be for Halloween this year and the answer is "a policeman."
As someone who, at 20, couldn't make up my mind about careers, I truly appreciate how consistent he is at 5 about his future career. I also appreciate that his career choice won't involve 8 years at an expensive university. But I honestly didn't want to see the same costume again this year- and I doubt he'd fit in it. So we've been trying to expand on what type of career options he might have as a police officer and I figured a great round up of policeman costumes would help inspire him to wear a slightly different costume this year.
Unfortunately, I couldn't find many bloggers with tutorials on how to DIY these costumes so many of them are store purchases. In fact, searching through Amazon and Pinterest for costumes was pretty brutal too. So. Many. Inappropriate. Costumes.
Hopefully this post will help some of y'all who might be having the same struggles this Halloween season!
My son's first police officer costume was super simple and required no sewing.
Learn how to sew this easy police dog costume. This costume is the perfect addition to your family outfit if everyone wants to dress up together. Love pet costumes? Check out my other ideas for family and pet costume combos.
I thought this was a cute costume for any kid who dreams of high speed chases, and pretends to write speeding tickets.
This costume is Five Nights at Freddy's themed, but it could be a general mall cop or security guard costume as well.
6. Airport Police or TSA Costume
I've got nothing…. but I wanted to mention it because it would be easy to DIY.
The fact that this one comes with an adorable stuffed black bear is enough to make any imaginative little park ranger swoon.
It's not exactly a "police" job, but to my sons it's close to the same thing!
Law enforcement from the Wild West? What's not to love?
Got a stick toy horse (or a real one)? Imagine this adorable set up from Amazon.com!
Let your child ride his/her bike to go trick-or-treating! Buy any police costume, and add this police motorcycle helmet to complete the look.
No easier costume than this! Dress your child in a black pantsuit, white shirt and tie, sunglasses, and then slip these earbuds on. Plus, your child can actually use these earbuds in their electronic devices later too! How fun is that?
This Judy Hopps costume is super cute.
If you have skills sewing, then this costume is for you. It takes a little bit of piecing together, but the end result is "elementary, my dear Watson."
Your child might not know who Inspector Gadget was, but I can guarantee you all your friends will immediately recognize this character! Might be fun to pull up some old videos on YouTube.
17. Good Cop/Bad Cop Costume
Anyone love the Lego movies? You could create your own Good Cop/Bad Cop Costume!
Dress up some thrift store finds and create a cute little spy costume like this affordable, DIY spy costume.
Got a Transformers fan? This Rescue Bots Chase costume is just perfect for your little hero. I love this super cute Transformers costume by Homemade by Jill. Or you can buy this Chase Rescue Bots costume from Amazon.com!
Sew together some cute ears and a tail, and dress your child in a blue police hat and shirt, and you have a "Chase" costume from Paw Patrol!
Can't sew? Check out this Chase Paw Patrol Costume from Amazon
Love it? Pin it!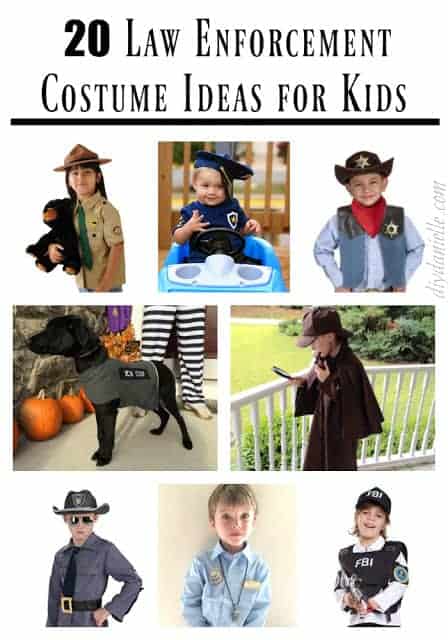 Thanks for taking the time to read this post! I really appreciate the time you've taken. Please share, like, and pin my post if you enjoyed it. Follow me on social media and subscribe to my email list to keep up to date on all of my latest projects!