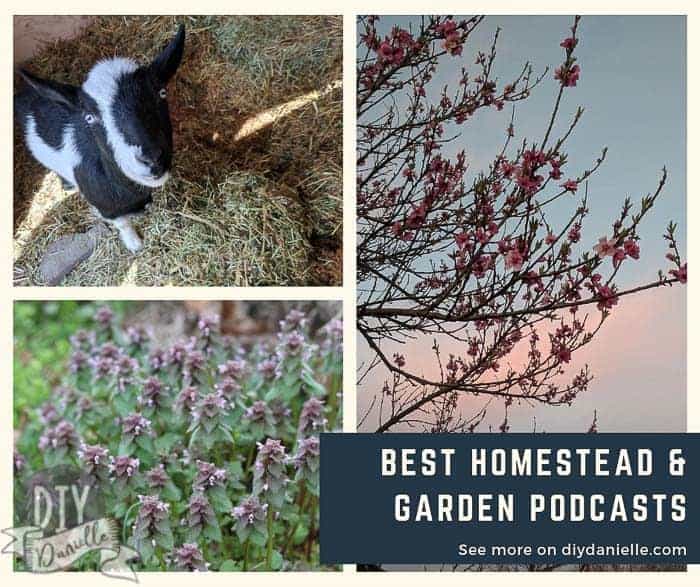 Some of my favorite homestead and gardening podcasts that will help you learn new skills, improve your farm business, and learn to garden more effectively.
As you may know, we moved in November as we wanted a larger property so we could have goats, ducks, and horses. In our country, you need a 4+ acre property to have any farm animal (except chickens). Homes with over 4 acres are pretty rare in Maryland and expensive. We managed to save a little bit of money by moving a little further out.
Our middle son's preschool has been such a wonderful place for him that we didn't want to switch schools midway through the year. The preschool is near my husband's job so he drops my son off at school and I picked my son up in the afternoon.
This means that I have a 1 hr 15 min trip every school day. I love audio books, but I've been trying to learn more about different homesteading topics and gardening. I managed to find a number of homesteading and gardening podcasts that I love and I wanted to share them with you. They all have excellent information that has helped me really grow as a gardener and as a homesteader.
The wonderful thing about podcasts is that you can listen to them while you're working, even if you don't have a commute. I often will listen while I'm working in my garden, when I'm milking my goat, or even when I'm building a new goat house or shed.
Thanks to these podcasts, this is the first year I felt truly prepared to garden. These podcasts have been a wealth of information that have helped me grow as a gardener and as a homesteader.
My husband was joking around and said that this is the first year he's seen me actually know what I was doing gardening because usually I just wing it. He isn't wrong.
So here are ten of my favorite garden and homestead podcasts. I am practical about my podcast choices; I want useful information that I can apply on my homestead and in my garden. I tend to avoid podcasts that talk about political issues, even ones that interest me and are relevant to homesteading. I found that a lot of the permaculture podcasts didn't seem to have practical information.
10 Favorite Garden & Homestead Podcasts
Homegrown Liberty
This podcast doesn't seem to be active still, but I really enjoyed listening to a lot of his recordings. I like that the man who does the podcast is gently religious ("do good things" is his motto), but practical in how he practices homesteading. He seems to follow my personal belief that you should work smarter, not harder, when possible.
This podcast focuses on a variety of topics, including raising farm animals for meat and milk, as well as gardening. Overall I think I just liked his personality and it jives with my personal beliefs about how to care for animals.
Favorite Episode: Raising Dairy Goats
The Orchard People (Urban Forestry Radio)

I've listened to about 75% of the Orchard People podcasts. This podcast focuses on orchards, and growing fruit trees and other fruit plants. If you listen live, they will usually give an item away if you write in with a question.
The guest speakers are excellent and they talk about a variety of interesting topics. I've learned about a lot of different new types of fruits to try in my garden, as well as some interesting indoor fruit such as coffee trees.
Favorite Episode: No Fuss Fruit

The Modern Homesteading Podcast
I recently started listening to this podcast. It is still active and has tons and tons and tons of old episodes that you can go through. He talks about a variety of really interesting topics so I've been really enjoying the podcast. The episodes are fairly long which I like because it lasts me through my commute.
He also has a Facebook group called The Front Porch.
Favorite Episode: Small Backyard Ponds
Sow Edible Permaculture Podcast
From the name, you can guess that this podcast focuses on edible gardening, my favorite topic. I haven't delved into this one yet, but there's quite a few of these saved to my playlist for later.
One of the things that has stopped me from getting started on this podcast was that the episodes cover multiple topics. I really like a focused podcast on one topic, even if it's shorter.
On the playlist: Kid Gardens, Grafting, PDC, Watering Your Back to Eden Garden, and 5 Edible Weeds (this is all one episode)
You Bet Your Garden
This was recommended to me recently so I haven't gotten into these yet either. I have really focused on permaculture gardens this year, particularly the Back to Eden / Food Forest / Fruit Guild methods of gardening. So I'm a bit hesitant sometimes to delve into new gardening podcasts for fear they won't be applicable to my garden… ie. if they focus on container gardening, I don't do a lot of that.
While I haven't started going through these episodes, I do like that a lot of the episodes focus on issues that can occur with your garden plants. For example, topics include how to remove poison ivy, rose diseases, and identifying problems in your tomato crop. I'm saving these episodes for once my plants are in the ground, seeing I still haven't gotten my plants in the ground (next Monday is our 10% chance of frost date).
On the playlist: Got Tomato Problems?
Let's Argue About Plants
Here's another new podcast that was recommended to me. I like that the episodes look like they'll be extremely focused. This allows me to pick and choose episodes that interest me easily.
On the playlist: Vines Worth Buying and Plants for Privacy.
Small Farm Nation
I started listening to this one, but I think a lot of the podcasts revolve around making money with a small farm. I've been saving this one to listen to once I've got a bit more of a setup.
On the playlist: Joel Salatin and How to Swap a Depressing Job for a Rewarding Farm
The Grass Fed Life
I've only listened to one episode, but there are a few that I'm interested in so it's on my list. The episode I listened to was about goats, milk, and cheese making. He interviewed a woman who makes cheese from goat milk to sell. It was interesting, but I didn't really feel the information was pertinent to me because I am homesteading to make food for my own family- not necessarily as a business model.
It was, however, eye opening in terms of thinking about carefully selecting what products you produce as a farm business to bring in the best income for your farm.
In the Garden with Peter Burke
This is another one that I haven't delved into much, but there's a number of really interesting garden topics that I have saved for later. A lot of the later episodes focused on preserving food, which is a great topic.
On the playlist: Cold Cellars, Seed School
The Beginner Farmer Show
This is another podcast that talks a lot about the business aspect of farming, but I like that he's a beginner farmer and comes with the perspective of someone who wasn't raised doing this. It's sometimes easier to hear from someone "new" because they can tell you what mistakes not to make. Folks who grew up farming may forget some of those first time mistakes and not warn you.
Just a little funny tidbit, but I have been attempting to grow potatoes for years and was repeatedly told to cover the potato plants as they grow. Okay so I covered THE ENTIRE plant… green stuff and all. This year I was doing some reading and realized that folks are only covering the potatoes, not the green plants too. Sigh. Like I said, I love gardening, but this is the first year I even remotely understand how to go about it properly.
This is another podcast that isn't highly focused so it covers a few topics each episode.
On the playlist: Net Fence for Sheep, The Farm Crawl, and a Hard Lesson.
Podcasts that Focus More on Permaculture
Here are a few permaculture specific podcasts that were recommended to me, but they seem to be more focused on the political and intellectural aspects than practical information.
Permaculture Perspectives Podcast
Making Permaculture Stronger Podcast
Permaculture Realized Podcast
I hope this list and the podcasts help you grow as a gardener and homesteader! Enjoy!
Love gardening? Check out these 13 Trellis Ideas for your garden.
Please pin and share this post!