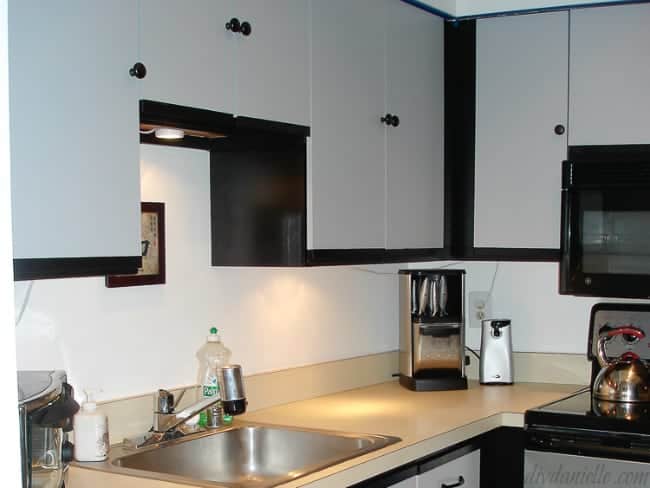 How to paint laminate cabinets from the 1980's in a small condo kitchen. Renovations in a small kitchen condominium that won't break the bank.
This post may contain affiliate links. Using these links helps support my blog. Thank you!
We lived in our condo many years ago, but I've been trying to share old photos and updates that we did in the condo as inspiration for those who might be working with small spaces. This condo was SMALL. We did our best to work with the small space, adding extra storage whenever we could.
We went through a couple of stages of renovation. If I were to do it again, I'd probably opt to save money (on the final updates) by keeping the original cabinets and just replacing the fronts of the cabinets. Or I'd do a better job painting the cabinets to begin with.
This was all done before Pinterest and before DIY instructions for projects like this were easy to find.
Today I'm going to discuss how we painted our laminate cabinets and show you some before and after photos. I'll post again in a couple weeks to show you the completely updated kitchen once we replaced everything later on!
Now… to be clear… I did this before quality paints and instructions. I would do a lot of research if you want to do this now. There's likely some great paint options for cabinets that would save time and effort and look better. I certainly wish we'd had a paint sprayer for this!
But it looked pretty decent so I want to give you an idea of what you can do with a little paint.
Before
With the exception of the microwave, this kitchen had all of the original appliances from 1980's. The whole unit did actually. I still laugh about my old electric bill… it was brutal. As we slowly replaced the appliances, I saw major differences in our bill. There were still updates that would have helped (like replacing all of the windows), but the appliances made a difference between a $500 winter electric bill and a $200-300 one. For 1,100 sq ft.
When we moved to our home, my father mentioned his concern that we might be able to afford the mortgage but not the utilities on the new home. Our utility bill on our home- which is over twice as big as the condo- is still less than we paid in utilities and condo fees at the condo. By a lot.
Of course, we did install solar power in the house which helps. But it was lower before we ever did that.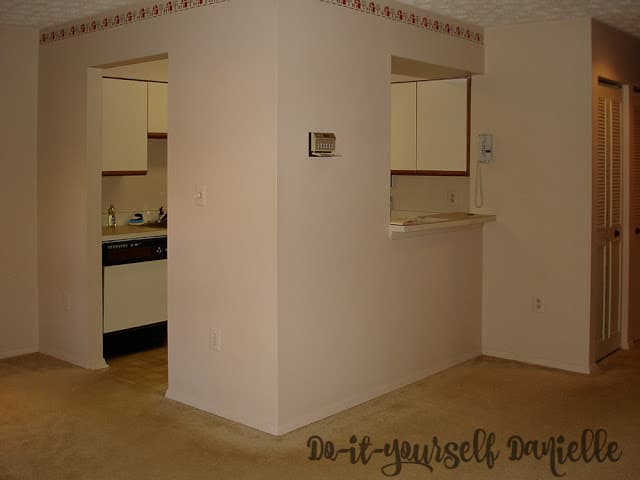 I repainted the rooms of course and covered up the stencils.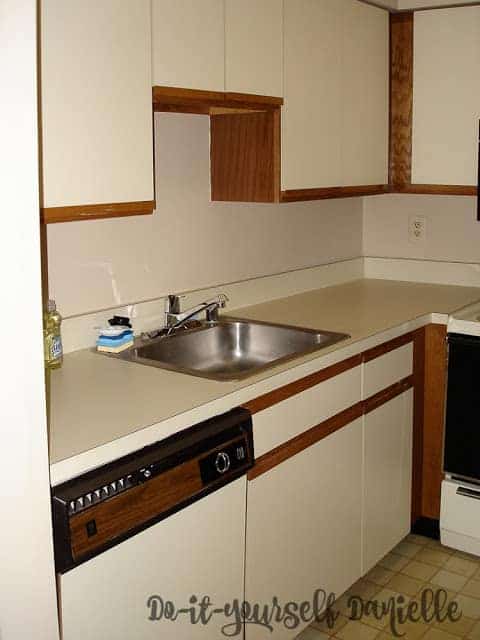 I loathe the laminate cabinet fronts.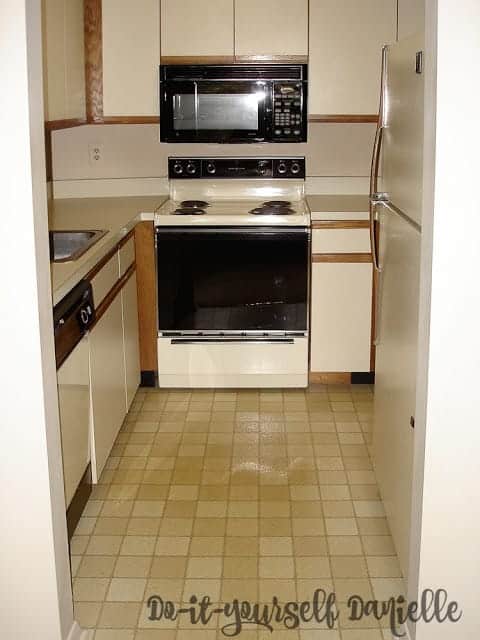 Our refrigerator died within a month of purchasing the condo so that was our first big purchase- all of the kitchen appliances to match.
Painting 1980's Laminate Cabinets
My first thought was to find a cheap way to update the kitchen. I didn't want to spend $10k on a new kitchen- I just didn't have those kind of funds as a social worker. I decided to paint the cabinets. Gosh. I wince when I think about how much work this was- and I ended up hiring someone to finish it because I didn't have the time to complete it.
I also think about how much better this would have been if I'd done it myself now, with all the resources available about painting cabinets and specialty paints intended for this purpose. And I totally would have redone the counters too. It would have made a big difference.
But alas… I worked with what I had!
First we removed the front of the cabinets.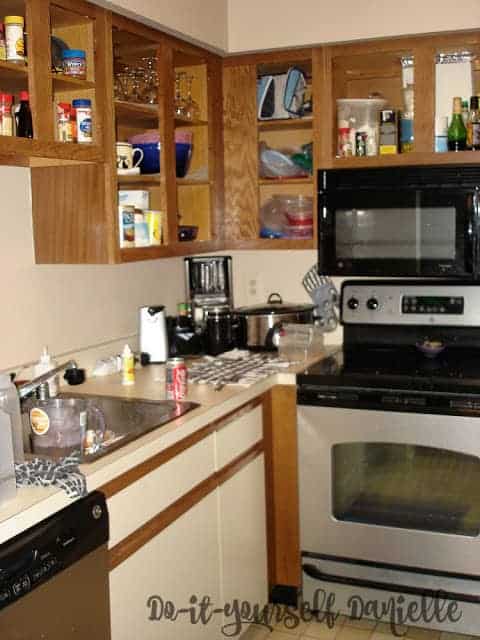 Then we taped the insides of the cabinets- it was a pain to paint the insides and unnecessary so we wanted to protect them from getting paint inside them. We also taped off any other areas that we didn't want to get paint on.
We sanded and used primer first and let that dry. The primer was necessary so the paint would stick to the cabinets. It's particularly important for the laminate fronts.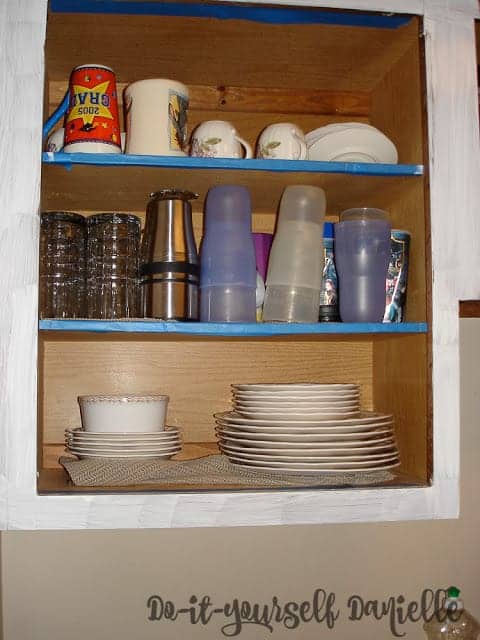 Next we added gray paint to the fronts with black trim. This was all painting and prep work so fairly inexpensive. I believe I removed the hardware before I painted, then reinstalled it after.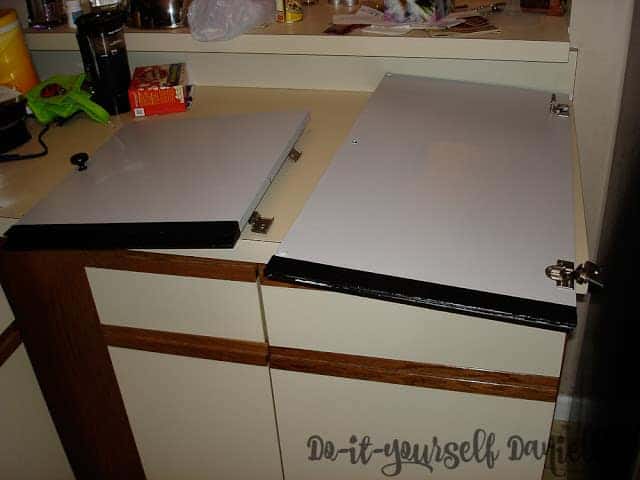 Once everything was dry, we added hardware to the cabinets and hung them back up. The black and gray worked well with our stainless steel appliances, although the countertops would have been great to paint.
We used a white paint on the walls in the kitchen to lighten things up. We did add cheap under cabinet lighting (the type you plug in) and had our light replaced up above. We were replacing our carpets in the other rooms at the time and they offered to throw in free flooring for the kitchen- so we went with laminate floors with special padding to prevent bowing if they got wet. They were fabulous.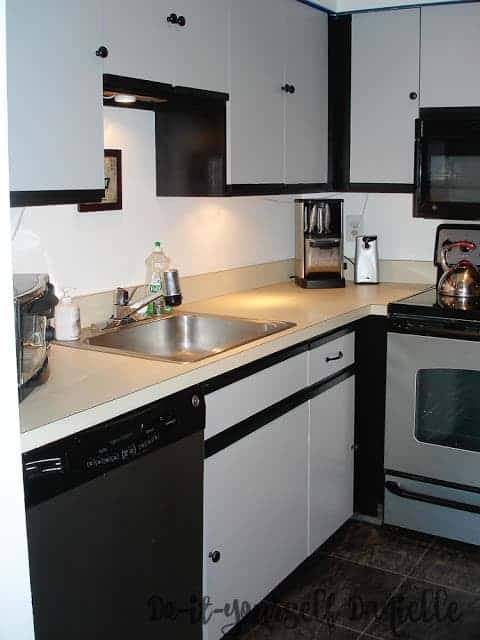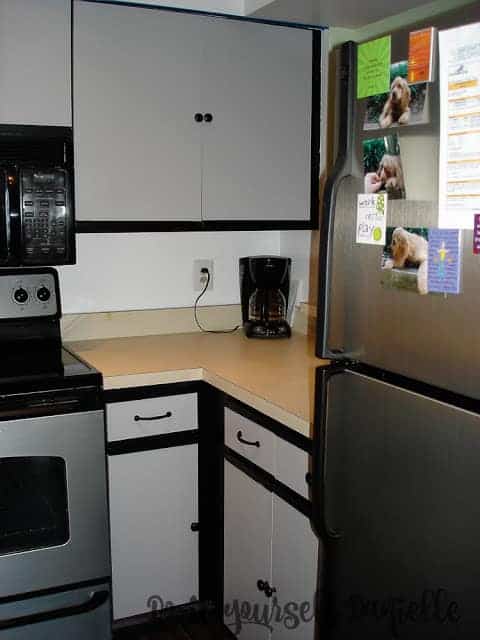 I didn't have any issues with the paint peeling, but I think now I'd want to finish this with a polyurethane. Maybe I did at the time and my memory is failing me? I don't know.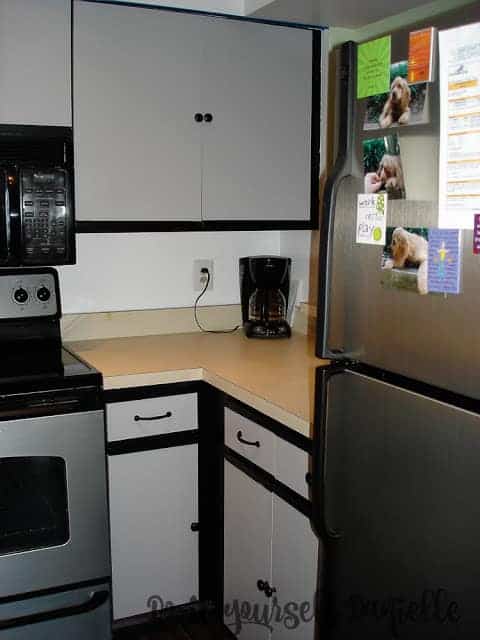 Yield:

1 Small Kitchen
Painting Laminate Cabinets
Learn how easy it is to paint laminate kitchen cabinets for a budget-friendly makeover.
Materials
Black Paint
Gray Paint
Painter's Tape
Primer
Tools
Paint Brushes
Sandpaper
Screwdriver
Instructions
Remove the kitchen hardware.
Remove the front of the cabinets.
Tape the insides of the cabinets.
Also tape off any other areas that may get paint on them.
Paint the cabinets with primer and let dry.
Add two coats of gray paint to the fronts of the cabinets.
Paint the trim with black paint.
Once the paint is dry, replace the hardware.
Recommended Products
As an Amazon Associate and member of other affiliate programs, I earn from qualifying purchases.
Love it? Pin it!

Thanks for taking the time to read this post! I really appreciate the time you've taken. Please share, like, and pin my post if you enjoyed it. Follow me on social media and subscribe to my email list to keep up to date on all of my latest projects!