How to make a "no hoomans" sign for an animal cage. This is a sign for our Omlet guinea pig and rabbit hutch with permanent Cricut vinyl.
I have a small animal assisted psychotherapy practice in Maryland… yes, I have 3 businesses if you count the farm itself. While running 3 businesses isn't for everyone, I have ADHD, multiple special interests that light a fire in my soul, and I absolutely love working multiple part time jobs. It creates a sense of balance in my life and I don't find myself getting burned out (or bored) from any one job.
My blog engages me because I love teaching and helping others, and I love creating things. It also- quite frankly- is my most profitable business because there aren't as many expenses. It has helped fund the growth of my practice and farm. Running the therapy practice and farm has given me SERIOUS sticker shock as to the cost of running an in-person business. So thank you for visiting because every pageview/visit/share/comment makes a difference to my business. Also I just enjoy talking to people and helping them problem solve issues- like how to keep their gazebo from blowing away in the wind!
My therapy practice allows me to work outside with my animals and help clients by introducing them to my heart project- building a beautiful, engaging and peaceful farm property with lots of biodiversity, plants, and animals.
And my farm allows me to GROW things and produce items that I use in my other two businesses. For example, I recently made small felt hearts with wool from our sheep to give to clients; they can add a few drops of a calming essential oil and use the hearts when they're feeling sad, angry, or frustrated. It also allows me to do a lot of physical, quiet work which I often need to manage my own mental health successfully. Working outside, picking poo, or digging in the soil while listening to an audiobook is SO calming for me.
I'm very lucky to have the option to work like this.
Part of my practice is making sure my clients understand consent- they have the right to say no to working with any animal on the farm (and I have a barn office if they prefer play/art/talk therapy), and the animals have a right to say no too. I create areas where animals can escape to if they don't want to participate, but I also focus on working with kids with ADHD so sometimes they forget the rule. This results in me reminding them a lot which isn't a bad thing, but I want to focus more on therapeutic interactions- not simply giving orders. As an adult with ADHD whose kids are likely neurodiverse as well, I am HUGE on visual reminders. If the reminder is there, it is really helpful for everyone and the adults don't need to be a broken record (most of the time).
So I decided to put some "no hoomans allowed" signs on the front doors of our guinea pig and rabbit hutch. These are what I consider safe zones for the animals, although I will personally reach in at times, and we obviously remove the animals from this zone while cleaning the cage. My 5 year old didn't quite understand that for the first week. It was pretty cute.
This is an EASY project to do with my Cricut machine and permanent vinyl. Permanent vinyl tends to do pretty well on plastic and outdoors, although there's outdoor vinyl available too and marine vinyl. That's likely overkill for this purpose, however. For this design, we need to layer the permanent vinyl.
---
This post may contain affiliate links which may earn me commissions should you click through them and take certain actions. As an affiliate for Amazon, Cricut, xTool, Home Depot, and other sites, I earn from qualifying purchases. Please DIY carefully. View my full legal disclosures here.
Please read the whole post so you don't miss any important information!
---
No Hoomans Sign for Animal Hutch
Supplies
Use the Discount Code DIYDANIELLE on cricut.com for 10% off any cutting machine or heatpress (no minimum). Excludes: materials/accessories/mystery boxes/etc. Applies to US/CA only, code expires 12/31/23.
Tutorial
Step 1: Use your Cricut to cut your vinyl. I used Smart Vinyl in black and white with white being the humans and black being the "no" sign. If you aren't familiar, this is a tutorial on how to use permanent vinyl. If you're curious about the difference between Smart Vinyl and regular vinyl, check out this video. Smart Vinyl just allows you to skip using a cutting mat which is faster, particularly for large projects.
Step 2: Weed your vinyl. Weeding involves using a sharp tool to remove any cut parts that aren't part of your design.
Step 3: Lay a piece of transfer tape over your white design. You want this piece of transfer tape to be about the same size as your design, or larger.
Step 4: Remove the backing on your white design, making sure the whole design is sticking to the transfer tape.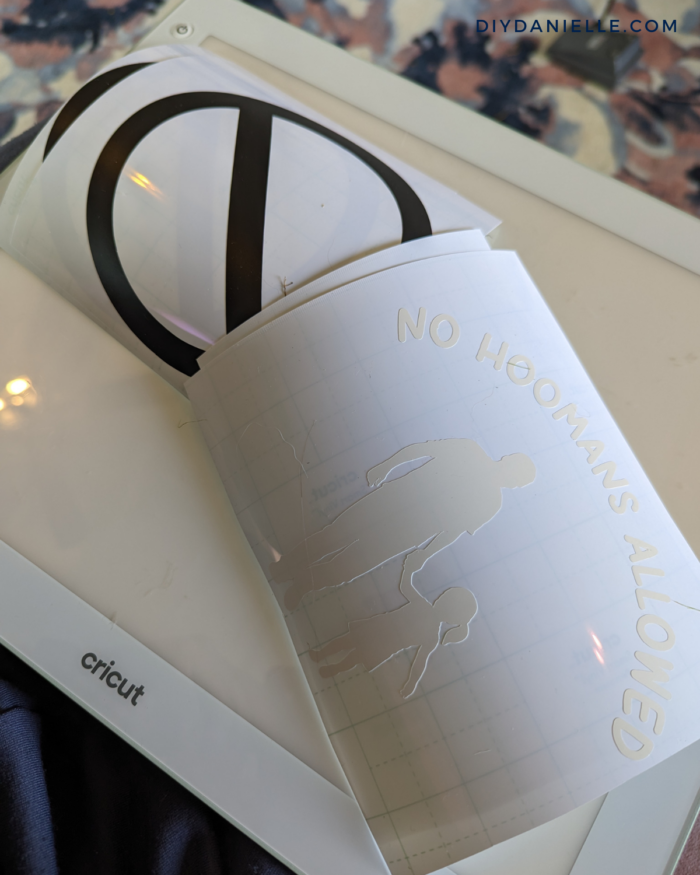 Step 5: Use the transfer tape to position the design on your hutch door. Place the design and press the design into the plastic door.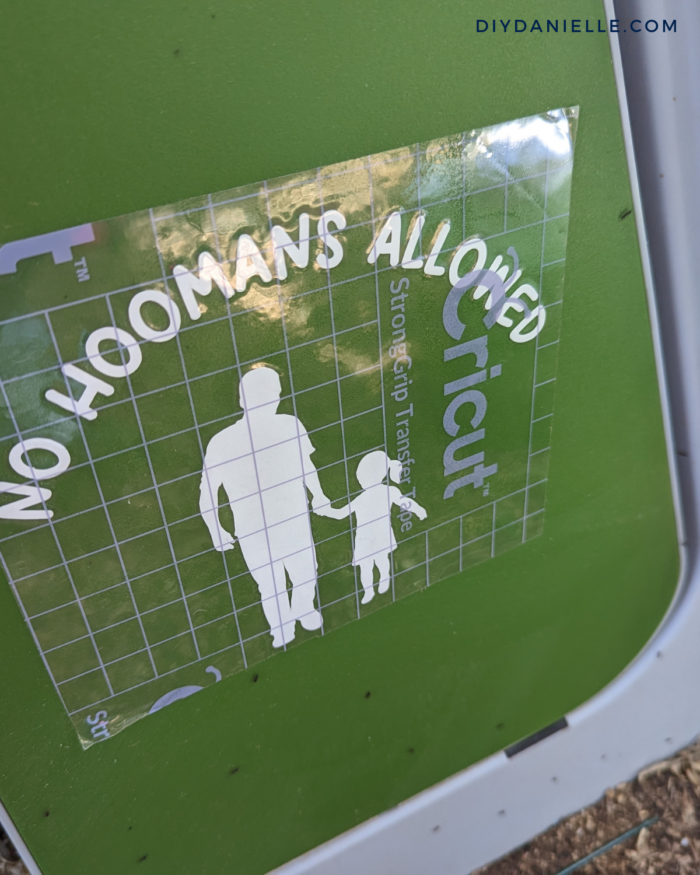 Step 6: Remove the transfer tape carefully, making sure not to pull away the design.
Step 7: Repeat the process with your black design, centering your "no" circle over the humans, but ensuring it doesn't cover the text.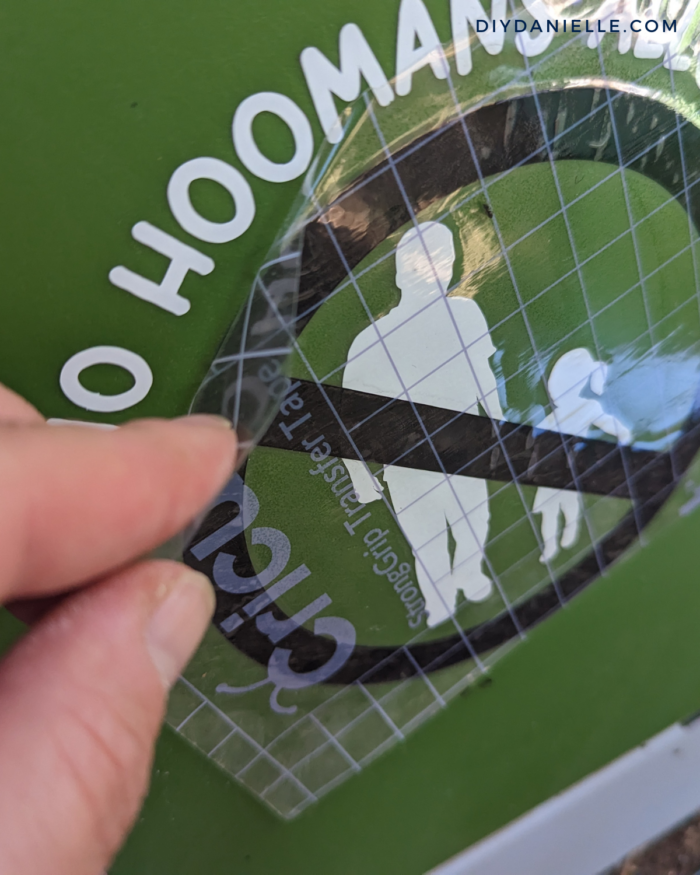 Step 8: Make sure to finger press the vinyl into the plastic, smoothing it all out.
And that's it! Super easy!
Please share and pin this post! If you make this project, share it in our Stuff Mama Makes Facebook Group. We have regular giveaways for gift cards to craft stores. You can also tag me on Instagram @doityourselfdanielle; I love seeing everything you make!