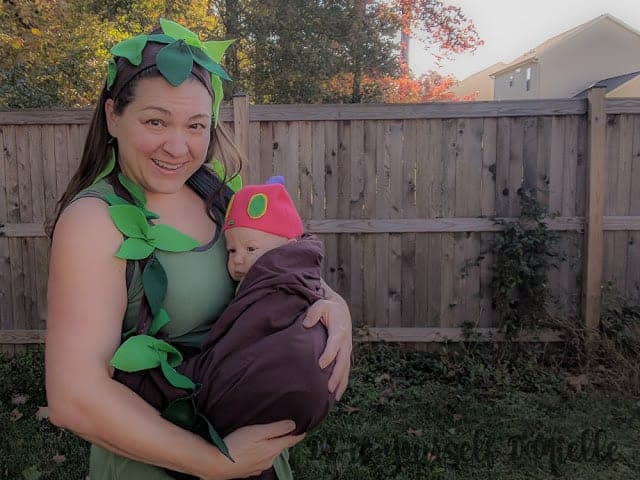 DIY Baby Carrier Costume: Mom dresses up as a tree and the baby dresses up as The Very Hungry Caterpillar. Use a ring sling as the cocoon. This is the perfect newborn Halloween costume!
This post may contain affiliate links which may earn me commissions should you click through them and take certain actions. As an affiliate for Amazon, Cricut, xTool, Home Depot, and other sites, I earn from qualifying purchases. Please DIY carefully. View my full legal disclosures here.
Please read the whole post so you don't miss any important information!
Per usual, I'm here at the last minute posting about MY Halloween costume. Because that's how I roll every single year.
For Halloween, Tristan is only 10 weeks old so I decided that it would be fun to do a mommy and me costume. We use an Ergobaby carrier once the boys are older, but where he's still so little, I like to use a ring sling. Godric, 6, decided the Hungry Caterpillar would be an awesome costume for Tristan so I put together a quick and easy Very Hungry Caterpillar costume for him.
Of course, I decided the best costume for me would be a tree and the ring sling could be a cocoon! I love how these came out. I just wish I'd made the hat for Tristan a bit bigger because his head has grown since I made it and it's now falling off. Boo. Oh well it'll work for tonight at least!
Supplies
Several shades of green felt
Scissors
Glue gun: mine is awful, but I'm eyeballing the Ryobi glue gun to purchase soon because it looks like it works well.
Green knit for the shirt, and I used a brown lycra knit from fabric.com for the pants
Patterns for Pirates: Patterns for Peg Legs and Free Spirit Tank (a warmer option for your top may be a good idea if you live in a cooler climate). The Free Spirit Tank I already made with some darker green knit so I just used that, but the peg legs I made for this costume.
For the Hungry Caterpillar Costume supplies, please check out the post and tutorial for it.
Tree Costume
I handmade the pants and shirt… they'll double as regular wear because they're normal clothes. I decided on using a bell bottom hack for the free Patterns for Pirates Pegs (pants) so that it would look like my legs were the trunk of the tree with the thicker portion of the trunk being at the bottom.
I didn't do anything "extra" to these to make them look like a tree.
For the leaf garland and hair bandanna, I cut out pieces of scrap brown lycra fabric. The hair bandanna is a triangle and the garland is just a thin, long strip of brown.
Once I had those pieces put to the side, I cut out a bunch of different colors of leaves.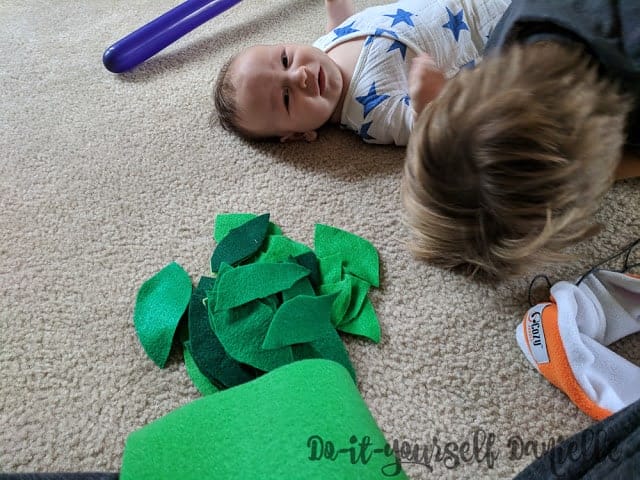 I put a dot of hot glue in the middle on the bottom of each leave and pinched the leaf bottom together. This makes the leaves look more 3D. Watch the fingers, you'll probably burn them. I never learn but I loathe wearing gloves.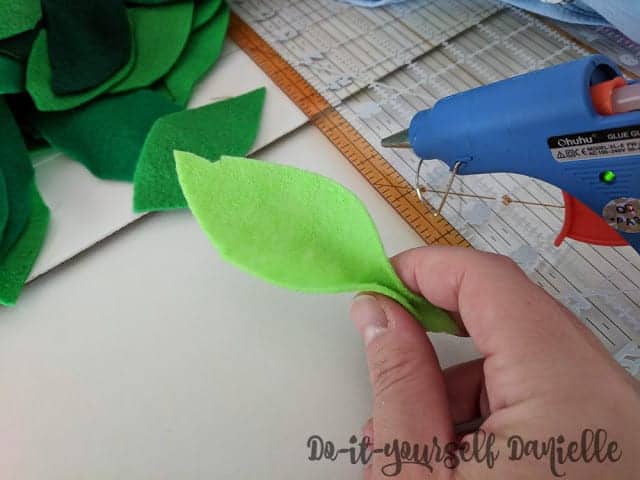 Once all of my leaves were "3D" then I glued them onto my bandanna and garland. Sewing likely would have been more sturdy, but I don't plan to wear this more than once and it worked pretty well.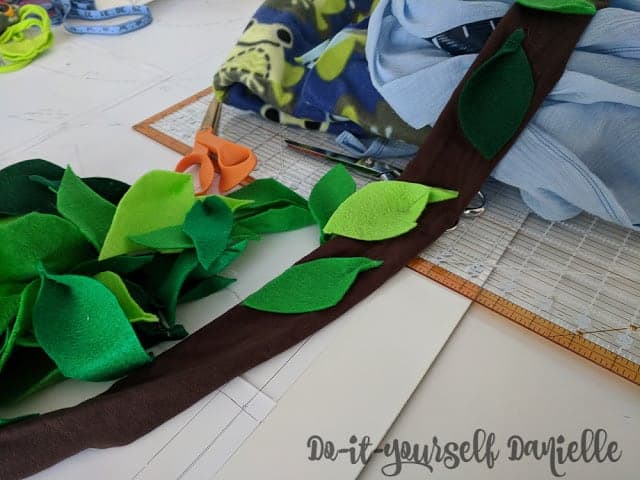 Baby Wearing Halloween Costume
I used my ring sling and wrapped extra brown lycra fabric around it to make it look like a cocoon.
Ideally, I would have sewn a brown ring sling… they're easy enough to make, but I thought that was excessive and I am three children short of time to waste.
The extra fabric snuggled around him won't hurt because it's gotten a bit chilly at night. It should keep him warm on Halloween!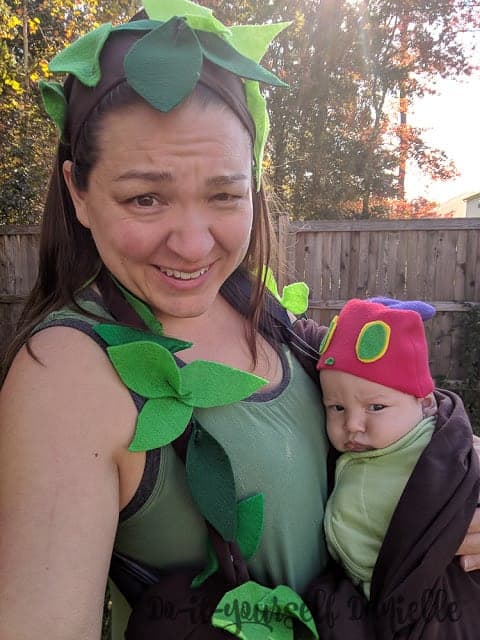 Please share and pin this post!