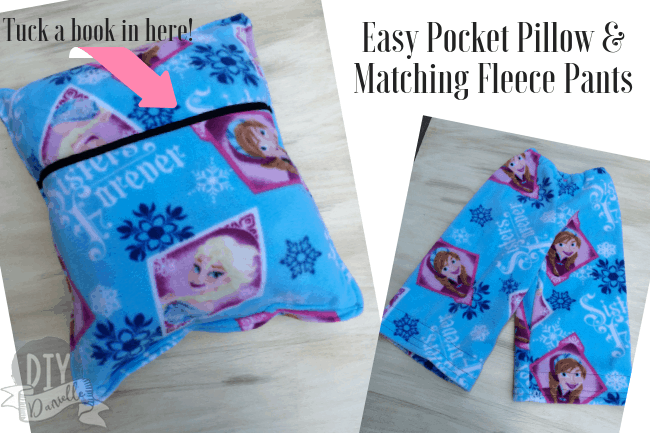 How to make a reading pillow with Matching PJ Pants as a fun gift idea for kids! These would be a great set to make as a gift for Christmas Eve. Tuck in a special book for the kids to read!
This post may contain affiliate links which may earn me commissions should you click through them and take certain actions. As an affiliate for Amazon, Cricut, xTool, Home Depot, and other sites, I earn from qualifying purchases. Please DIY carefully. View my full legal disclosures here.
Please read the whole post so you don't miss any important information!
I decided to make my friend's daughter some fleece pants and a floor pillow for her birthday which is mid September. I was excited for a chance to make something girly, as usual, and Frozen seems to be the way to go when it comes to girls this year. I have done a few floor pillows- this one with fleece, another floor pillow with a polyester fabric, and a huge floor pillow for my son. They're a lot of fun to make and a fairly easy project. The original video for the polyester pillow is below and it's prettttty old. I'm updating this post in 2018 with new pictures so you can get a better idea of how to sew this.
How to Make a Pocket Pillow for Reading
The first time I made a floor pillow, I did it per the instructions in my video tutorial below (you can see the supplies used on my other floor pillow post that is about this specific item).
Supplies
For the fleece pillow, I made it a bit smaller, but still added the pocket. I never wrote down the measurements, but you're looking at making a rectangular pillow. You can work backwards by thinking about what size you'd like the pillow to be.
If you want a 14″ x 12″ pillow then you add your seam allowance (if you want 1/2″ seam allowance, add 1″ to each measurement)… so you'll need two 15×13″ cuts of fabric for the main body, then another shorter cut for the pillow. I like the pocket being halfway up the pillow so I'd suggest an 8″x13″ cut for the pocket.
Although I originally used polyfill for the inside of the pillow, I'd probably lean towards using a 12×20″ pillow form now because I've found I prefer them to working with polyfill (no guessing how much I'll need, lol). If you use a 12×20″ pillow form then you'll want your fabric to be 13″x 21″.
You may want to adjust your fabric cuts and pattern in order to allow for a zipper or an opening if you are using a pillow form. This would allow you to remove the pillow form and launder the cover by itself. But with kids I find that I want to wash the entire pillow because the cover usually isn't a perfect barrier to grossness getting on the interior.
To begin, you'll want to finish the top of your pocket fabric. You can do this by turning over the top edge twice and sewing a straight stitch, or, as seen in the fleece Frozen pillow, you'll finish the edge by sewing bias tape across it. While fleece doesn't fray and you could get away with no edge finishing at all, you might as well give it a more finished look.
Next, you can place your pocket on the front fabric cut with the top of the fabric (the finished edge) in the middle. Make sure any design is facing in the correct direction (the fleece Frozen fabric is multi direction so it doesn't matter as much).
Now place your second large cut of fabric, the back piece, face down on top of these (right sides together with the front and pocket fabric).
Pin.
Sew the fabric right sides together, leaving an area to insert your pillow form or polyfill. You'll need a bigger opening for a pillow form than you'd need for polyfill.
I like to carefully sew around my pillow again around the pocket, particularly the top area of the pocket, to reinforce those seams. They get a lot more pulling than other areas.
Now you can turn your pillow right sides out.
Insert your stuffing or pillow form.
Hand sew your opening closed.
And you're finished!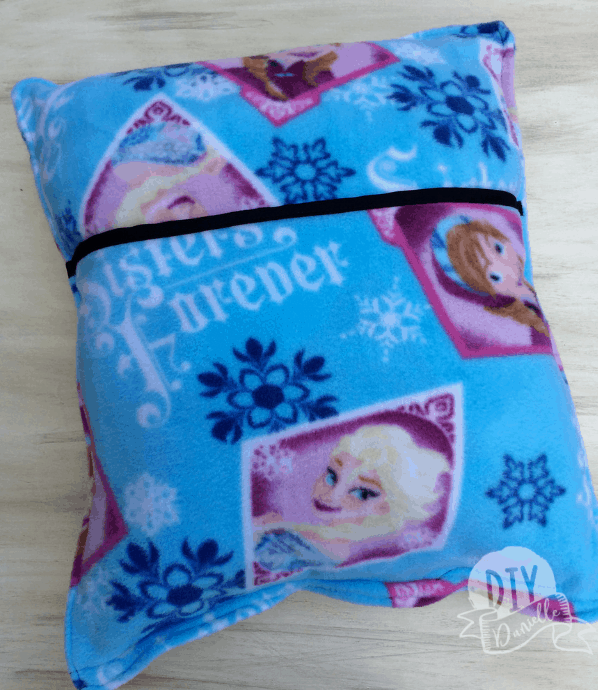 As you can see, I top stitched mine but I was a fairly amateur seamstress at the time and I would recommend avoiding that.
Christmas Book Pillow that Fits Over a Standard Pillow
When I wanted to sew my kids a Christmas version of the book pillow, I decided to make these slip on covers for a standard pillow. They're easy to make and it's easier to store the pillowcase off season with the other holiday supplies.
For this, I used my normal pillowcase as a template. I laid it on top of my fabric. You'll need to add 1/2″ seam allowance on all sides. So whatever the size of your pillowcase (or pillow form), add 1″ per dimension. Cut ONE of that size.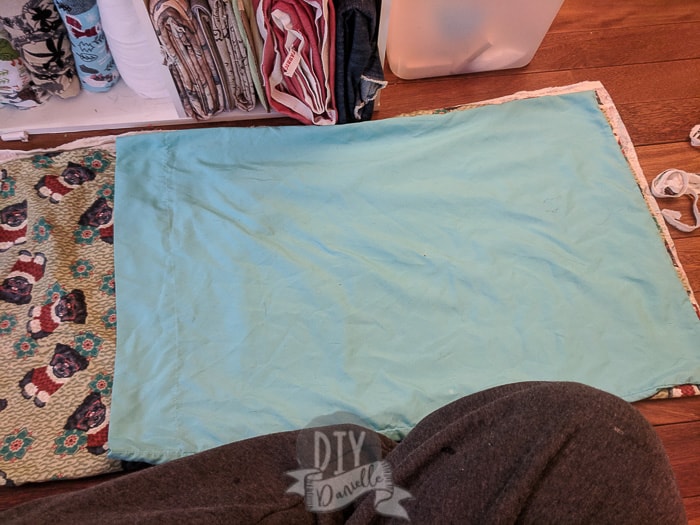 Remember that this won't be quite the same as a normal pillowcase because we want it to fit tight and go over using overlapping fabric in the back.
For the back, you want two overlapping pieces. I cut one 17″ tall and the other 22″. This gave me enough room to finish one short raw edge on each.
Press the edge, then sew with a straight stitch.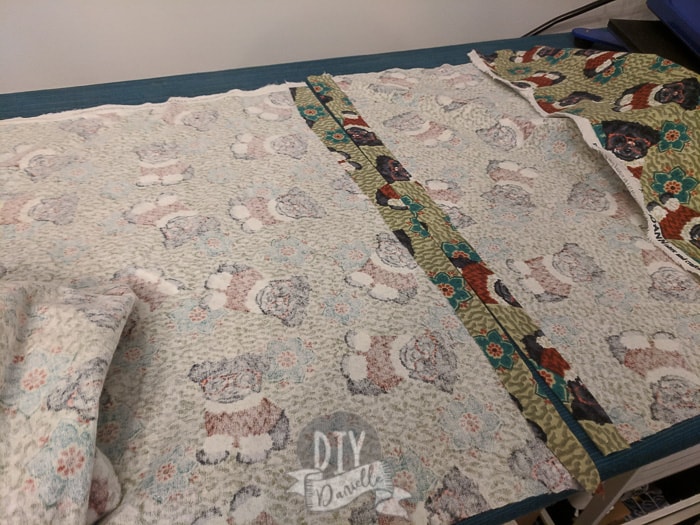 Then I overlapped them, right sides up, with the finished edges in the middle.
Cut a piece of fabric for your pocket. I recommend doing about HALF the size of your front piece, with the seam allowance accounted for.
Finish the top raw edge of your pocket. I wish I hadn't done white because it was see through to the fabric below.
Place the pocket right sides together with your back pieces.
The larger front piece of fabric will go right sides down on top of the pocket.
Sew all the way around. Flip right sides out through the crossed over back pieces!
Just slip the pillowcase over one of your extra standard pillows and slip a book inside!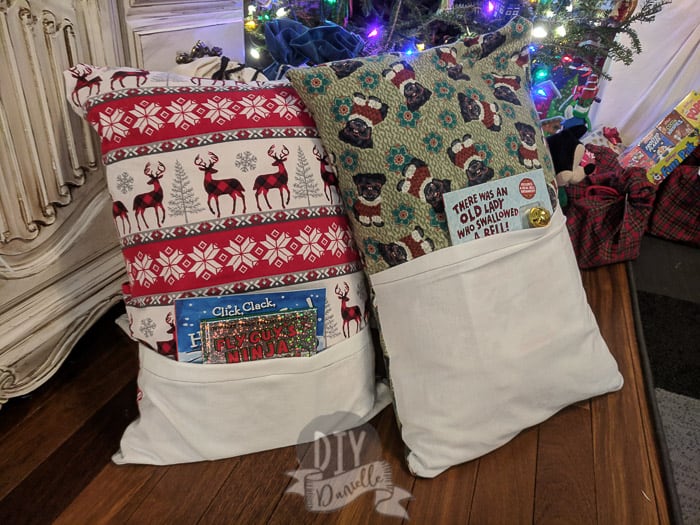 These book pillows looked awesome under the tree on Christmas morning with a new book inside… it gave the kids something to snuggle on while opening gifts too!
---
How to Make Matching Fleece Pants
First I downloaded and cut out this Free Pattern for Fleece Pants. This pattern is different than the ones I've used before, but I like it because it's only two cuts of fabric and very simple to put together. It's VERY long so think more 5T length from what I can tell. I folded under the bottoms a LOT, but told my friend that there's extra fabric there so she can let it out when her daughter grows if desired.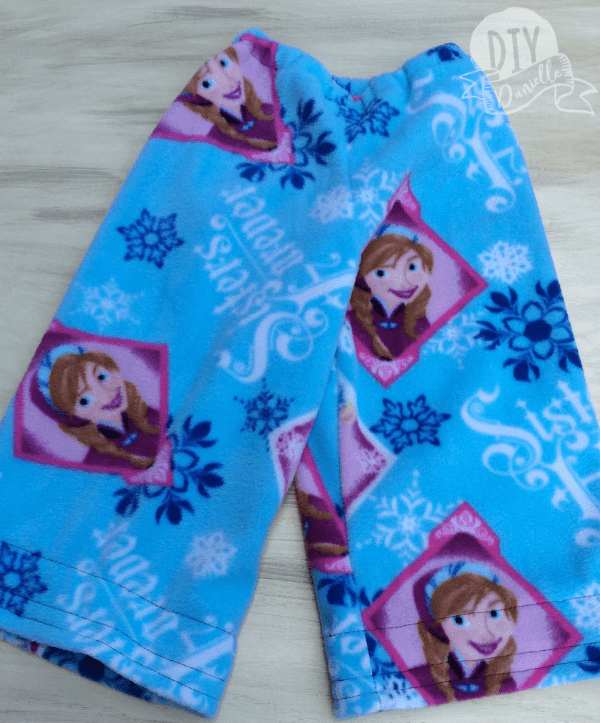 ---
Easy Gift Set with a Book, Pocket Pillow, and Fleece PJ Pants
I tucked the pants and a book into the pocket as part of the gift. This would be a perfect set for Christmas Eve so you could have matching pajamas, pillow and a good Christmas book to read that evening.
Pretty happy with how it all came out!
Please pin this!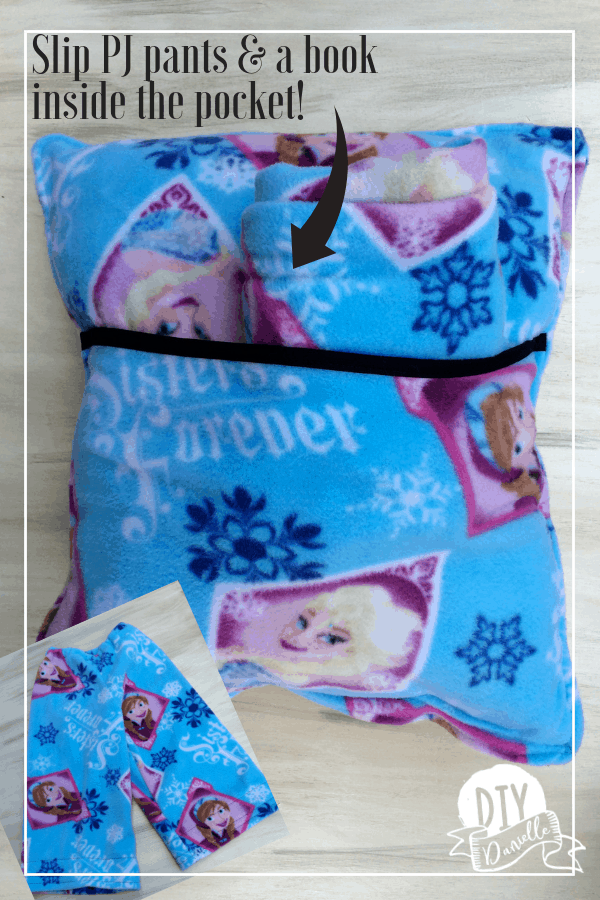 Post originally published Sept 2014, updated December 2019 with information about the Christmas pillows
Google Web Stories: How to Make a Pocket Pillow