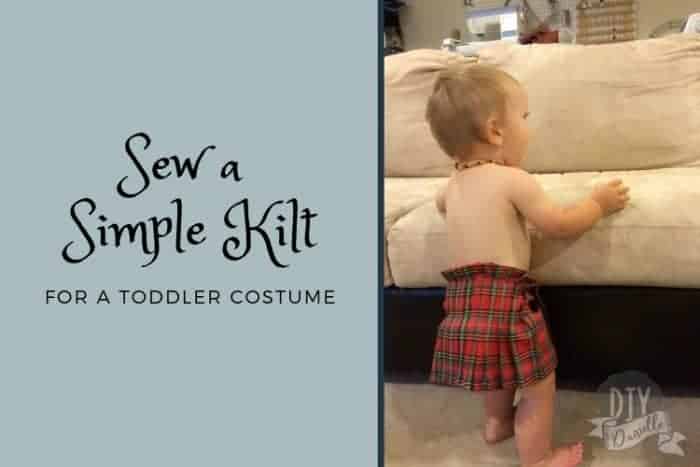 How to make a simple kilt for a costume for a toddler. This easy sewing project is fun for Halloween or as a costume for the Renaissance Festival.
This post may contain affiliate links which may earn me commissions should you click through them and take certain actions. As an affiliate for Amazon, Cricut, xTool, Home Depot, and other sites, I earn from qualifying purchases. Please DIY carefully. View my full legal disclosures here.
Please read the whole post so you don't miss any important information!
I'm getting ready for RennFest this year and I'm excited to make costumes again. Last year I made a costume for my oldest son, G.
Check out the knight's tunic, sword, and shield that I made last year:
This year I decided to make kilts.
I struggled a bit because this felt very out of my comfort zone, but they weren't particularly difficult once I got the hang out of it. You only need to cut two rectangles and add pleats.
My particular fabric needed to be serged (or have the edges finished with a regular sewing machine) because the raw edges frayed quite a bit. Really good tartan plaid is wool and I believe wouldn't even need to have the edges finished. As I have absolutely no idea where to purchase said good quality tartan plaid, I bought this plaid material from Amazon. I did see some international sites to get good fabric shipped, but the cost was pretty high. If you have any suggestions for where I can buy it, let me know because I still want to make one for my husband.
This particular fabric in the link below is very thin, frays easily, and isn't very wide. I was able to get away with this width for my very thin 3 yr old son, but I couldn't do as many pleats as I wanted with his and I'm not as thrilled with the results.
Again- it works, but if you're sewing for an older child you'll need to find something wider.
The nice thing about the fabric was that it's fairly easy to work with and it's thin so the kids won't be too hot in it. I've heard wool breaths easily, but this particular material would be CHILLY if the weather was any cooler. They may not be able to use these as costumes for our Maryland Halloween, depending on how weather is.
I created a video below to help demonstrate how to make this… first though, you need to cut your fabric.
Measure your child from waist to right above the knee. Add extra seam allowance if you need to finish your edges. That will be the height of your fabric.
The width of your fabric will be the width of the material in this case (45″).
I bought a yard of fabric, and was able to get the cuts for both my 3 yr old (size 4T) and my 10 mo old (size 9-12mo) out of it.
Again, I wish my fabric had been wider for the 3 yr old. Check out my video for more instructions!
Please share and pin this post!