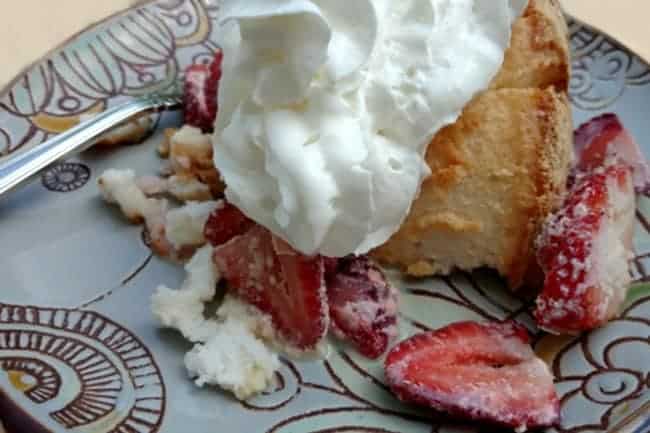 This alcohol infused strawberry shortcake is AMAZING and easy to make with a store bought short cake.
This post may contain affiliate links which may earn me commissions should you click through them and take certain actions. As an affiliate for Amazon, Cricut, xTool, Home Depot, and other sites, I earn from qualifying purchases. Please DIY carefully. View my full legal disclosures here.
Please read the whole post so you don't miss any important information!
I love to get creative with alcohol. I'm not a huge drinker, but I love rum cake, rum chata, and pretty much any sugary alcoholic item. So when I saw an angel food cake on sale at the store, I grabbed the strawberries and got to work experimenting with my liquor stash. Teehee.
I did feel a bit guilty so I saved the kids some regular fruit and cake- last time I made rum cake, my 2 year old grabbed his own plate and came up to me with the CUTEST face. Like "Cake please?" It was sooooo adorable and we gave him something else as a treat, but gosh did I feel guilty. I hate saying no when they ask so sweetly.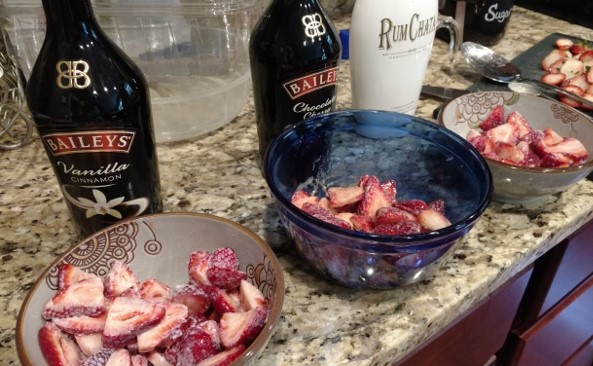 Easy Sweet Liquor Strawberry Shortcake
This sweet liquor strawberry shortcake is the perfect dessert to enjoy if you like experimenting with all sorts of different dessert liquors. I usually use store bought angel food cake, but you can make your own too!
Ingredients
1 tbsp sugar
1.25 c of sliced strawberries
2 tbsp of liquor (plus some to pour on cake)
Store bought or handmade angel food cake
Whipped cream
Instructions
Mix your strawberries, liquor, and sugar.
Let sit in refrigerator for 1 hour.
Take a slice of cake, pour liquor on it.
Add strawberries and whipped cream.
Notes
I tried three types of liquor and they were all excellent. I tried Rum Chata, Bailey's Chocolate Cherry, and Bailey's Vanilla Cinnamon. I just labeled my bowls by chalk markers so I could keep track of which was which.
If you love recipes with alcohol, check out my Rum Chata Recipes, Rum Chata Pudding Popsicles, Copycat Rum Chata, and Warm Cinnamon Whiskey Cider.
Please share and pin this post!