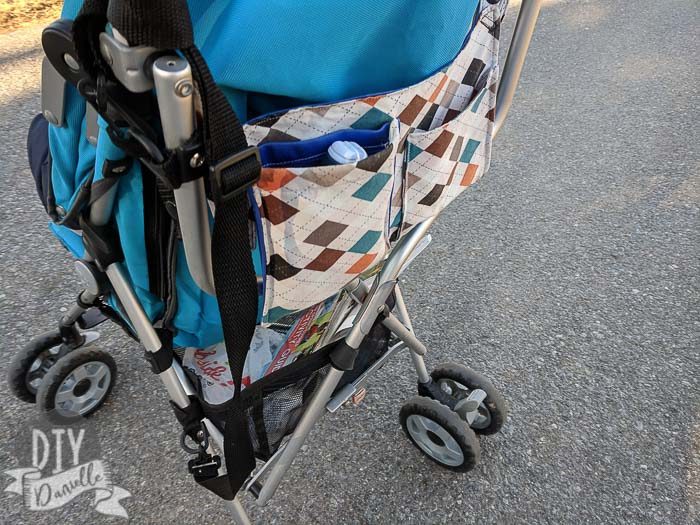 How to sew a simple stroller organizer that attaches to an umbrella stroller's handles. This is perfect for keys and a cell phone.
This post may contain affiliate links which may earn me commissions should you click through them and take certain actions. As an affiliate for Amazon, Cricut, xTool, Home Depot, and other sites, I earn from qualifying purchases. Please DIY carefully. View my full legal disclosures here.
Please read the whole post so you don't miss any important information!
I needed a small pack to hold my cell phone and a couple small odds and ends for my umbrella stroller which was sorely lacking in the storage department.
I saw this tutorial for making a water bottle holder and decided I wanted a stroller pack that incorporated the water bottle holder, plus a spot for my cell phone. It's really all I need. I think now that it's done that it would have been better to do the bottle holder separately, but alas… it's done. The way I made mine, it only fits a narrow water bottle and it's kinda lopsided with a bottle on one side. It not being symmetrical irks me. That being said, it functions fine!
Supplies
DIY Organizer for a Stroller
Measure the distance wide that you would like to make your pack… I just measured between the two places that I wanted my straps to come down.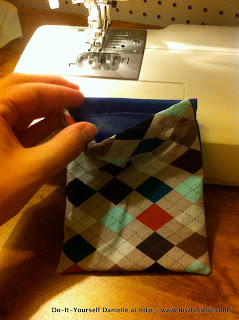 I made a little pocket with a Pul interior for the water bottle. Basically two big rectangles, one cotton exterior and one Pul interior, sew right sides together, turn and topstitch.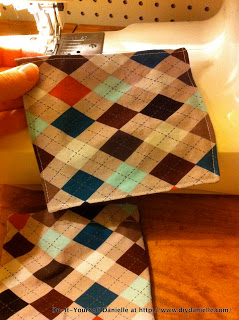 Make a second pocket for the right side. This was just two pieces of cotton, sewn right sides together then turned to top stitch.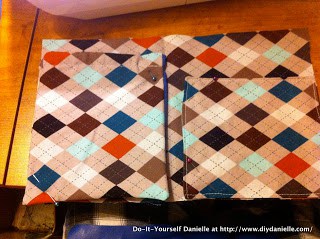 Pin your pockets in the position that you would like them on the larger, full width piece of fabric.
Sew these pockets on.
Create two straps. I just like to take a couple pieces of thin fabric, fold over the edges and then top stitch. Turning to topstitch is always neater, but I've had better luck the lazy way.
Take your coordinating piece of full width fabric and pin it right sides together with the piece with the pockets now sewn onto it. Tuck your straps into place… you want the raw edge of the strap sticking out and the neat sides tucked in between the two big pieces of fabric. Make sure they won't get sewn up when you stitch everything together!
Sew around your fabrics, leaving a small area to turn the fabric right sides out. Stitch over the straps a few times so they'll be super strong.
Turn right sides out. Close up the hole from where you turned the fabric.
Stitch closed as you top stitch all the way around your fabric.
You're almsot there! To finish, I just looped my straps around the handles of my stroller to see where I needed to place the snaps. Then I used my awl to poke holes where the snaps needed to be and added snaps. Very simple there. If you're worried about the snaps not holding, you could probably add two snaps on each strap, but this size pack doesn't hold too much and the one snap on each strap works fine.
I actually sewed it all closed before adding the straps so I had to seam rip and go back to add them after this picture was taken. Not sure why I did this. I started this project a while ago so maybe I just had gotten lost somewhere along the way?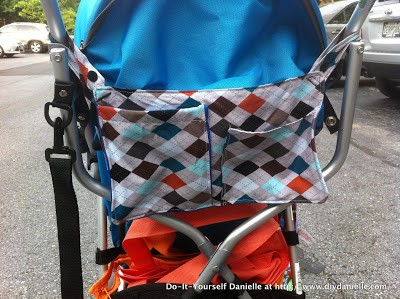 Here's another tutorial for a stroller bag if you want something bigger. I saw this after I'd already started on mine so I didn't try this way.
Please pin and/or share this post!