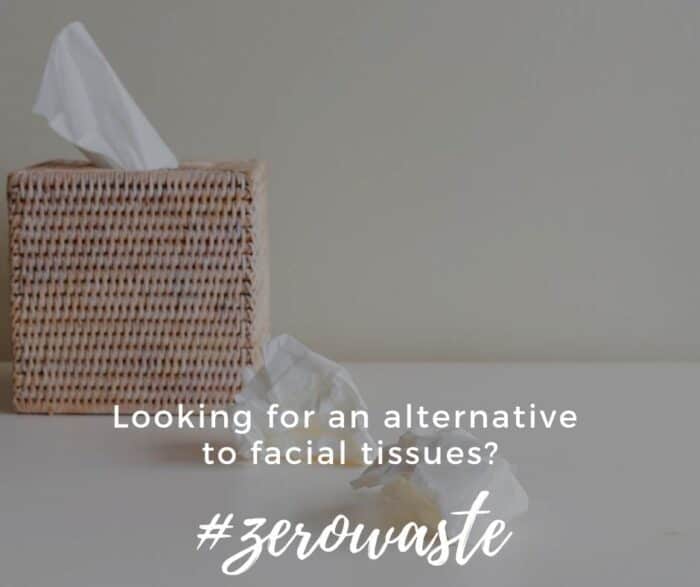 What are reusable tissues? How can I make my own? Are they a good alternative to Kleenex? Learn to make your own DIY Handkerchief!
This post may contain affiliate links which may earn me commissions should you click through them and take certain actions. As an affiliate for Amazon, Cricut, xTool, Home Depot, and other sites, I earn from qualifying purchases. Please DIY carefully. View my full legal disclosures here.
Please read the whole post so you don't miss any important information!
Some of you may remember dad or grandpa carrying a handkerchief around. I do! I feel like these have fallen out of fashion in the past thirty years or so. Despite using a host of other reusable cloth products, handkerchiefs were actually one of the last reusable cloth items we used in our house. I simply never thought of it!
Once we switched though, we could see a lot of advantages.
Table of Contents
What are reusable tissues and ARE they just handkerchiefs?
Essentially they're the same thing. I am probably going to differentiate a bit between the two, simply because I have made them different than a traditional handkerchief.
A traditional handkerchief is a larger sized rectangular fabric that you could fold and keep in your purse or pocket. They get reused throughout the day.
I believe handkerchiefs would be reused for the day and laundered regularly. I am guessing this depends entirely on how each family treated them, but I would assume you would have a new handkerchief each day (like undies).
Handkerchief fabric has some absorbency, but it's not a super absorbent fabric like flannel or a towel. It's usually a thin and one layer, making it easy to store in your pocket.
To me, a reusable tissue is a slightly different product. We use small squares of flannel for reusable tissues. Usually I sew two squares of flannel together for these so they're pretty absorbent. But I don't reuse them more than once between washes. The absorbency isn't for snot, it's because I wet them before I use them.
We use both. I use a handkerchief for normal every day occasional stuffy nose. While I may use handkerchiefs while I'm sick, I tend to lean more towards flannel tissues instead.
This is for two reasons:
1) I like to use them wet when I'm frequently blowing my nose and 2) I prefer to keep them one use only when I'm sick due to germs. More frequent washing is just a good call when you're sick.
This is not an all or nothing thing for our family. If you've talked to me a bit about all of these reusable products, you know that we're pretty chill. We use some disposable items, we use some reusable items, and we try to lean towards reusable. But I am tenderly trying to balance my stress levels and minimizing how much work I need to do. As such, we use Kleenex products as well. I tend to use the reusable items in places where I can easily collect them for washing (like beside my bed).
How to Use Reusable Tissues
How you use a handkerchief or reusable tissues is completely up to you. For my reusable tissues, particularly when I'm sick, I soak the flannel in water, wring the "tissue" out, then blow my nose. I've found that it's less drying for my nose and feels nicer than disposable options.
It feels a bit like using a saline spray except I don't have saline spray dripping down my face for the next 5 minutes.
I almost exclusively use reusable tissues when I'm sick because I think they're better. In my opinion, disposable tissues tend to be drying. If I use a wet reusable tissue, it feels like I'm moisturizing my airways and keeping things from drying out as much. It's hard to explain- give it a try and let me know what you think.
How to Wash a Handkerchief
Because I normally wash clothing on a cold cycle, I would not wash these with my clothes if I was sick. Instead, I would wash them with other items that I wash on hot/heavy cycles (or even a steam cycle). This is because I want to make absolutely sure the germs are killed in the cleaning process.
The steam cleaning cycle is a great option, but hot water + detergent is usually effective at killing germs too.
I also wash my machine every one or two weeks. Here's some tips on how I clean my washing machine. It's a good habit to get into, although the machine isn't getting obviously dirty.
Sanitation Concerns
I am really particular with washing most of our cloth products. We use everything from reusable paper towels to cloth toilet paper. We tend to do a mix of disposable and reusable so I can minimize, ya know, the big messes that I have to wash.
But overall I find that I need to balance my desire to help the environment and my preference for fabric products (I find them to be better in most cases) with my disgust for germs and grossness.
I NEED TO FEEL LIKE THE STUFF IS CLEAN and not potentially spreading germs.
My wash cycle is on point. We already discussed that a bit. I feel confident in the wash piece. But the other concern is how you store dirty handkerchiefs or reusable tissues.
If you leave dirty tissues everywhere- whether they are disposable or reusable – you're spreading germs to the surfaces.
So you want to make sure you make a box or wet bag to store the dirty wipes. You can even make a wet bag that holds the clean wipes in one section and the dirty ones in the other! I'll be putting together a quick tutorial on making one soon so keep an eye out!
DIY Reusable Facial Tissues
Our reusable facial tissues are made the SAME as our family cloth and baby wipes. They're simply two squares of flannel sewn together. You can sew the two pieces of fabric right sides together, leave a small gap, turn, press, and top stitch.
Alternatively, if you own a serger, you can just serge around the edges. It's faster, but either method works and looks nice!
I cut the fabric below for reusable toilet paper, but often what I'll do is make these squares all the same. Newer fabric wipes will be used as napkins in the kitchen. When they are a bit older and worn, that fabric design gets used as a reusable tissue. And eventually they go into the reusable toilet paper pile.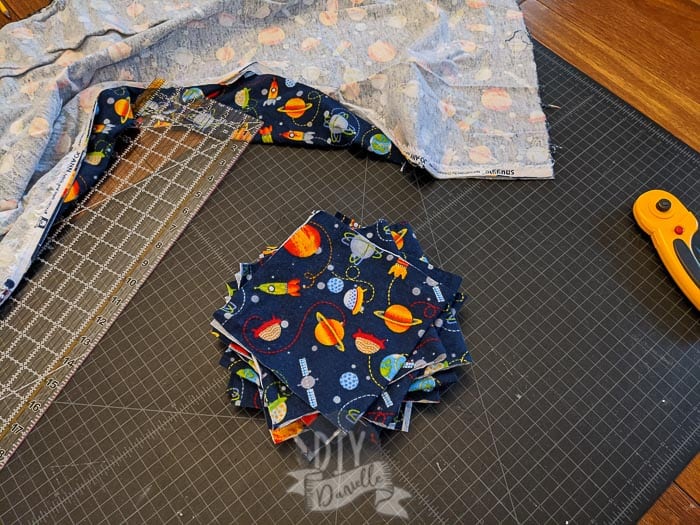 DIY Handkerchief
A handkerchief is made from a single piece of fabric. You can hem the edges, or you can use a serger to finish the edges. Finishing the edges simply helps preserve the fabric through your wash cycles. Otherwise, you may find that the fabric frays.
You want to use a fabric that is somewhat absorbent and won't be too hard on your skin. One layer of flannel would certainly work. You could also use a softer cotton (maybe an organic cotton?) or linen. When I made my handkerchiefs, I went to the store and walked around touching fabric.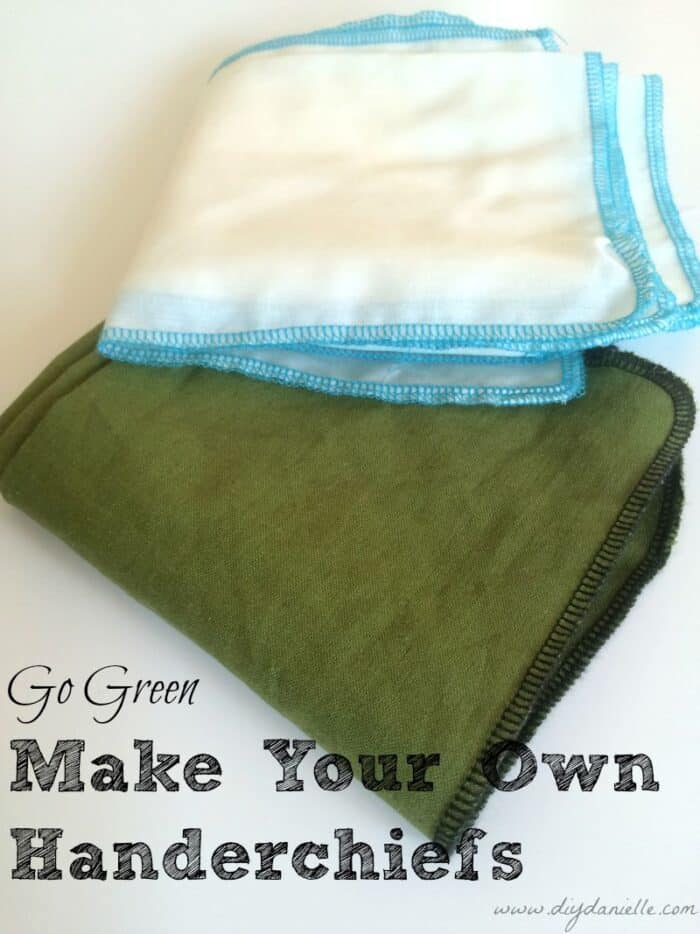 No Sew Facial Tissue Options
Can't sew? Don't own a serger? Just don't have TIME? No big deal! While you can buy handkerchiefs on Amazon, you can also use items you have around your home to make these with NO SEWING REQUIRED.
Old t-shirts are a great option if you want to make these. Cut them into squares or rectangles. T-shirt fabric isn't prone to fraying so you won't need to worry about them coming apart in the wash.
Flannel shirts or old flannel sheets would work too, although they're more likely to fray. The thing about fraying though is that it takes many washes before they truly come apart. So they're still an option and you can toss them after they get really bad! No big deal!
Final Thoughts
I had to ask my mother her thoughts here as my father used handkerchiefs when we were young. My family was pretty traditional where dad brought home the bacon and mom did all of the laundry. So she would know, even though she never used them herself.
At the time, my father kept around twelve and she would wash them with the whites or towels on hot. She said the handkerchiefs would wrinkle terribly and she remembers ironing them. Her opinion? She hated them.
Of course, I'd hate them too if I actually ironed mine. They seem to work fine wrinkled though. My reusable "tissues" don't wrinkle at all (yay for flannel) and I simply put them in a pile to use.
I like the portability of disposable facial tissues, but honestly the reusable ones work way better when I'm sick. That's also the time where using them saves us the most money.
Love the idea of reusable cloth products? I talk about cloth diapers and more in my eBook that you can purchase below!
Please share and pin this post! If you make this project, share it in our Stuff Mama Makes Facebook Group. We have regular giveaways for gift cards to craft stores. You can also tag me on Instagram @doityourselfdanielle; I love seeing everything you make!