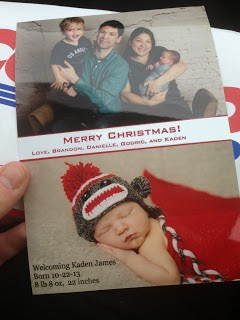 It's off center for our names because I erased
our last name for this picture.
I wanted to do Christmas cards again this year and combine them with our baby announcement, but when I started checking out different sites to make the cards I decided they might be a bit expensive to send out this year. I decided to see if there were DIY options for Christmas Photo Cards and found this tutorial to making a 5×7 photo card in Gimp. I love Gimp, it's free. That's a good tutorial if you've never used Gimp and it's got the measurements to use for the 5×7 card. Hers was a landscape card so just flip the measurements if you want it to be a portrait like mine.
There's a couple of issues you will want to work out first: How much are you going to pay for 5×7 prints and do you have big envelopes to mail the cards in? Otherwise, you may end up paying about the same amount. I noticed a couple of the photo printing sites charged quite a bit for 5×7 photos and it was comparable to the cheaper photo cards. Eh. With my Costco membership, however, the photos ended up being about $0.39 each and I was able to order the exact right number. Some sites required me to order 50 at a time.
Here's another alternative which is to make them as 4×6 photo cards. This would be a lot cheaper, but keep in mind that you can't do too much with the card itself because if you put two photos like I did (or more) then your photos are going to end up being really small once it's all printed on a 4×6. So will the text you add. That being said, Snapfish runs Penny Prints coupon codes that would make doing a 4×6 very inexpensive. Whichever route you go, I recommend printing a sample of your card in 4×6 or 5×7 (whichever you do) on your printer at home to see how the pictures and print look once printed.
I really like how these came out and the freedom I had to make the cards exactly how I wanted.
Here's the back of the card… as you can see, it's just a regular photo back.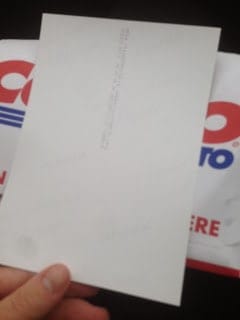 Make LOTS of cards to have on hand and store them in this fantastic DIY Card Box!
Do you love cards and keep the cards that you receive? Check out my Cricut Card Keeper! This is a great way to keep all of your cards and photo cards in a special binder so you can flip through them!