Make a custom chemo bag for a loved one using HTV. This is a one way that you can support someone going through chemotherapy.
Someone I love was recently diagnosed with cancer, most likely pancreatic cancer, although we're still waiting on biopsy results to determine the treatment path. It's been a LONG month, worrying about what the results will be and if there are good options for treatment. I need to DO something… I can't just sit and wait. There's something about taking ACTION that makes me cope better with situations like this. Today I'm going to be talking about how to make a chemo bag, as well as some other ways you can take action to support someone with cancer.
---
This post may contain affiliate links which may earn me commissions should you click through them and take certain actions. As an affiliate for Amazon, Cricut, xTool, Home Depot, and other sites, I earn from qualifying purchases. Please DIY carefully. View my full legal disclosures here.
Please read the whole post so you don't miss any important information!
---
What to Put in a Chemo Bag
I did a lot of research about what my person might need in their chemo bag. Chemo can take quite a while, and usually it's helpful to have items that will make them comfortable and keep them entertained. As with any medication or medical treatment, chemotherapy has side effects… big ones. It's doing a big job, after all. Your loved one may experience: fatigue, pain (headaches or pain in other areas), mouth and throat sores, diarrhea, nausea, vomiting, constipation, hair loss, blood disorders, changes in thinking and memory, nervous system symptoms (tingling, weakness, stiff neck, poor balance, etc.), and appetite loss. Patients often get quite cold during the chemotherapy session, as well.
Chemotherapy patients have something called a port put into their body. This helps deliver the chemo medicine directly without poking the patient with needles every time they come in for treatment. The port can be difficult to access in some clothing and can also be rubbed by the car seat belt. Most of the items I'm adding are comfort items to deal with the practical discomforts.
Use the Discount Code DIYDANIELLE on cricut.com for 10% off any cutting machine or heatpress (no minimum). Excludes: materials/accessories/mystery boxes/etc. Applies to US/CA only, code expires 12/31/23.
I'm hoping to take my hand sewing supplies to try to tailor some of my person's favorite shirts for chemo when I visit.
DIY Chemo Bag
While I purchased most of the items for my person's chemo bag, I wanted to customize them because why not. I used my Cricut Maker 3 and Heat Transfer Vinyl to customize these items. I put together a bunch of SVGs to use for the chemo bag and all of the items. The SVGs are available in my shop and 100% of the proceeds from the sale of this bundle will be donated to Dana Farber and/or the American Cancer Society.
Buy the Gender Neutral FIGHT! Cancer SVG Bundle
Supplies
Blank zippered bag (in the pictures, I'm using a different bag, but I prefer the linked bag better as I used that brand for a different project)
Blank journal
If you're new to Cricut, here is a guide on how to apply heat transfer vinyl.
I started by cutting and weeding all of the designs for my bag. I made a large bag, a smaller bag for candy, and also added HTV to a notebook.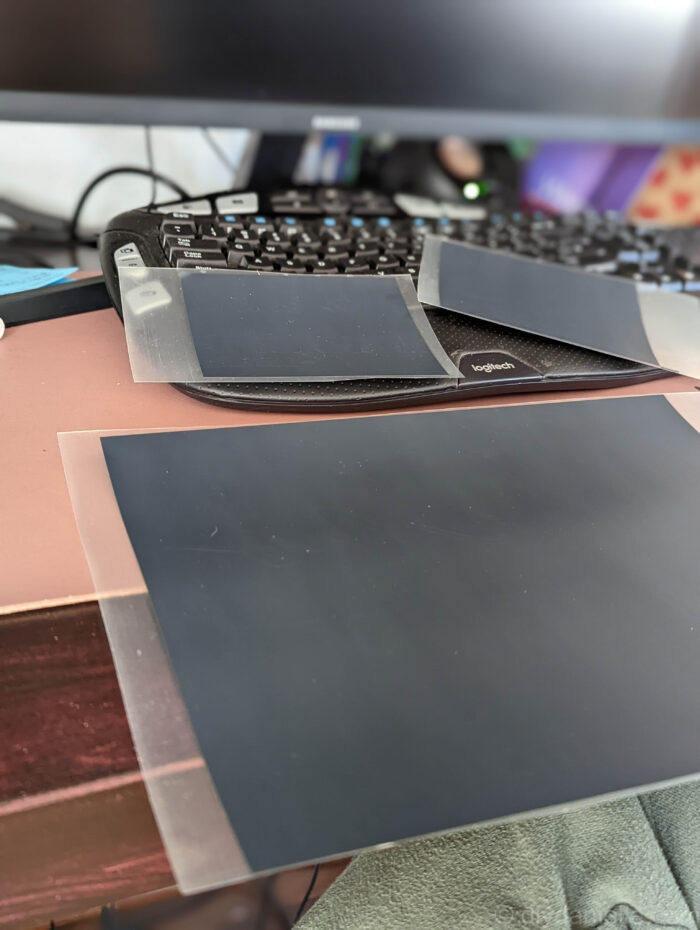 With iron on (HTV), your Cricut machine cuts the design, then you peel away everything that isn't part of the design. You preheat your blank product (the bag, notebook, etc), then place your design. Then you use your EasyPress or heat press to press the iron on vinyl onto the item. Some materials take different amounts of time, but you don't want to melt the iron on.
For the small chemo bag below, I have my design cut from both purple iron on and black iron on. I applied the purple first, then applied the second once I peeled the carrier sheet away from the first piece.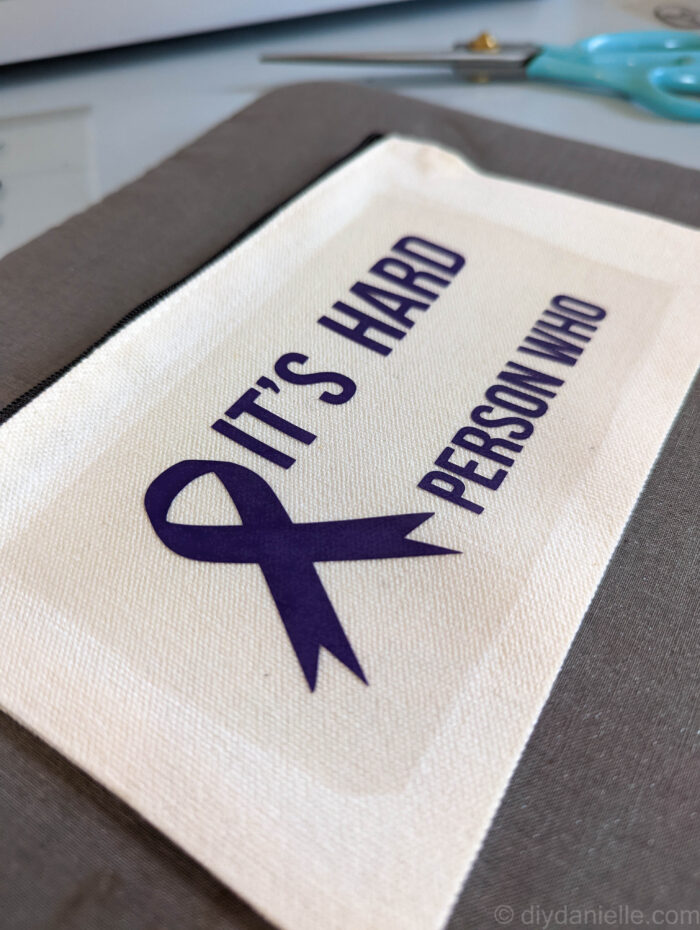 And that one side now looks like this… I wish I'd placed the design a bit higher. I forgot about the second half of the design when I pressed the purple area.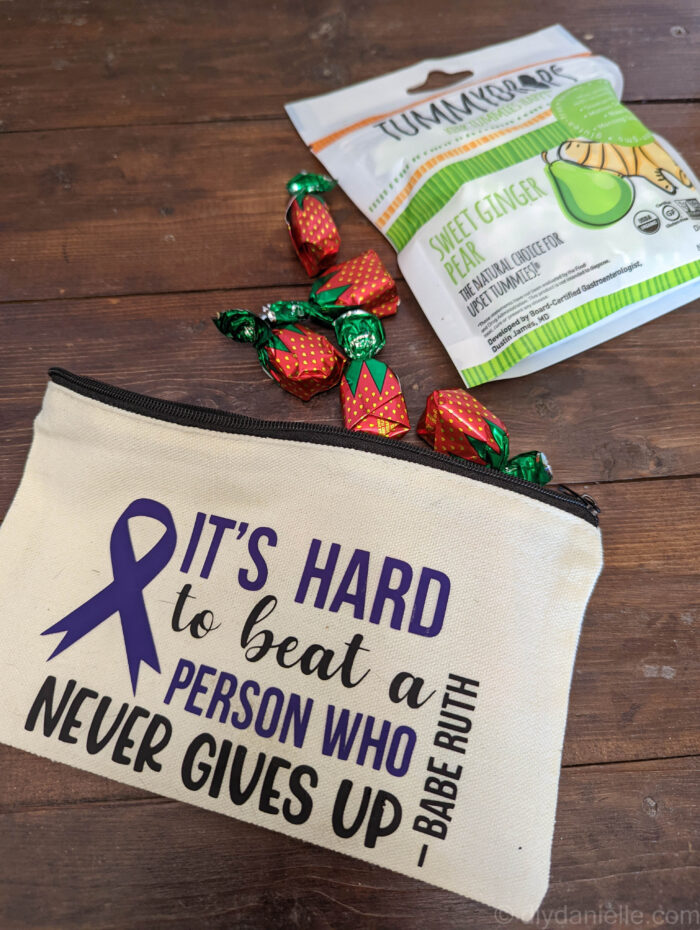 This small bag is perfect for holding candy though! I did another design on the opposite side.
Below is one side of the larger bag which I have packed with goodies for chemo.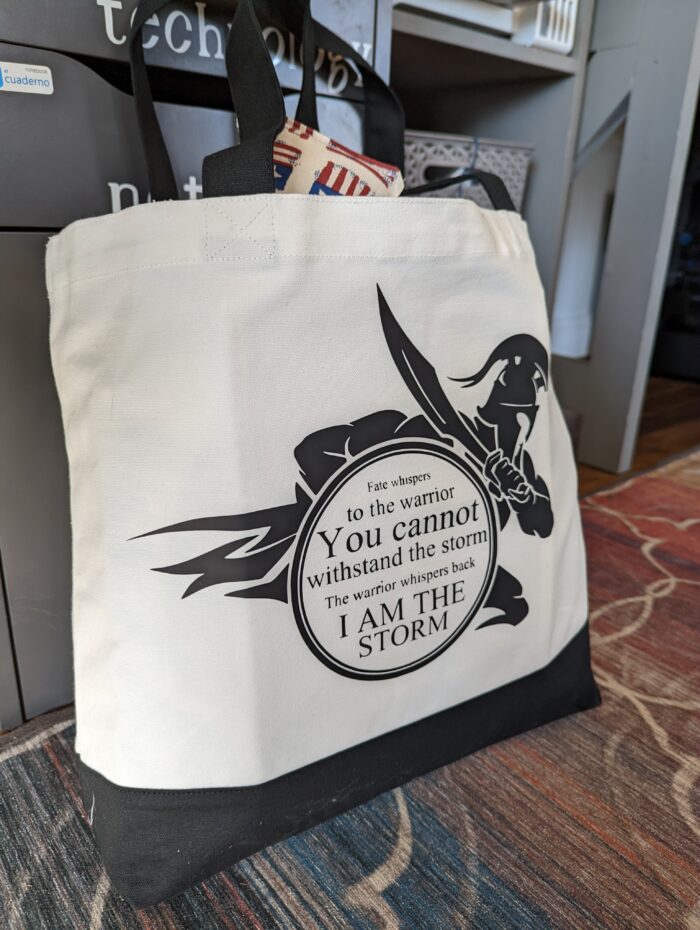 Here's the set of items that I bought to stuff inside it.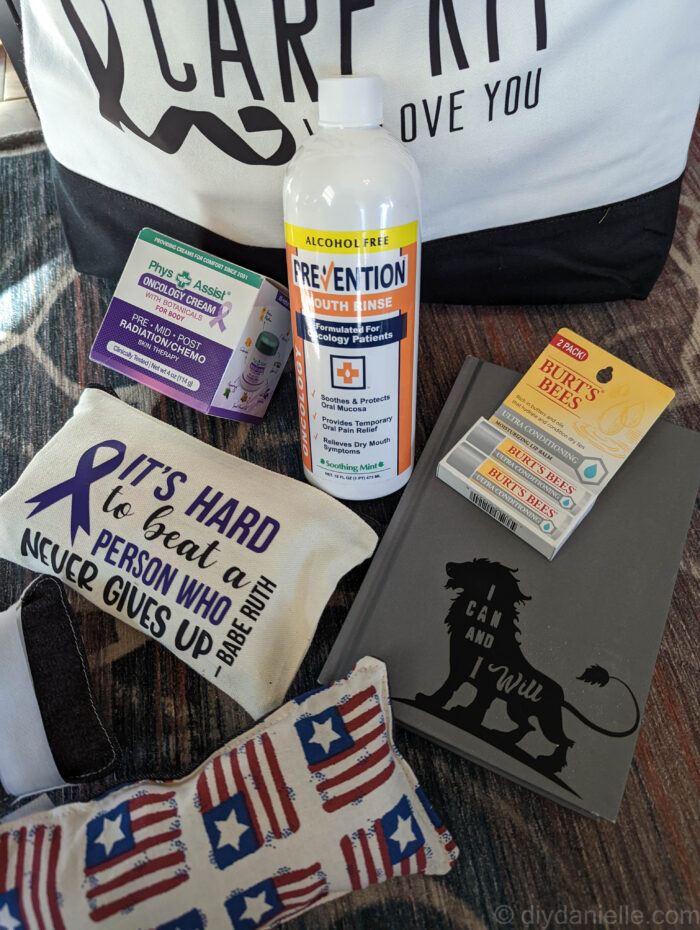 I love how these came out (ignore the funky A on the journal… I lost the small piece and improvised, lol). It's not perfect, but I was trying to finish it before I left for a trip up to give it to him.
Also… fuck cancer. Fuck it. I am so devastated.
Take Action to Support People with Cancer
There are three action items that I'm doing to help me cope:
It's important to donate platelets and/or blood because cancer patients often need transfusions. Platelets are blood cells that help your body form blood clots. Some types of cancer prevent people from producing their own platelets, while other cancer patients need platelets after their bone marrow cells are damaged by chemo, radiation, or the cancer cells. Without working platelets, patients may have problems with nose bleeds, bruising, and other health complications. Platelets save lives.
I've donated platelets in the past, and it is one of the longer methods to donate blood. A machine is hooked up to you and removes the blood, separates the platelets out, then another needle puts the rest of your blood back into your body (plasma, red and white blood cells). This allows your body to recover from the donation process faster so you can donate platelets again after 7 days, up to 24 times per year. The donation process takes around 3 hours with paperwork setup, but the process is only 2 hours. It's perfect for catching up on movies you've been wanting to watch, and the donation centers often have DVDs and a DVD player for you to use while you're there.
Please share and pin this post! If you make this project, share it in our Stuff Mama Makes Facebook Group. We have regular giveaways for gift cards to craft stores. You can also tag me on Instagram @doityourselfdanielle; I love seeing everything you make!