An introduction to composting with a tumbling compost bin.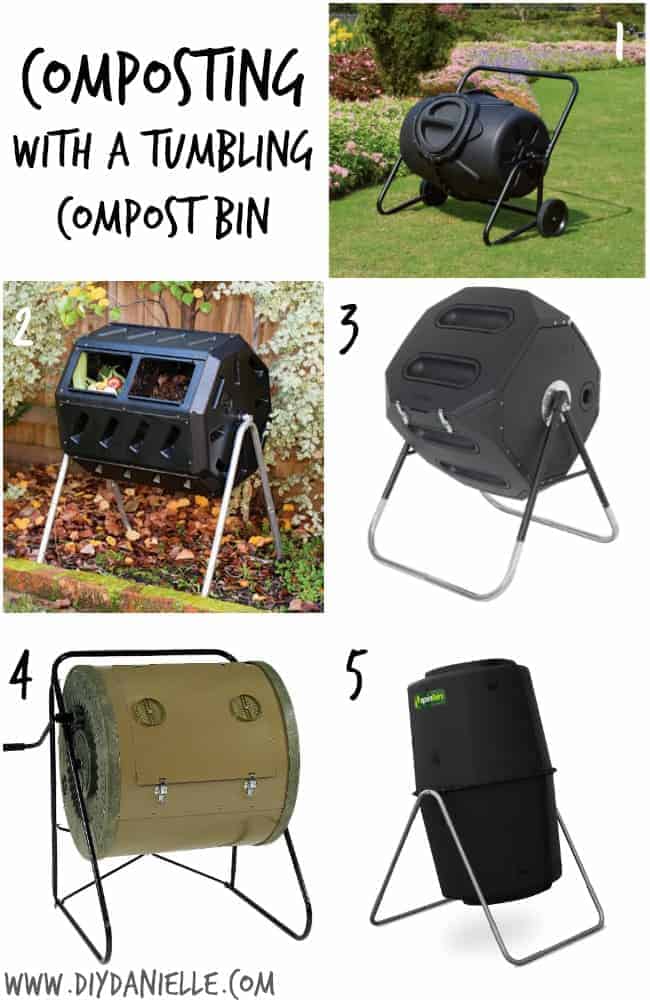 This post may contain affiliate links. Using these links helps support my blog. Thank you!
I love composting. It's a great way to reduce how much garbage we produce, and sending food scraps to the compost bin instead of the garbage can reduces a lot of smells in our garbage can. I have tried several different methods of composting including our tumbling bin, our
open compost bin
, and
worm bin composting
.
Composting with a Tumbling Compost Bin
Tumbling compost bins are closed and have a small window that opens to put compost inside. You can turn them using a lever or by pushing them around your yard (legit, lol). They're usually black or another dark color so the sun will warm the bin even more than normal. You do want to add moisture to them because you don't have the rain helping out. If you turn frequently, these should compost more frequently than an open bin… but perhaps only because you're more likely/easily able to turn them. That said, make sure that the bin you purchase or make can be turned easily with the bulk of the compost inside it. Check reviews.
I have a tumbling bin with a base but no handle to turn… you have to manually spin it. It's low to the ground. This makes it ROUGH on my back to turn and it's really hard to turn. It was free so I can't really complain, but a good tumbling bin is definitely on my wishlist.
Pro's and Con's
Pro's
Processes faster than open bins.
Enclosed, easier to hide what they are from neighbors who might oppose a compost bin or pile
Keeps animals out.
Keeps wind from blowing away light items such as shredded paper.
Easy to turn (if you get a good one)
Con's
Smaller and hold less compost than an open bin.
Must add water for moisture.
More expensive.
Harder to fill because of the small doors that they have.
Doesn't process as fast as the worm compost bin.
Some are very hard to turn when full.
Don't get as much air flow as an open bin.
Supplies for Tumbling Composters
Supplies listed below may include affiliate links to the products.
Compost tumbler… I'm going to include some links for various ones I've seen on Amazon and thought might work well. I have one that I hate and I won't link that… it's just too hard to turn which defeats the purpose. Keep in mind that bigger may not be better in some cases if it's harder to turn due to the weight.
Setting Up a Tumbling Compost Bin
I received my tumbling bin from someone on Freecycle and it was already setup. But these do require a bit more setup than an open bin because if you order them new, you'll need to put them together. I doubt it's a huge issue, but I am sure it depends on which bin you purchase. Read reviews on the bin to see if there are any issues.
This is a bin that my friend's husband made. Someday I'm getting a food grade barrel to do this with!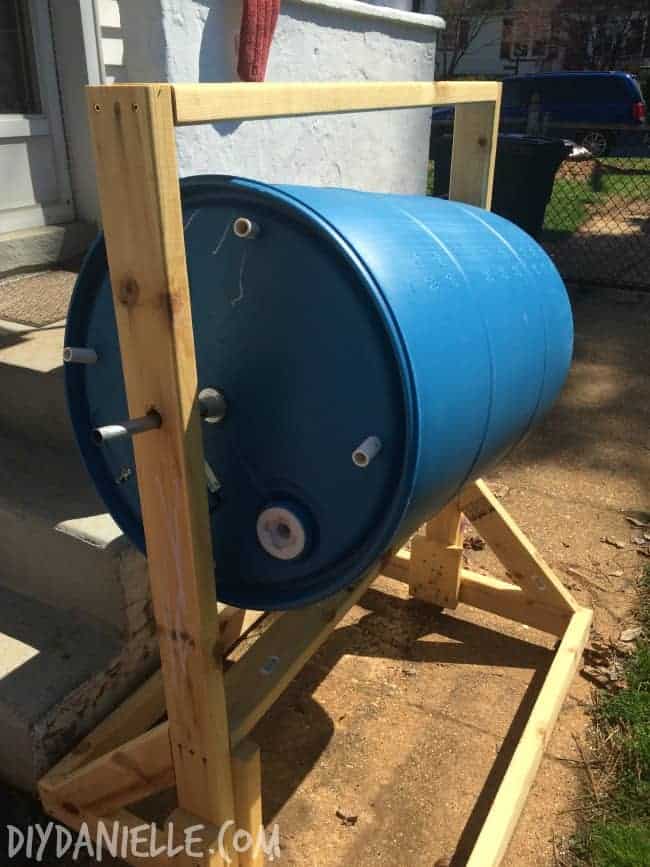 Caring for Your Tumbling Compost Bin
Turn turn turn. Whenever you can.Add moisture when dry. Make sure to add a good balance of nitrogen and carbon materials (get the free printable below).
Don't forget- smaller bits compost faster. It might be helpful to use a food processor to chop up stuff like citrus peels.
Free Printable!
Want a free printable with a list of ideas to put in your compost bin? Sign up below!

Thanks for taking the time to read this post! I really appreciate the time you've taken. Please share, like, and pin my post if you enjoyed it. Follow me on social media and subscribe to my email list to keep up to date on all of my latest projects!

Disclosure of Material Connection: Some of the links in the post above are "affiliate links." This means if you click on the link and purchase the item, I will receive an affiliate commission. Regardless, I only recommend products or services I use personally and believe will add value to my readers. I am disclosing this in accordance with the Federal Trade Commission's 16 CFR, Part 255: "Guides Concerning the Use of Endorsements and Testimonials in Advertising."