An introduction to open container composting. How to compost in an open bin.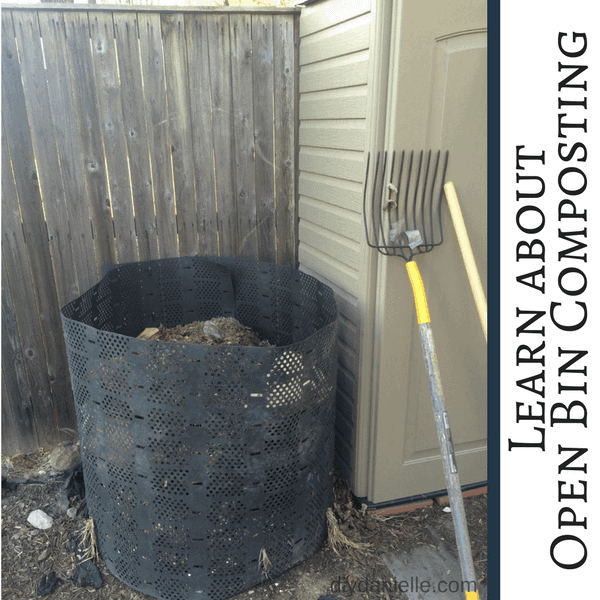 This post may contain affiliate links. Using these links helps support my blog. Thank you!
What is Open Container Composting?
I've got to be honest. This is not my favorite kind of composting. It does, however, have its purposes and I recommend using one. This type of composting is a bit of "let's let nature do its thing." It's also very cheap. I like cheap!
Open container composting is when you have- essentially- a compost pile that is contained by fencing of some sort. The fence is helpful to keep pets and other animals from getting into the compost easily. It also compacts all of the compost into a tight pile to allow for the temperature to increase easier… a pile that's spread out without containment won't get as warm.
Pro's and Con's to Open Container Composting
Pro's
Very cheap. Our county gave ours to us for free.
Very simple setup. No extensive building.
Not complicated to run. Nothing to kill, unlike the worm bin.
Great for beginning to compost.
Because it's open to the top and bottom, there's plenty of room for earthworms to make their way into your bin, as well as air and moisture.
Huge area to dump things in compared to the small area in the tumblers. This makes it really convenient for grass, cardboard boxes, and other yard stuff.
Con's
Must be kept outside, preferably away from your home.
Can attract animals… such as your dogs. Who will get into it and drag food back inside the house. Because dogs love banana peels.
Turning the compost is very difficult.
Slower to compost.
You really need more than one of these.
Supplies for Open Container Composting
Supplies listed below may include affiliate links to the products.
Setting Up
It was pretty simple to put ours together. I believe there were some clips and we folded the plastic into a cylinder shape and clipped it together. Then we added some soil, along with some compost materials.
Caring for Your Open Compost Bin
An open compost bin is open to the air (good) and the rain (sometimes good). If you have a lot of rain, you may want to cover it with a tarp to reduce how much moisture it gets. I don't really bother. Most of the work that I do with this bin involves turning it with a pitchfork. This is to keep my dog from helping "compost" the food we put into the bin.It's helpful to have two of these bins. I would like the open system a lot better if I did. The best setup would be to have Bin 1 and Bin 2. Start by using Bin 1. Once it's full enough to heat up properly, switch to using Bin 2. Keep turning both bins over. Once Bin 1 is fully composted, you can use much of that compost and start using Bin 1 again. Bin 2 can now sit and compost without further scraps being added to the pile.
Does that make sense? It's mostly to give yourself some compost that is usable… because I only own one open bin, I ALWAYS have uncomposted food scraps in the bin. Composting doesn't work fast enough to keep up with my kids' fruit habit.
A note on turning: A pitchfork works better than a shovel. It's VERY hard to turn my compost bin because the plastic interferes. I have to reach over the top. I don't feel I can properly turn the bottom layers. Some people make upcycled pallet bins and add a latch and gate to the front of the bin. This might be a better option for easier turning because you can practice a healthier lifting technique (I have had multiple back injuries so I'm keen on this).
What can go in a compost bin?
Curious what you can and can't put in your compost bin? I have a great post on what to put in your compost bin (I even have a free printable), but the quick and dirty is this: No meat, no dairy, veggies and fruits work well. You can add cardboard and paper. Egg shells but not the eggs themselves.
You can also just sign up for the free printable below.
Other Methods of Composting
Learn how to make an indoor composting container to hold your compost before you bring it to the outdoor bin.
Thanks for taking the time to read this post! I really appreciate the time you've taken. Please share, like, and pin my post if you enjoyed it. Follow me on social media and subscribe to my email list to keep up to date on all of my latest projects!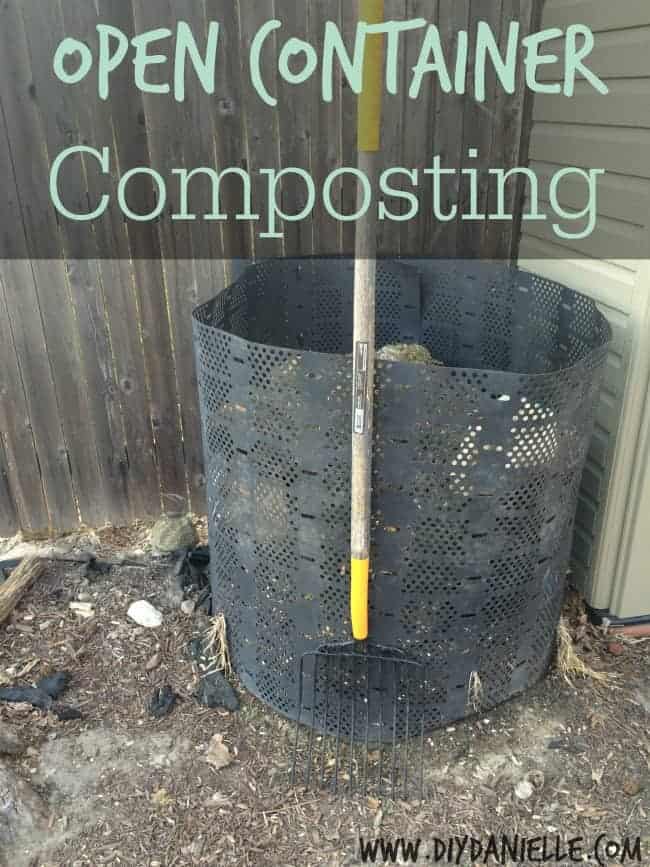 Disclosure of Material Connection: Some of the links in the post above are "affiliate links." This means if you click on the link and purchase the item, I will receive an affiliate commission. Regardless, I only recommend products or services I use personally and believe will add value to my readers. I am disclosing this in accordance with the Federal Trade Commission's 16 CFR, Part 255: "Guides Concerning the Use of Endorsements and Testimonials in Advertising."