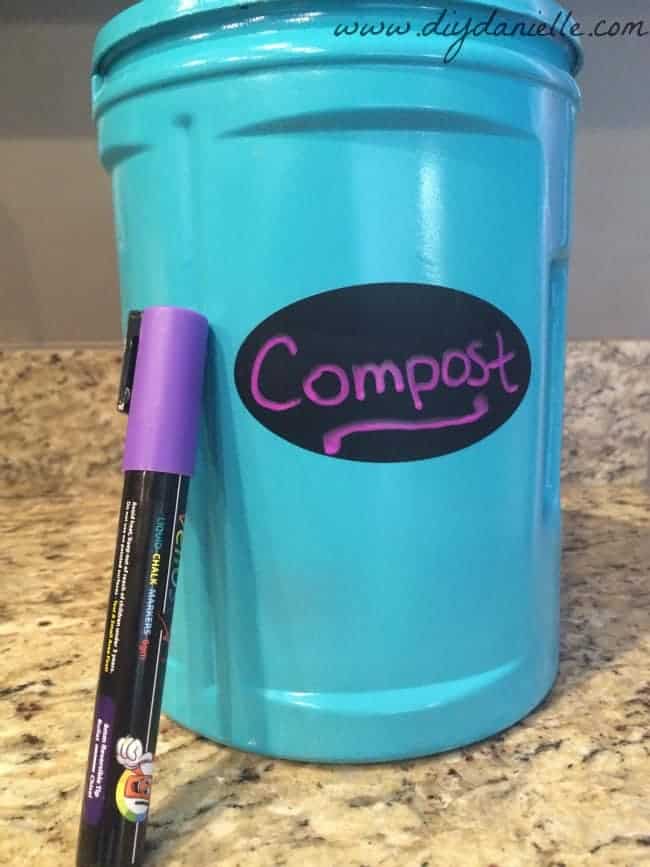 How to make your own indoor compost container.
I love composting, but we don't run to our big compost bin outside every time we have a banana peel. Instead we have a small container that we keep inside to put everything in… and when it's full, we transfer it outside. It manages to keep the smell inside the container which is key. Any large container will work for this project.
Supplies
Supplies listed below may include affiliate links to the products.
Tutorial
This is very simple. I just spray painted my container. Let dry.
I added a chalkboard label and wrote "compost" on it. Done.
And to think I've been using this ugly container for probably two years and never did this before… haha. It looks so much better sitting on my counter now!
Thanks for taking the time to read this post! I really appreciate the time you've taken. Please share, like, and pin my post if you enjoyed it. Follow me on social media and subscribe to my email list to keep up to date on all of my latest projects!

Disclosure of Material Connection: Some of the links in the post above are "affiliate links." This means if you click on the link and purchase the item, I will receive an affiliate commission. Regardless, I only recommend products or services I use personally and believe will add value to my readers. I am disclosing this in accordance with the Federal Trade Commission's 16 CFR, Part 255: "Guides Concerning the Use of Endorsements and Testimonials in Advertising."