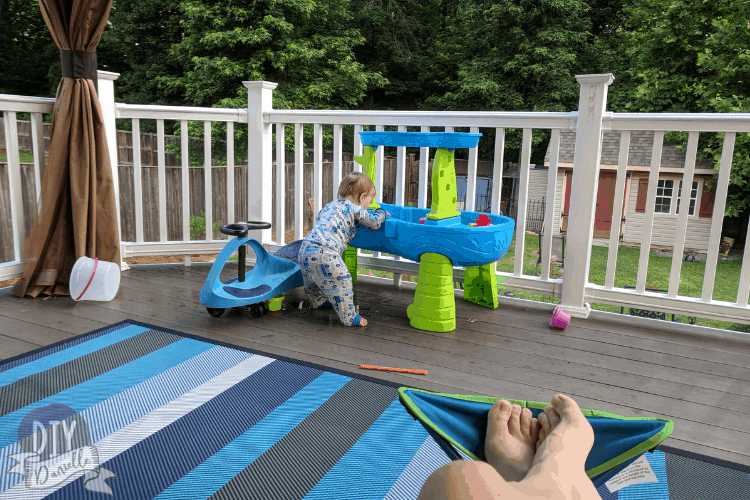 What is the best water table for kids? Check out these water tables that you can buy or DIY.
This post contains affiliate links. If you make a purchase using these links, I may receive a commission from the sale. This does not impact your price for the product.
One of the best toy purchases that I've made was a water table. We've had four different water tables, all different in complexity. Not only do they entertain the kids for hours, but they have decent resale value if you keep them in good condition. Make sure you check out my post on How to Clean Your Water Table so you keep it fresh and safe for your kids.
Honestly, it doesn't matter how complicated your water table is… the young kids just love splashing in the table. But the accessories seem to keep the older kids entertained and I'll often find my older kids playing in the water table with their baby brother, even though the big guys are 5 and 7. Even I enjoy playing with the toys, although I generally use the water table as a way to occupy my very, very busy little guys so I can relax. And because we're playing outside, I don't have to worry about messes. It's amazing.
The one thing I'll mention is that our first water table had an umbrella. While this was a nice addition, those umbrellas are never meant to last and they don't get full coverage. I'd recommend using a canopy instead if you want to give your children shade over their water table, such as the one that I setup over our pool last summer (we used the Coleman Canopy on Amazon).
Little Tikes Spiralin' Seas Water Table
I like the Little Tikes Spiralin' Seas table because there are quite a few accessories with it, including several small balls which can be put down the spiral or placed in the Ferris Wheel. It's round and it is a bit smaller than some of the rectangular tables.
Here's a video review of the Little Tikes Spiralin' Seas table we just purchased for the kids. They LOVE it and it's got a lot of variety in terms of activities and accessories included. Water tables are by far one of my favorite children's toys ever.
Step2 Rain Showers Splash Pond Water Table
We had long since passed on our Spiralin' Seas table when we had our surprise baby. A water table was a 'must buy' for me when he turned one. The
Rain Showers Splash Pond table
has been phenomenal. The boys all play with it, even the older guys. There is so much to play with on this table so it is quite entertaining, although more accessories means more to clean (or throw if you have real littles).
Step2 Waterfall Discovery Play Set
While the
Waterfall Discovery Set
isn't a traditional water table setup, I like that how unique this set is. We haven't owned it but it was one that I considered buying.
Step2 Fiesta Cruise Sand & Water Table with Umbrella Play
This water table looks like a BOAT. So enough said, right? This is super cute and comes with an umbrella. Just keep in mind that the actual amount of water area is less than some of the other sets.
Kid's Convertible Picnic, Sand and Water Table w/ Removable Top
This set is made with wood and has seating for the kids which makes it unique and fun. It also has zones for water and sand (alternatively, you could use rocks in the sand part). The nice part about this set is that it can be used as a picnic table too and you can keep the water/sand area covered when not in use.
Step2 Naturally Playful Sand and Water Table
The Step2 sand and water table is ideal because it has a large umbrella, as well as a cover. Kids will love playing in the sand and water.
The Best Homemade Water Table Ideas
Instead of buying an expensive water table, there are so many awesome homemade water table ideas.
Kids don't care if it's fancy.
This idea is super simple
and you probably already have the supplies to "make it"… no building, no crafts. It's just a couple of storage bins and some water and sand toys.
Other Posts You'll Enjoy!
Make sure to check out my post,
How to Clean Your Water Table
, because keeping your table clean is vital to giving it a long life and better resale value. It also keeps your kids safe from bacteria and mold!
Please pin this!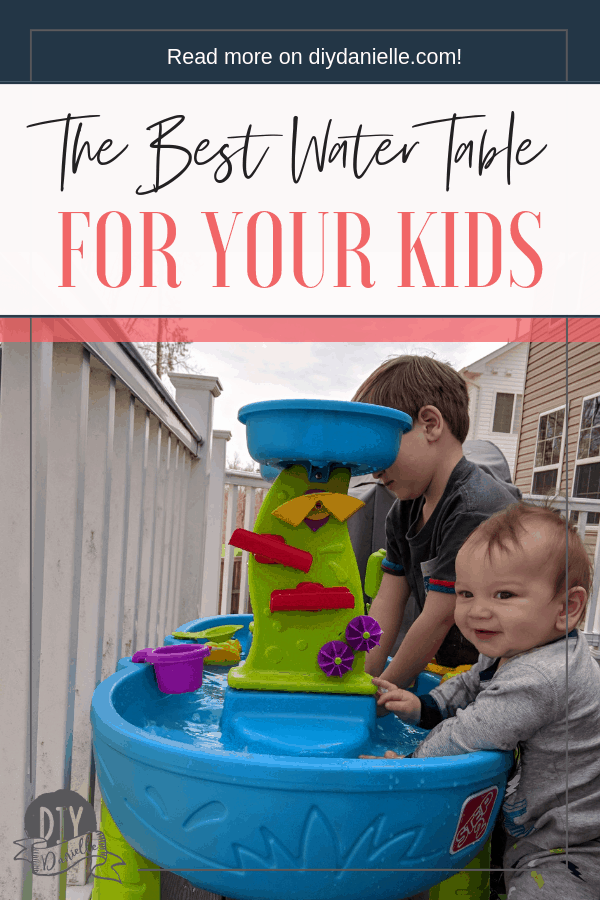 Disclosure of Material Connection: Some of the links in the post above are "affiliate links." This means if you click on the link and purchase the item, I will receive an affiliate commission. Regardless, I only recommend products or services I use personally and believe will add value to my readers. I am disclosing this in accordance with the Federal Trade Commission's 16 CFR, Part 255: "Guides Concerning the Use of Endorsements and Testimonials in Advertising."