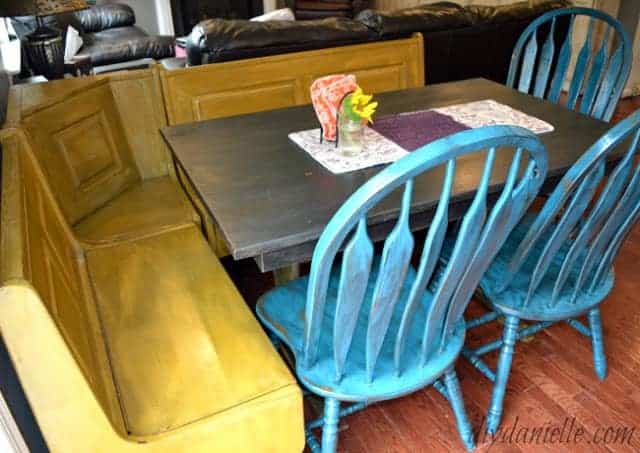 This is a corner kitchen set that was originally purchased used, kept as-is for six years, then updated. The table was painted with Pitch Black and the benches were painted with Marigold Yellow OFMP as the paint is environmentally safe, non toxic, and no VOC.
This post is sponsored by The Old Fashioned Milk Paint Company. They provided the paint necessary to beautify this piece of furniture. This post may also contain affiliate links. Using these links helps support my blog. Thank you!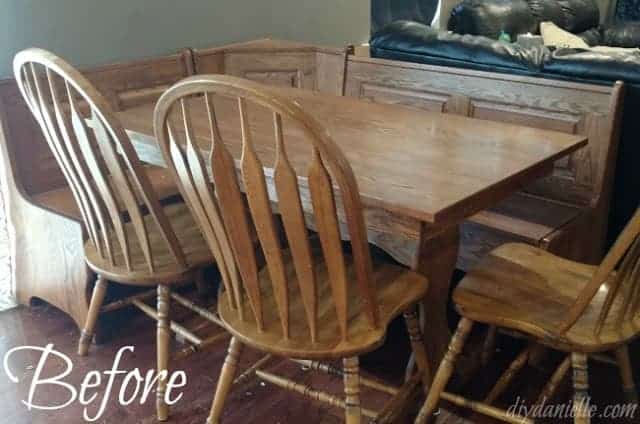 I love this kitchen set that we purchased years ago for our condo. It has plenty of seating and there's storage in the seats. It was a solid "Amish made" set that we got used off Craigslist. It still works great, but I wanted to update the colors. The top was looking pretty rough (almost 5 years surviving my kids!). This thing will last forever so it was totally worth the effort.

As usual, I went with a distressed look to this piece because I have kids… and NOTHING works better for a household with children as the distressed, farmhouse look. We don't "do" crisp and white contemp in this house!
Supplies Supplies listed below may include affiliate links to the products.
Tips
To begin, you need an idea on how I distress furniture. I used the same method that I did with my sons' Drab to Dreamy Lego Desk Makeover so if you want specifics, head over there. I highly recommend strategically using a mouse sander. It makes the job faster and this table set was a lonnnnng process so it was nice to not need to hand sand it all.
I decided to use a spray paint on the chairs. It was easier. I wish my poly had been spray on too, haha.
The tabletop has a layer of the marigold yellow, a layer of poly, then a layer of the pitch black. I distressed it a bit, let some bits chip off to show the marigold underneath, then applied a few layers of poly on top. I wish I'd used the SafeCoat that I had. Not super happy with the poly for the tabletop.
For the table legs, I left them marigold yellow, distressed, then used ebony stain on top. I was so annoyed. I've never had issues with the stain before but it just sunk into the legs and then I had to scrub it off. So needless to say, it has a "different" look to it now. I'm not sure if I love or hate it. What do you think?
Love it? Pin it!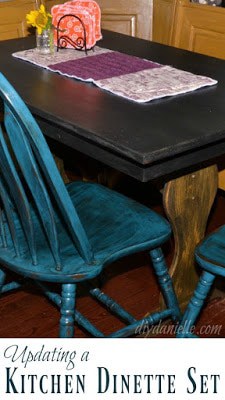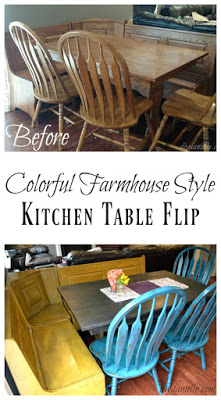 Thanks for taking the time to read this post! I really appreciate the time you've taken. Please share, like, and pin my post if you enjoyed it. Follow me on social media and subscribe to my email list to keep up to date on all of my latest projects!