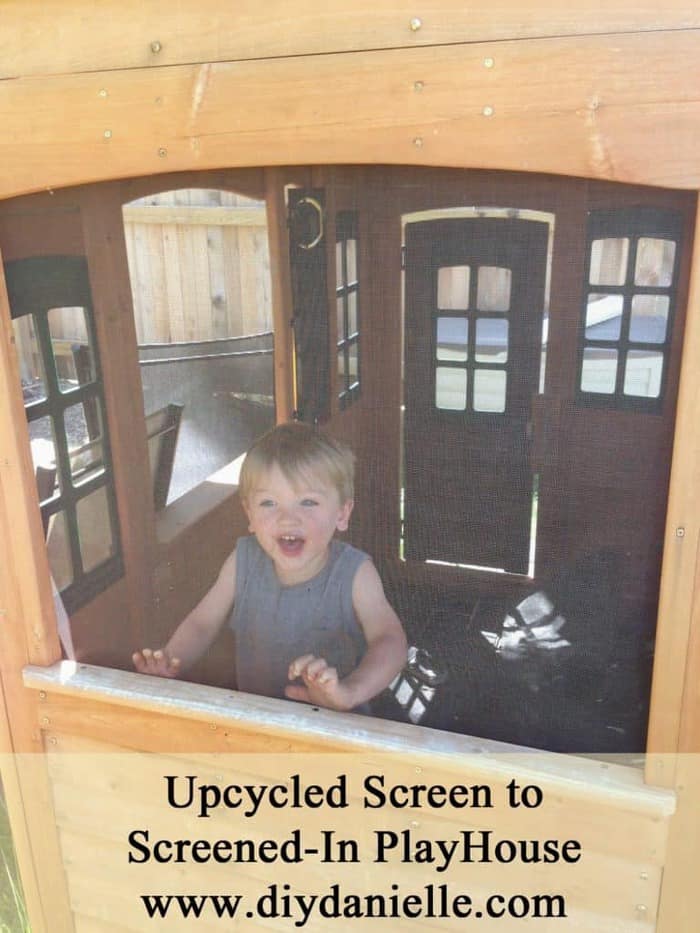 I recently replaced the screen on our screen door (the dog and child can only run into it so many times before it breaks) and was left with the old screen, as well as some extra screen I'd cut to the wrong dimensions. Obviously I wasn't going to throw any of that away. So I decided to upcycle it.
My son has a small playhouse as part of his swing set so I decided to take my staple gun and scissors out to help put screen up. I used the screen cut to the right dimensions and used the staple gun to staple it to the inside of the house. It's AWESOME. So easy and hopefully it'll work to keep the bugs down a bit. I don't anticipate it's perfect as there are definitely gaps, but it's fun and those big bees we get won't be able to get in too easily. My 2.5 year old son does NOT like them- "Icky bugs! Icky bugs!" Poor kid. Haha. I think I traumatized him by telling him it was fine, then running screaming when one came near me. Eek. Oops.
I did leave one big window open so he can pass things back and forth with friends and so the bugs that do make it in have an escape route- or so I do. Haha.
All I did was staple the screen up and cut with scissors any excess off. I think it'd be easier to cut to size before putting it up, but I was on a time crunch (as usual) and my 2.5 year old was behind me trying to "help" cut the mesh by himself. Go GO go, gotta beat the kid at the game. Haha.
This is the open window in the middle, with the two on the sides screened.