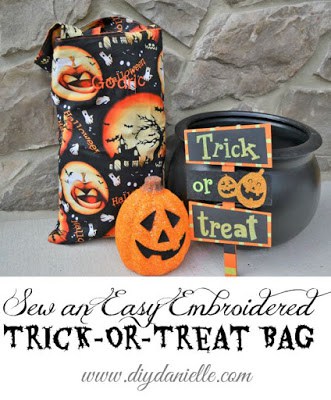 How to sew an easy embroidered trick-or-treat bag for your child for Halloween. It's not complicated and it has their name on it!
I made fancy embroidered Easter baskets this year so I figured I'd make sacks for candy at Halloween as well for the boys. These were more simple than the Easter baskets.
I wanted them to be big enough for them to use throughout their Trick or Treating years and I think these will work nicely.
For those of you with embroidery machines, it's pretty easy to just embroider the child's name on the front outer piece of fabric before putting each bag together. If you don't have an embroidery machine, then you may want to impose on a friend or find a patch to iron/sew on. I am sure there are also companies that will embroider a name on for you for a small fee.
For each sack I cut:
2 pieces of outer fabric
2 of inner (I used cotton for the orange inner and fleece for black inner. Both are nice, but the black adds a bit more thickness that the orange does)
Enough fabric to make 2 straps
My finished bag is 17″ tall and 11″ wide. Straps are about 17″ long and 1.5″ wide. So your cuts for each piece of the bag should be approximately 18″x12″ (assuming 1/2″ seam allowance on each side which is fairly large)… and the straps can each be 18″ x 2.5″.
This is very easy to sew… face your outer fabrics right sides together and sew around, leaving the top open. Do the same for the inside fabric cuts.
For the straps you want to face the pieces for each strap right sides together, sew around three sides leaving a short side open… then turn right sides out. Make sure to poke the corners out, iron flat, and top stitch.
Now you turn your outer fabric right sides out. Tuck it inside the inner fabric so the right sides face each other (black/halloween fabric or orange/halloween fabric). Tuck a strap so it's sandwiched on each side. Sew around, leaving a small space to turn. Once finished, turn your fabrics right sides out, iron, and top stitch around. Very simple project. I love making bags.