Tips for tracking home improvement projects and other important information on your home, plus a free home improvement tracking spreadsheet!
I have owned three homes in my lifetime, and I have made home improvements to each property. When we sold the first two homes, I had an organized binder to pass on to the new home owners. The binder listed all of my renovations, the costs, color cards for the wall colors, and more. The buyers seemed happy to have the information available and my realtor loved having that when he was working on the listing. However, having a home improvement binder can be extremely helpful, even if you don't plan to sell your home.
When we get quotes on a new project, I often pull my binder out to show the builder giving us the quote. They're able to view our home appraisal and inspection reports, any permits pulled in the past, and other important information. My binder has come in handy on multiple occasions.
---
This post may contain affiliate links which may earn me commissions should you click through them and take certain actions. As an affiliate for Amazon, Cricut, xTool, Home Depot, and other sites, I earn from qualifying purchases. Please DIY carefully. View my full legal disclosures here.
Please read the whole post so you don't miss any important information!
---
Why Track Home Improvements?
Tracking your home improvements and home improvement plans can have many benefits:
It helps you stick to a budget.
You can organize quotes from contractors on a project.
Realtors can writing a detailed listing with a list of your home improvements.
You'll be able to find all of your home information in one place.
Documentation for financial purposes of investments you have put into your property.
Easy to reference list of licensed contractors you've used for a project, in case there are issues in the future.
It is a good idea to have this documentation for resale and tax purposes. It's also good so you don't forget when you replaced that water heater, etc.
I don't just document my renovations though. My binder also includes information like our garbage pick up day, emergency numbers for reporting gas leaks or electric outages, our "VIP" list of plumbers, electricians, etc., and a to do list for home maintenance tasks.
When I originally wrote this post, I was using a spreadsheet on my computer; I'll talk about that in a bit and give you the link. For our current home, I used my home renovation printable planner, which you can find in my shop. You can also click the "Shop Now" button below.
Home Improvement Excel Tracking Sheet
I designed my own tracking sheet while we were in the condo and I was able to pass it on to the new owner which was helpful for him to get his home owners insurance setup (figuring out how much it would cost to rebuild if the place burnt down).
For my new version, I also added a tracking box for the warrantee information. I've included a sample tracking sheet, as well as a blank tracking sheet for your use. They're available through the links below on Google Drive.
Tracking Home Improvements
Setting Up Your Tracking Binder
I use sheet protectors to add the tracking sheet, receipts, info on home improvements, and other helpful home information to my binder. It's really useful to have all of your home and appliance warranty information in one place too.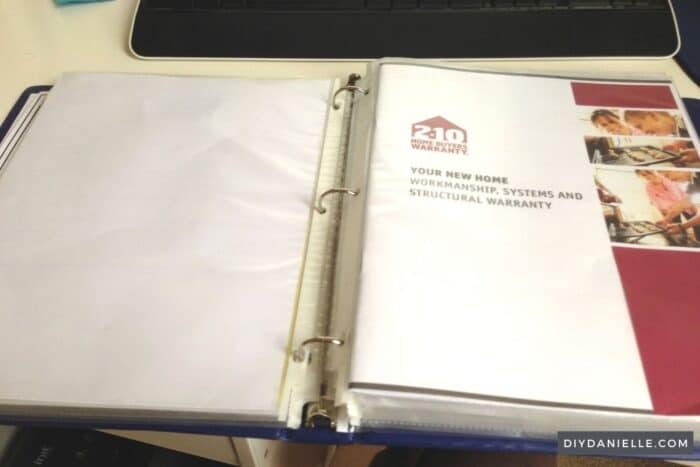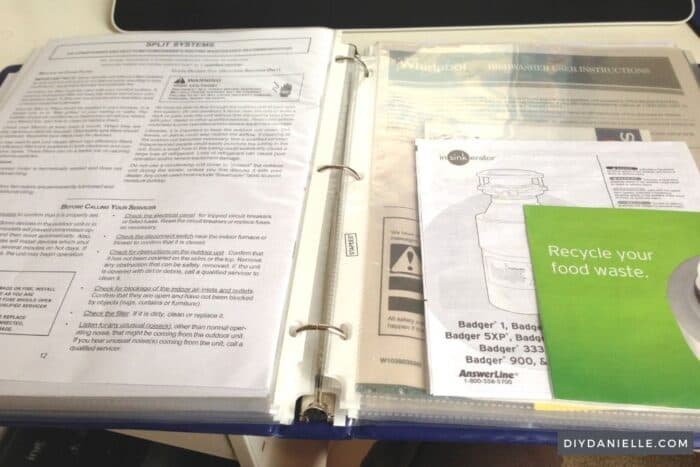 I also used dividers (on the tracking sheet you'll see that I added what tab each item falls under) for each category, ie. kitchen, home exterior, etc.
Photo Documentation of Renovation Projects
For fun I keep photos of my home at the different stages of renovations for all of my projects. While I use my blog to document a lot of my current renovation projects, I started photo documenting long before I had a DIY blog. It's satisfying to be able to look back on the before/after photos.
And maybe one day, you'll want to start your own blog or show your children or grandchildren what you accomplished. My dad did tons of renovation projects on our home growing up and I wish I had before/after photos to look back on. I grew up playing in the yard with the air compressor and nail gun as background noise. I feel like those projects- and the fun we had playing in the renovated (and raw) areas- are some of my fondest memories from childhood. It's a bit disappointing that I don't have photos.
It's funny how we, as parents, often see the big events like vacations to Disney as being the things the kids will remember forever. I have vague memories of Disney, but so many amazing memories of watching my dad build a gazebo and deck off our house. And I have so many more memories of playing inside that gazebo; I had tea parties and taught school in there. It was a quiet, dry place to hang out in "nature." I could do homework in there, or read. It was a place of peace for me.
I have ONE photo. It makes sense that so many people are interested in action/lifestyle photos now vs. only having portraits done.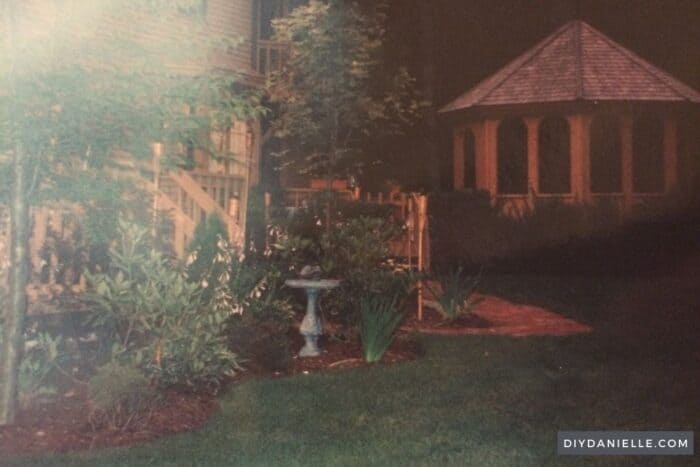 Make sure to check out my other post, Planning Renovations on a Budget.
Home Improvement Printable Planner
If you're interested in a printable planner that you can hand write the information on, I sell a full home renovation planner in my shop. You can buy it here, or alternatively, get a free shortened version of the planner to try out by signing up below!
Please share and pin this post! If you make this project, share it in our Stuff Mama Makes Facebook Group. We have regular giveaways for gift cards to craft stores. You can also tag me on Instagram @doityourselfdanielle; I love seeing everything you make!