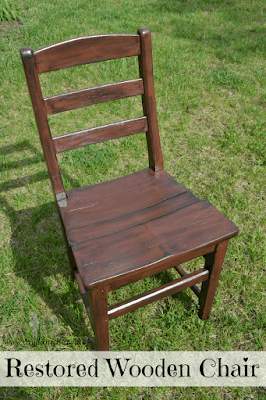 How to update an old wooden chair to be an attractive decoration for your front porch.
I've had this old wood chair sitting on my front porch forever. I wouldn't throw it away and it looked AWFUL. My mom kept saying: "Danielle! Paint it and put a flower pot inside it!" Literally. For maybe two years straight. So here you go mom. Without further ado… my chair redo.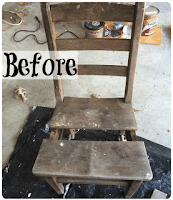 This wasn't a very complicated project. I didn't need the chair to be functional and I was back and forth about if I wanted to cut out an area for a plant or leave it all in one piece. I opted for keeping it in one piece because I haven't had much success keeping plants alive on my covered porch. There was a piece of wood that had broken off on top… I just painted that as well and put it back on. Nothing fancy. I didn't screw it or glue it on. There's a lot more room for error when you're using something for decor and not for actual use.
I went through my typical process to paint and distress the chair. I was able to get away with using only one of those sample containers of paint from Lowes. This worked great for me… I love those little containers so much. The paint was Valspar Chocolate Cherry and I used ebony stain. Then I used poly to finish it. I chose the Chocolate Cherry because my shutters are red-ish and I knew my ebony stain would darken the color… this ended up being a pretty good fit for color.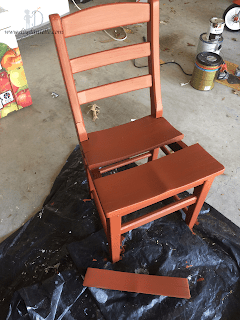 The video below shows my process, except on a different project: My Drab to Dreamy Lego Desk.

Here's a picture of my chair painted. It definitely looked good as is, but I just love distressing things and seeing what color they end up as so I couldn't resist doing so with this chair too.

After I painted it and let that dry, I sanded lightly then used ebony stain over the paint, wiping it off with an old t-shirt rag as I went. Once I let it dry, I used a coat of poly and let that dry. Sometimes if something will get heavy use I do 2-3 layers of poly, but this was decoration so I didn't put that much effort in. Below is the before and after! I hope you enjoy.
Here are a couple affiliate links to the supplies that I used (note: I actually used a non fast drying poly but I figured I'd link this one because fast drying seems like a way better idea):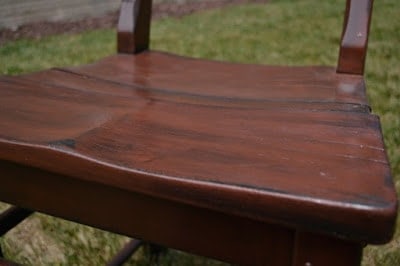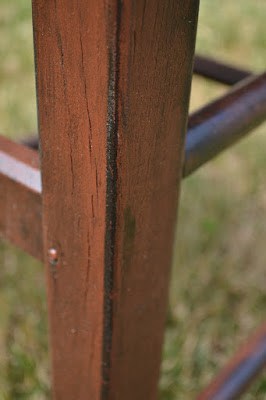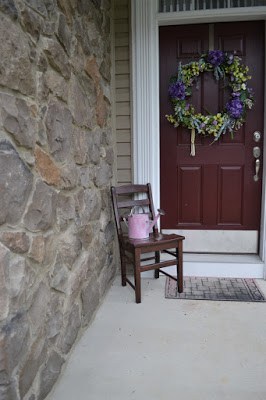 Now I just need to figure out how to use it to decorate my front porch… I need my mom to come decorate for me. Decorating is her skill… I just like to make things.
I'd love if you could pin the below image and share on Pinterest,
as well as other social networking sites!