Get this printable pet information sheet to help you organize your pet's records. This works for dogs and small pets, but also farm animals.
This year I've been scrambling to get organized. There's something about a clear plan and a neat printable that helps me feel better and more in control of my life. I decided to put together pet information tags and a printable pet care checklist for when we left for vacation. It's a farm planner if you have farm animals too. Just adjust it for your needs.
These tags and the checklist help our pet sitter take care of our farm when we're gone. They also help my kids or husband take over if I ever get sick or have to leave suddenly for a period of time. This was a problem we ran into when I was pregnant with my third son and had to go to the hospital one night because I was really sick.
---
This post may contain affiliate links which may earn me commissions should you click through them and take certain actions. As an affiliate for Amazon, Cricut, xTool, Home Depot, and other sites, I earn from qualifying purchases. Please DIY carefully. View my full legal disclosures here.
Please read the whole post so you don't miss any important information!
---
Farm Organization Hacks
Here are some of the farm organization hacks that have REALLY helped me get organized with my homestead.
It's worth checking out my chore planner for the kids, as well as my menu planner as well. I have free printables that you can print for your own families and these are LIFE SAVERS for staying organized.
Printable Pet Information Sheets
Honestly there's not a lot to say about these sheets. You can click on the printable link and fill out information for each of your animals. When you're done, save them as a PDF and print. If you don't have a high quality printer, you can send them off to be printed if you prefer, but they'll likely get dirty and need to be reprinted occasionally so I wouldn't stress about it too much.
Supplies
Card Placement
Each of the small cards regarding pet care goes in a protected covering by the animal's stall. I attached Command Strips to the backs of the 4×6 Acrylic Sign Holders.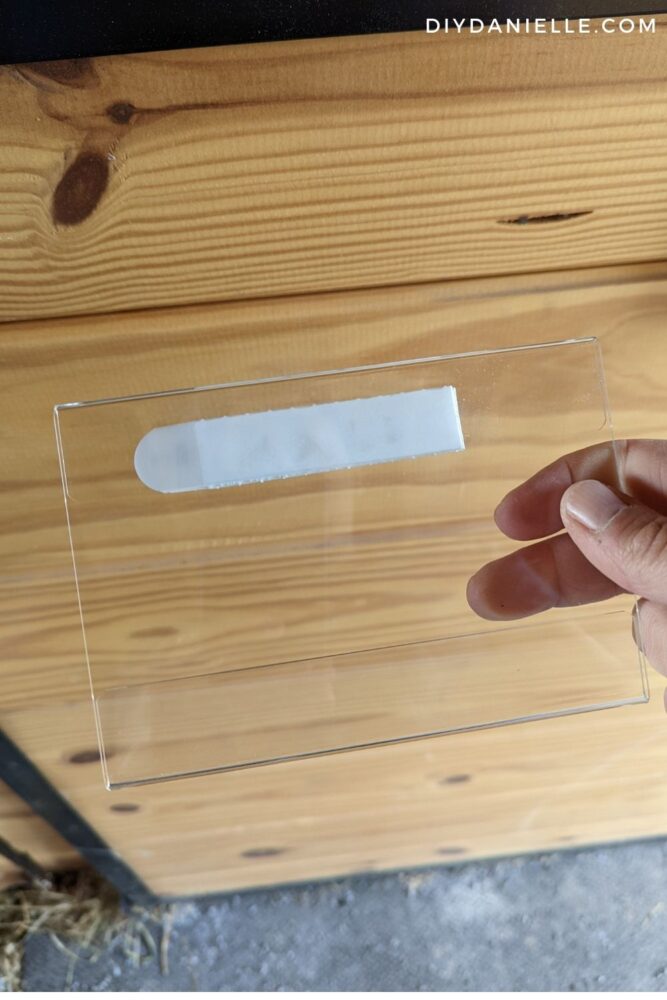 I wiped the area clean and dried it before placing the sign holder on the wood. If you don't clean the area first, you will likely see these fall off pretty quickly. Command Strips are great, but barns gather so much dust that you'll inevitably be sticking them directly to a thick layer of dust if you don't clean first.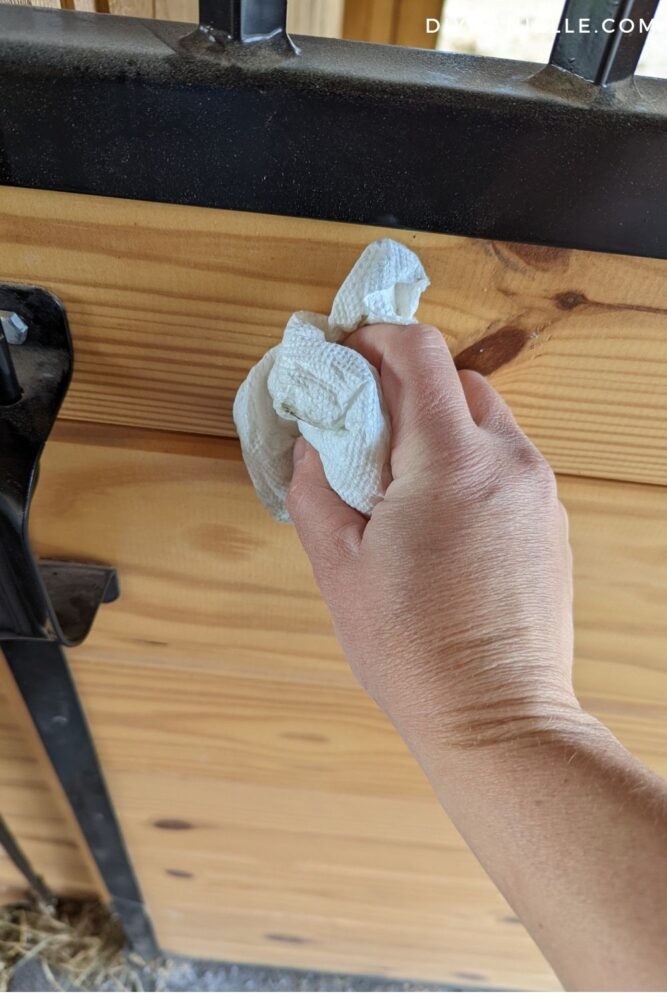 Once the display is up, I just slide the card into it. I can easily pull them in and out as needed. I did our spring worming right after I made these so I just slid them out, wrote the date of worming on the back, and slid them back in. I can update them the next time I worm.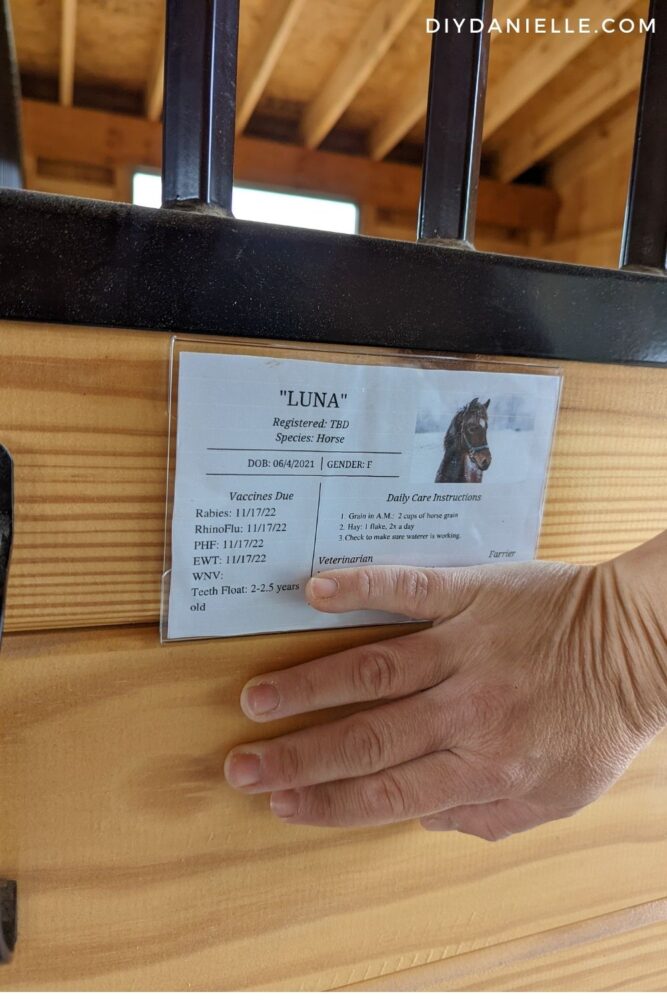 For our dogs, the cards go on the dog food bins.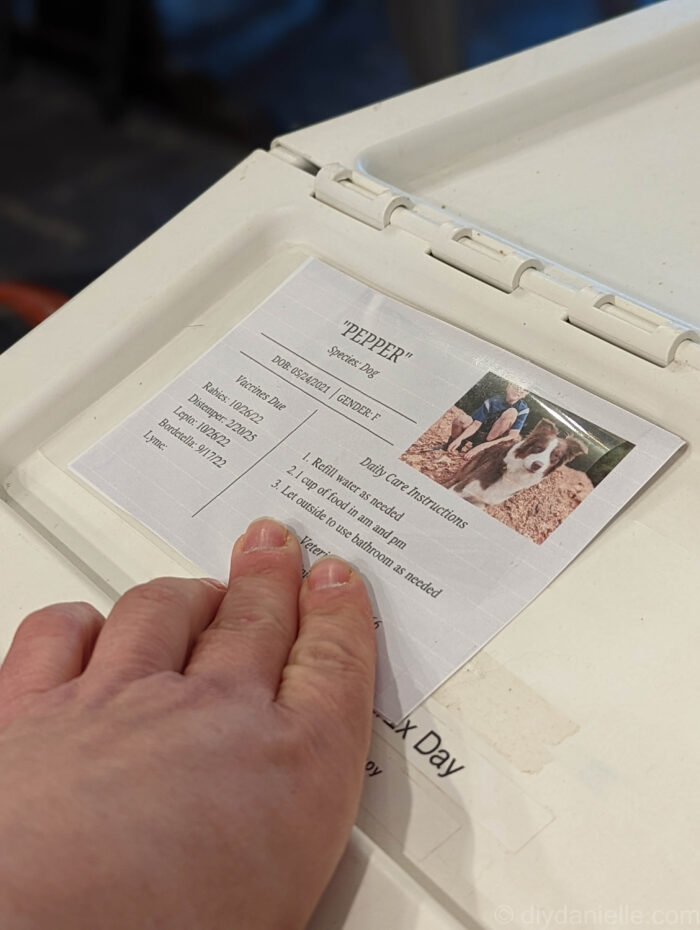 Here's where I put it on our Omlet Rabbit Cage. Honestly, these probably needed to be laminated because they're outdoors and rain can get in.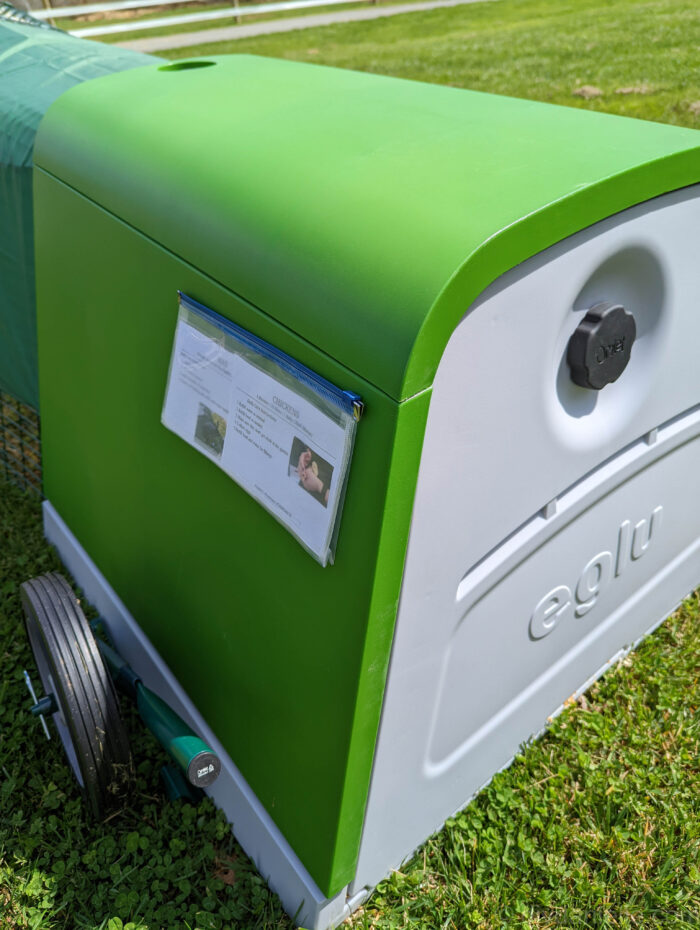 Checklist
The checklist can be laminated, then you can check off tasks each day as you do them. This is a great way to make sure the animals don't get fed two or three times… I tend to forget if I've fed them or my kids may also feed the dogs, in particular.
I used a thin point dry erase marker to write on this.
Instead of laminating though, you can use Dry Erase Pockets to place your checklist in and that is a slightly more eco friendly way to store your checklist, particularly as checklists are apt to change. I just had to purchase another set of the pockets because I had too many checklists in use, whoops!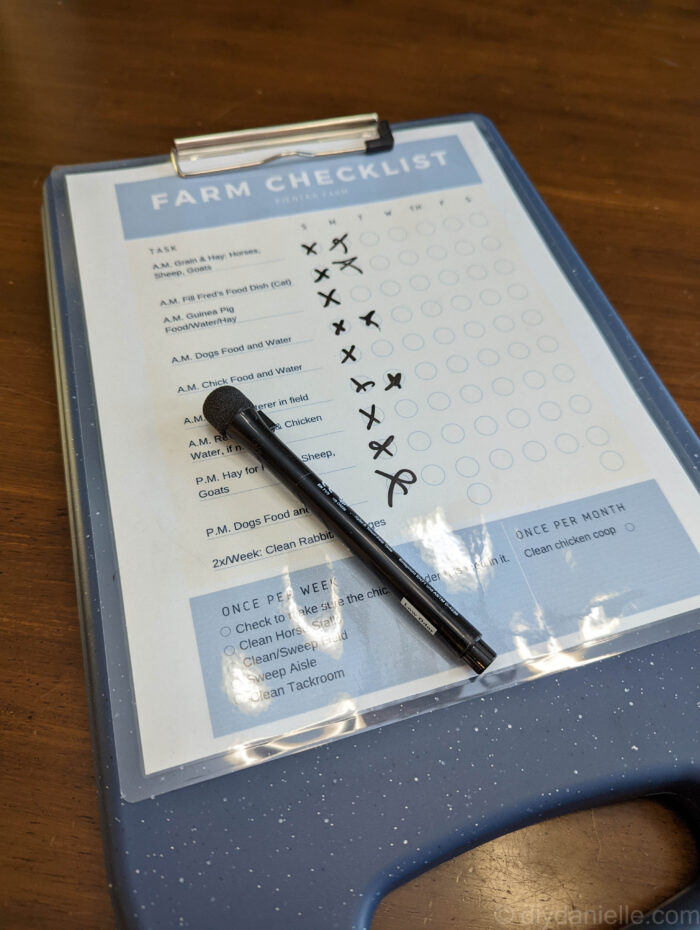 The only thing I'd like to add eventually is a list of which animals need to go back to the original owners if I were to pass away. Some of my pets, such as my rescue horse, my dogs, and my goats are supposed to go back to their original owners/rescues if we decide to get rid of them. Beyond the fact that this list would make things easier for him in case of my untimely demise, leaving him without needing to figure out what to do with an entire farm of animals and three children.
Please share and pin this post! If you make this project, share it in our Stuff Mama Makes Facebook Group. We have regular giveaways for gift cards to craft stores. You can also tag me on Instagram @doityourselfdanielle; I love seeing everything you make!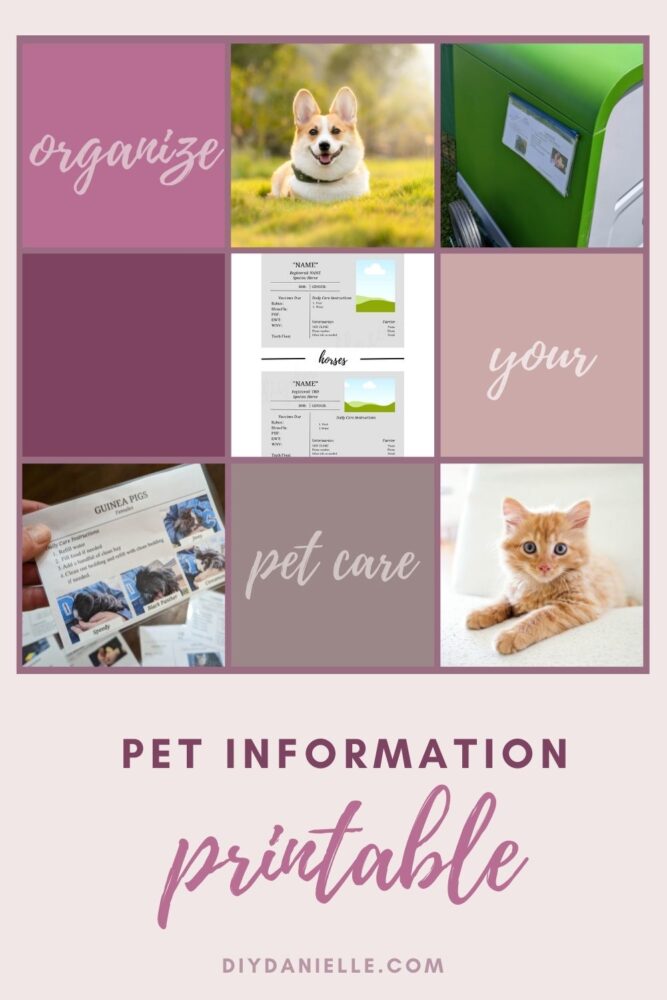 Google Web Story: Pet Organization Ideas