Looking for personalized Christmas stockings? Instead of buying them, customize blank stockings with your Cricut! Here's how.
A few years ago I made my family Christmas stockings, but never labeled them. When our surprise baby came along, suddenly I was one stocking short! While I thought about making a new set of stockings that all matched, I decided to take the quick and easy route. I personalized blank Christmas stockings with each of our names using my Cricut Maker 3. Here's how to do it!
---
This post may contain affiliate links which may earn me commissions should you click through them and take certain actions. As an affiliate for Amazon, Cricut, xTool, Home Depot, and other sites, I earn from qualifying purchases. Please DIY carefully. View my full legal disclosures here.
Please read the whole post so you don't miss any important information!
---
How to Personalize Christmas Stocking with a Cricut Machine
This is going to be a quick tutorial, but if you're new to your Cricut, check out my blog post about How to Use Iron On Vinyl. I think initially I had planned to use Infusible Ink and I WISH I had tried it! It wasn't a sublimation blank so I was nervous to try it, but I think it SHOULD work on these because the band is 100% polyester. There's some Infusible Ink sheets that match the pattern on these stockings so that would've looked nice. Ah well. I forgot.
Supplies
Use the Discount Code DIYDANIELLE on cricut.com for 10% off any cutting machine or heatpress (no minimum). Excludes: materials/accessories/mystery boxes/etc. Applies to US/CA only, code expires 12/31/23.
Tutorial
Start by measuring the white band on your Christmas stockings. Pull up Design Space and type in each person's name, then adjust the LONGEST NAME to fit the white band. Once that is resized, look at the font size listed. Adjust everyone else's name to the same font size as that person's name.
While you COULD just resize all of the names to fit the white band, this will make everyone's name look the same size and give a more cohesive look than having shorter names like "Kaden" in a bigger font and larger names in a smaller font.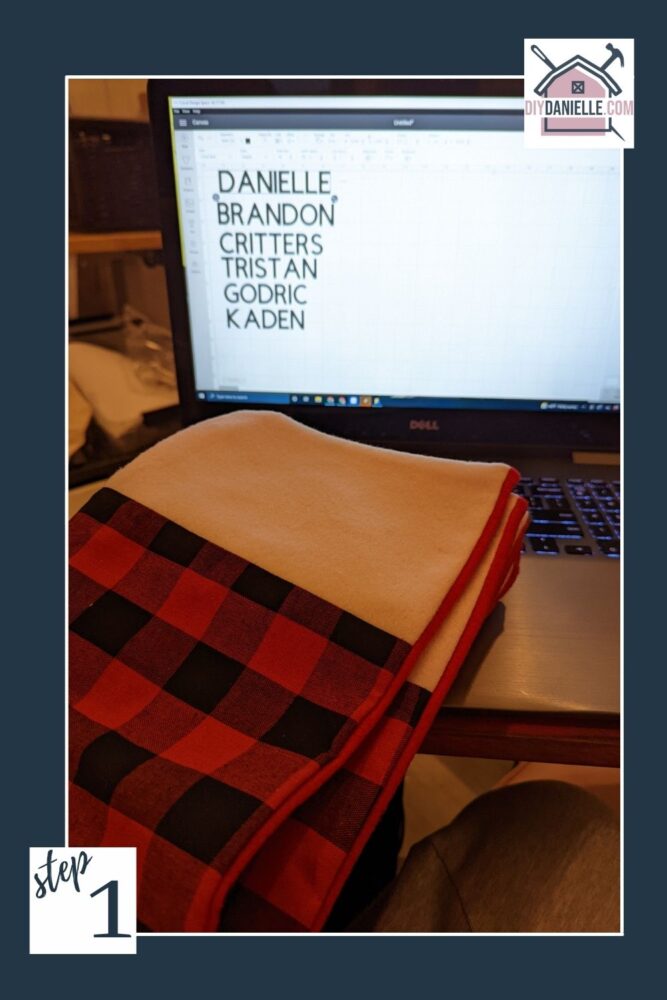 I chose an easy to weed and easy to read font. Place your iron on vinyl face down on the green Cricut mat, mirror the text, and let your machine cut the names out.
Once they come out of my machine, I use scissors to cut each name out, then weed each name separately.
Preheat the EasyPress 2 for the correct settings- my stocking's band is 100% polyester so I choose the polyester option and Cricut's heat guide told me to set the temperature at 315 F.
I pressed the blank white area for 5 seconds, then I centered the name on the white band of the stocking. I pressed the name on for 30 seconds with my EasyPress.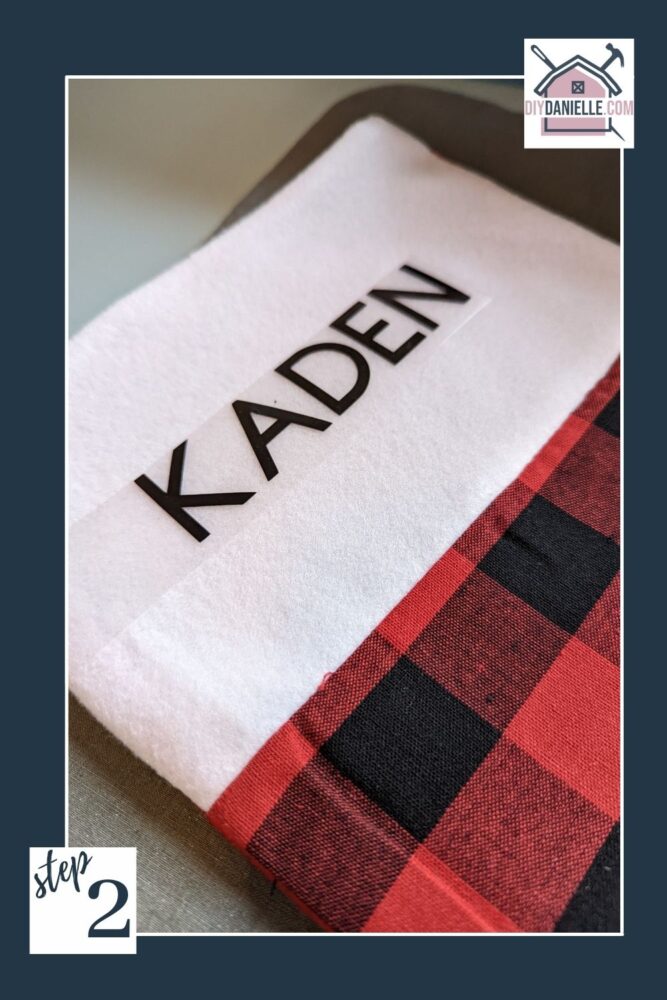 Now flip the stocking over and press the back side for 15 seconds.
Let cool for a few minutes. At this point, you should see if your vinyl transfer sheet (the clear piece) peels off easily. It should come off without pulling at the vinyl… although mine sort of stuck to the polyester which made it pull at the fabric a bit. I carefully peeled it off.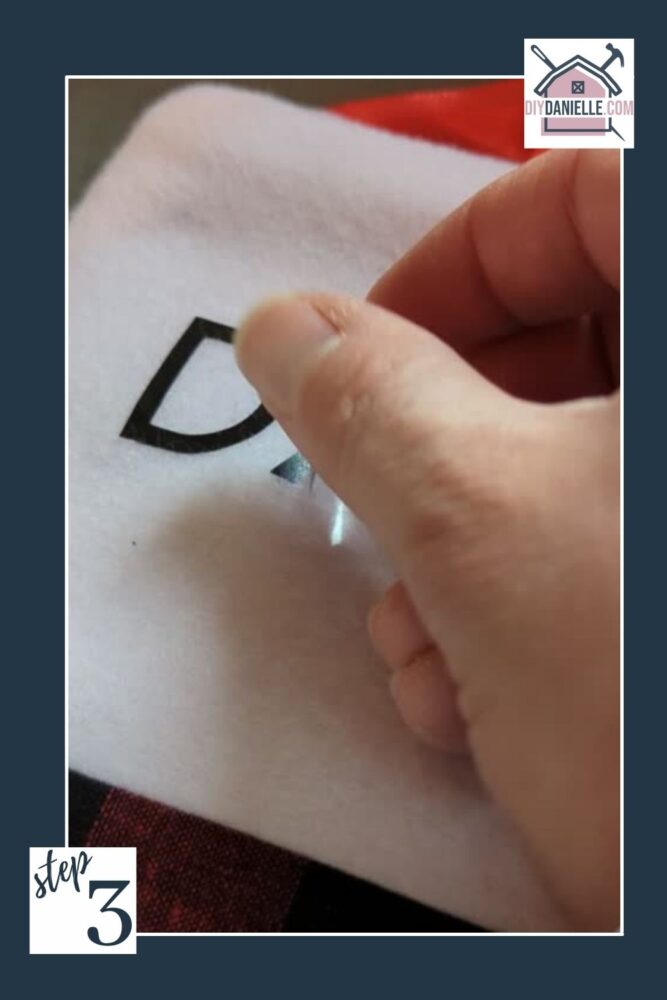 Once I get my transfer sheet off, I usually will repress the design. I use a Teflon sheet or a piece of scrap cotton fabric to cover the design, then press the design AGAIN with my EasyPress— but don't press too long. I usually try for 15 seconds, then go up to 30 seconds if necessary.
You do not want to melt your vinyl.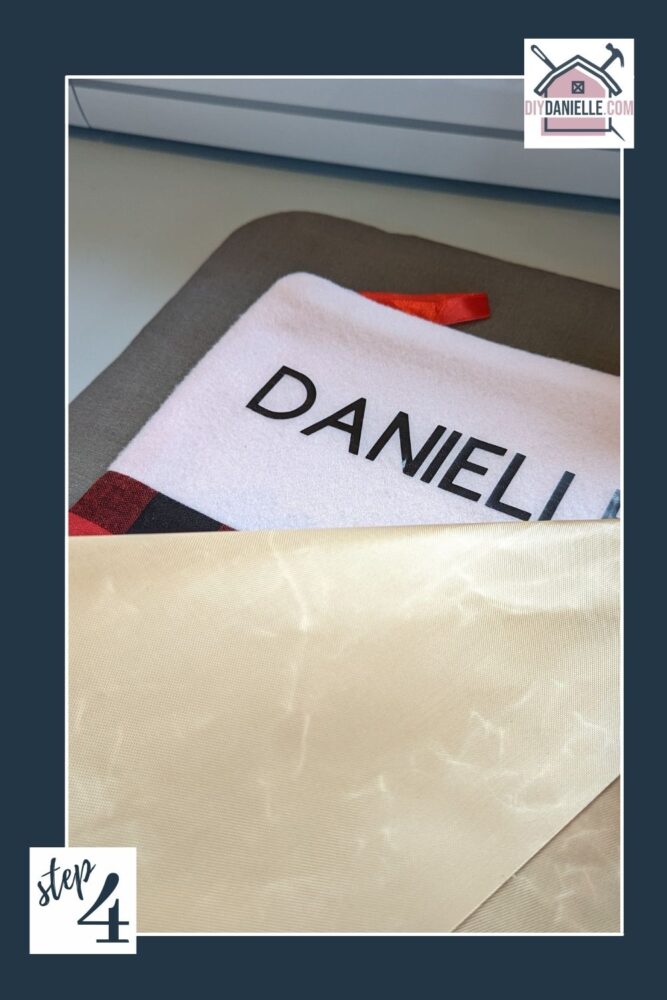 And that's all there is to it! Hang it by your fireplace with care…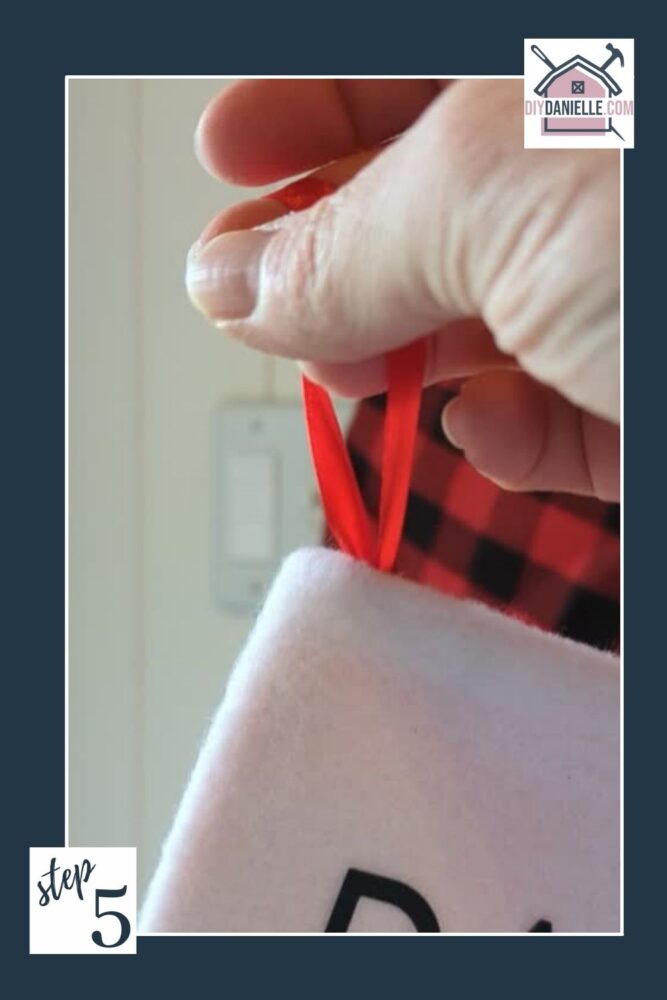 Here are some more Handmade Stocking Ideas!
Please share and pin this post! If you make this project, share it in our Stuff Mama Makes Facebook Group. We have regular giveaways for gift cards to craft stores. You can also tag me on Instagram @doityourselfdanielle; I love seeing everything you make!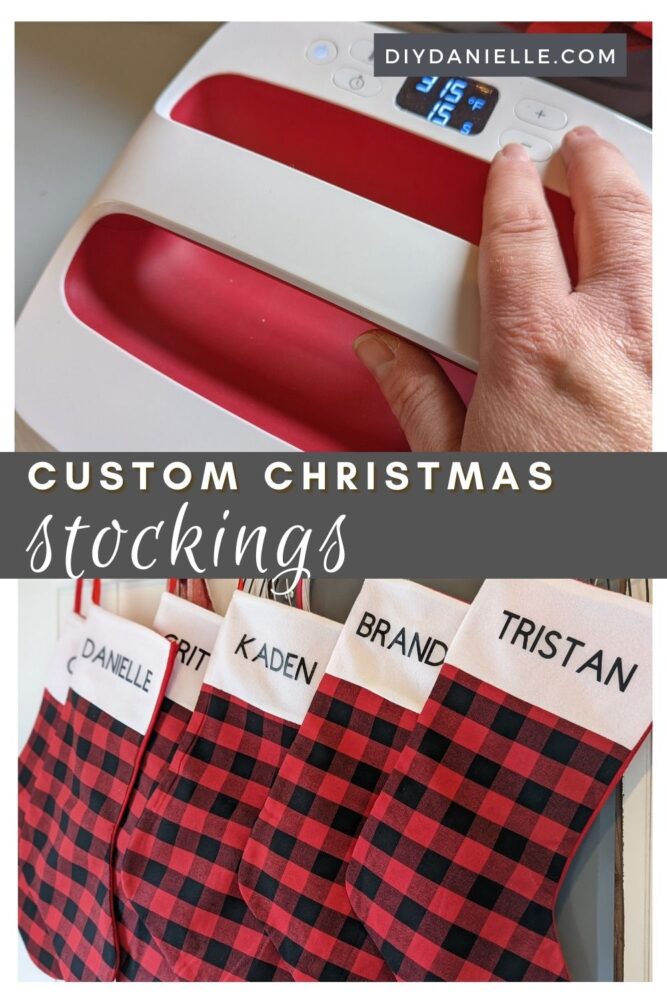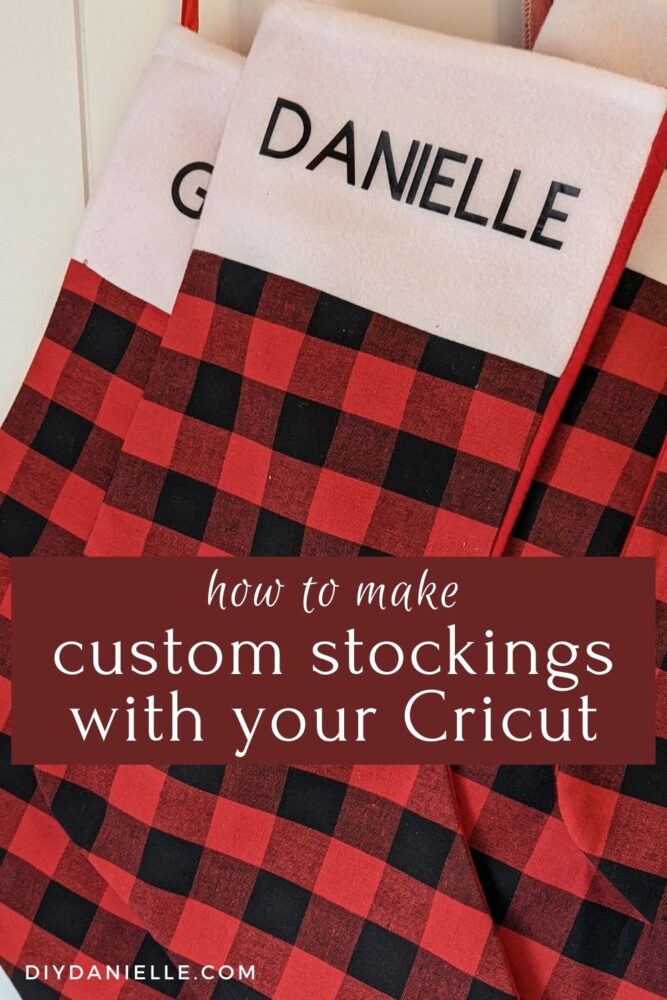 Google Web Story: Customized Christmas Stockings with Cricut