The pros and cons of electric cars. Is an electric car the right choice for your family? Here's my experience driving an electric car for a month.
We try to be fairly ecofriendly. I used cloth diapers with my babies, compost, and upcycle. On our last home, we installed solar panels, and overall I just try to do the best that I can to reduce our environmental footprint. I purchased a Toyota Prius in 2008 and it was my baby for years; my husband still uses it to commute and we eventually want to replace it with an electric vehicle. While this Ford Energi was super cute, we know that our next car needs to be a truck as we live on a farm now and would like to be able to haul a horse trailer. I'm super excited about checking out the Ford F-150 Lighting when it releases in 2022.
Today, however, I'm going to talk about some pros and cons of owning an electric vehicle. When I first looked at electric vehicles, I had a number of questions and concerns, including:
Will I run out of charge and break down if I run out of power?
Can I fit car seats in the car?
How the heck do I charge this? Will my electric bill go crazy?
What is up with the charging stations? How do I use them? Does it cost money?
Are these cars affordable for the average person?
Is the car safe?
What are the space limitations?
I'm going to try to cover some of those topics in this post.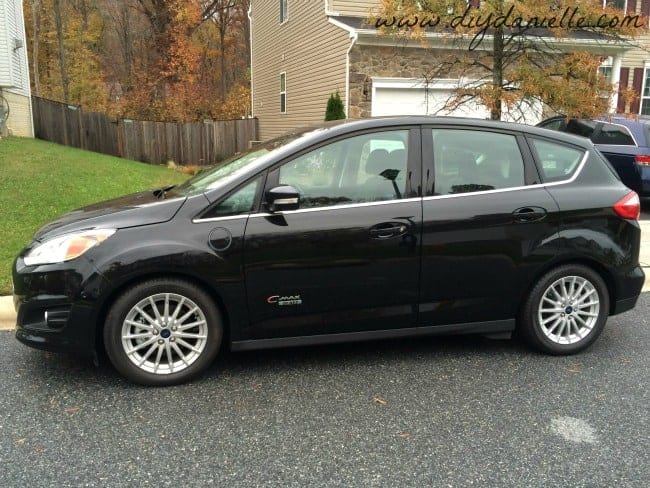 Pros and Cons of Electric Vehicles
| | |
| --- | --- |
| Pros | Cons |
| Save money on gas | Currently more expensive than gas vehicles. |
| Easy to charge | Difficult to find used models |
| Potentially cheaper to maintain | Fewer options available than gas vehicles |
| Prime parking spots for electric vehicles | Less space in the back (Ford Energi- unsure about newer models) |
| Quiet | Quiet/Safety issues related to the lack of sound |
| Can "fill up" right at home | |
Electric Vehicle FAQ
Will I run out of charge and break down?
The Ford Energi operated off both gas and electric… Similar to how the Prius uses both gas and battery. For the 2015 Ford Energi, on full charge, you can make it 20 miles or so on a charge. Whenever you brake, you recharge the battery a bit. If you run out of charge, the car simply switches over to gas power. I couldn't even tell when it was happening.

Current electric vehicles (2021) can make it 250 miles or longer on a charge. The Ford Lighting website states that it will range from 230-300 miles.
How hard is it to find a charging station?
When I first wrote this post in 2015, there were quite a few charging stations. But now? In 2021, they're everywhere. And often you get the best parking spots to charge your vehicle.

That said, most of your charging is likely to be done at home. We were able to charge the Ford Energi at home using a standard exterior plug.
Will car seats fit in an electric vehicle?
YES! In the Energi, I was able to get two Diono Radian RXT car seats into the back seat with plenty of room left in the middle for an additional person if I was transporting someone else.

Here's a picture of one car seat forward facing… behind the driver's seat, my other son is rear facing. As you can see, there's plenty of room in the middle. This is the typical amount of space for car seats in any smaller vehicle. If you want to fit 3+ car seats, you need a large car.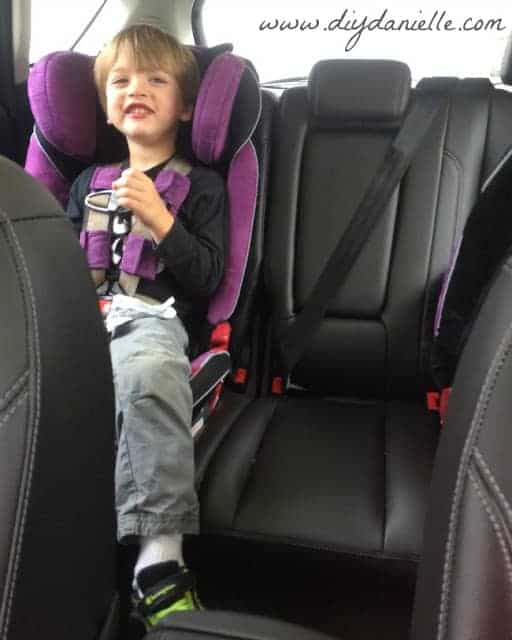 Do you need special outlet for electric car?

Charging at home was very simple. The Ford Energi comes with a long cord to plug into a standard 110V outlet. It takes quite a while to charge in a normal outlet and the outlet needs to be used exclusively for the car (when in use). I usually charged overnight.

You can have a special 240V charging outlet installed at your home for easy charging. These outlets will charge your car faster, as will the special charging stations that you see at local stores.
Does having an electric car increase your electric bill?
I'd like to say I have a good answer about if it affected my electric bill, but I'm just not sure. We have solar panels, but gas heating, and our bill usually increases in November due to the colder weather and less sunlight. If it did affect our bill, it wasn't by much. And I didn't buy gasoline for the entire month… I used about half a tank of gas that month.
How do I use charging stations out in public?
I never used a charging station that cost money, but I believe some may. Our gym has a charging station that was free to use. They had spots dedicated for electric vehicles. I could go to the gym for 2 hours and my car would be fully charged when I came out.

Our local Wholefoods had charging stations that were free and easy to use as well. You just park and plug in your vehicle. I never used that station because there were always electric vehicles using the chargers when I went.

For the gym, I was able to use the charging station for free. You needed to be a member of Chargepoint to use the station. I downloaded the app on my iPhone 5S and started an account. It was pretty easy. If you don't own a smart phone, no worries… you can sign up online and they send you a little card you can swipe whenever you use a charging machine. It takes a week or two to get the card. You connect your credit card to your account so you can easily pay if you are at a station that charges.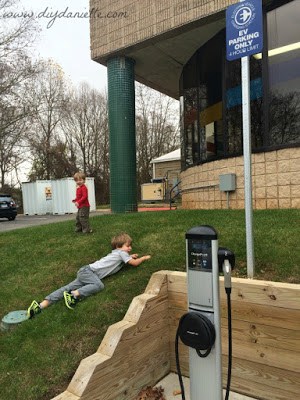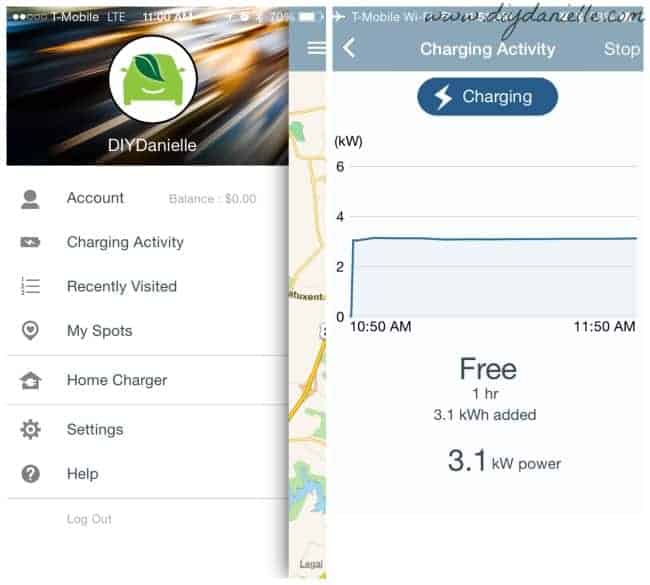 The app is convenient because you can search for local charging stations and it will show which are free and which cost money. It will also show if someone is using the spot. When you're inside the store or gym, you can check the app to see if your car has fully charged yet. If you don't have your card, you can click the charge button on the app and it will release the plug for you to charge your car. It's very simple once you know how to use the machine.

My major complaint is people parking in those spots who didn't own electric vehicles. This was predominantly an issue in areas where no other parking was available and there wasn't anyone patrolling the parking lot.
Are electric cars affordable for the average person?
Back in 2015, the Ford Energi ran around $35,000. Right now, the prices appear to be pretty similar to what you see for standard gas powered vehicles. The Lighting looks like it'll range between $39-90,000, which is pretty much what I'd expect a big truck to cost. The 2021 Ford F150 starts at $29k for the base model.

From what I've heard, electric vehicles are less expensive to make and cost less to maintain so there's some evidence that prices could fall under what you'd pay for a gas powered vehicle. You also qualify for tax incentives when you purchase an electric vehicle which can help offset some of the cost.
What are the space limitations of an electric vehicle?
This is the only thing I didn't like about the Ford Energi. In terms of normal use, the space is fine. I think the space for passengers and drivers might be better than the Prius. But the trunk space is rough. The battery takes up a large portion of the trunk so you won't be able to transport large items in the back.




If you own a second vehicle with space in the back, trunk space might not be an issue. We do a lot of home improvement projects so it's nice to have the option to transport big stuff- but our minivan can do that.

The only time I had an issue was when I wanted to bring the kids to ride their bikes… there was no way I would've fit even one small kid's bike in the back… or the front for that matter. If I owned one of these vehicles, I would consider putting a bike rack on the back or top of the vehicle.
Are electric cars safe?
They're held to the same safety standards as other vehicles and you can view a vehicle's crash ratings. If there are issues, I'm sure recalls and the appropriate fixes will be made.

When I got my Prius, there was some gossip about if the vehicles were safe. I accidentally tested this when a hit and run driver nearly totaled the Prius a year after I bought it. It's 2021 and after quite a few dollars in repairs, the car is still going strong.

The only safety issue I noticed was that both the Prius and Energi were extremely quiet. I love this, but I can see where this could be an issue if people can't hear your car coming. Fortunately, the Energi and Prius both had backup cameras and these seem to be fairly standard in modern vehicles.
Useful Links:
Here's a video I did about the Ford Energi. I know most people probably aren't looking for this car any more, unless they're shopping used cars, but it's a fairly good introduction to electric vehicles.
Please share and pin this post! If you make this project, share it in our Stuff Mama Makes Facebook Group. We have regular giveaways for gift cards to craft stores. You can also tag me on Instagram @doityourselfdanielle; I love seeing everything you make!