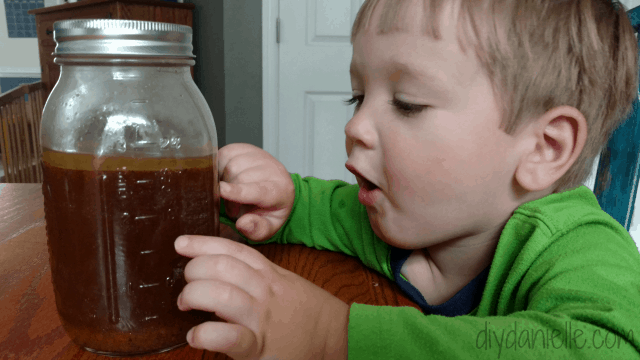 He loves his "beef bwoth"
Homemade beef broth is amazing. It's also easy to make and a good use of the beef bones leftover from other recipes. Check out this quick and easy crockpot recipe.
This post may contain affiliate links. Using these links helps support my blog. Thank you!
My stepmom made this AMAZING roast when she visited last year and she mentioned that I should use the bones for beef broth. I froze the bones and then forgot about them so when I was cleaning out the freezer recently, I decided to finally give it a try in the crockpot. And OMG. It was amazing. It was so good that my 2 year old drank it from a cup. And before I knew it, the whole batch was gone. Sad me. I am planning to make lots and lots more soon. I would love to freeze or can a bunch of broth. It makes great gravy or you can just drink it as is!
Ingredients
Beef bones. I used 1.5 lbs of them, but the more the merrier?
2 Tbsp Onion Powder (or use an onion, chopped)
5 Cloves Garlic Chopped
1-2 cups of baby carrots, chopped
1/4 c apple cider vinegar
1 tsp pepper
Water (I ended up using 8 cups)
Instructions
Roast your bones for 30 minutes at 350 degrees Fahrenheit.
While the bones roast, chop your garlic and carrots. Add all of the ingredients to your crockpot. Add the bones once they're finished roasting. Add water until the bones and other ingredients are completely covered.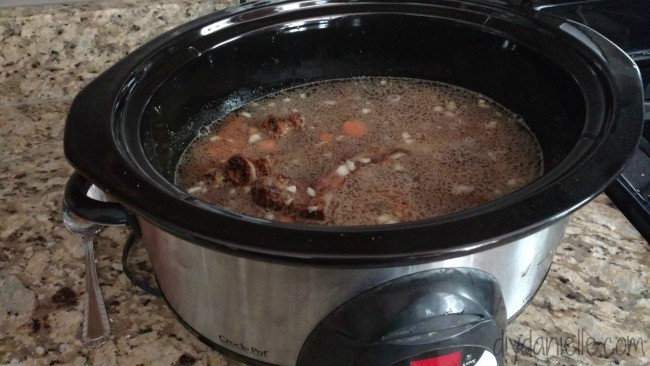 Cook on high until the broth is boiling, then reduce to low. Cook for 24 hours.
Once finished, I let cool a bit. Then I strain the broth, smushing the carrots to release any broth.
Freeze, can or consume.
Love it? Pin it!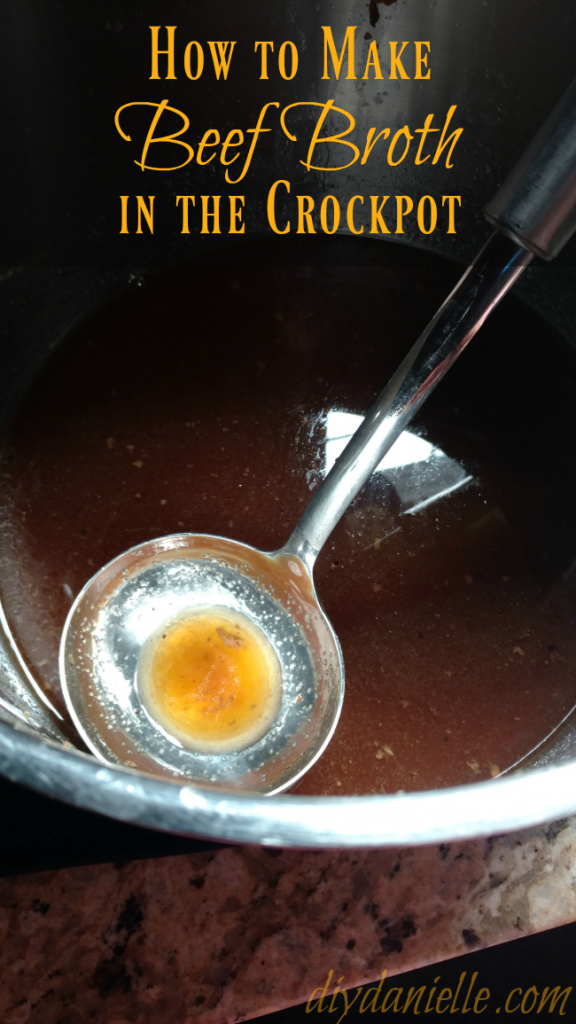 Thanks for taking the time to read this post! I really appreciate the time you've taken. Please share, like, and pin my post if you enjoyed it. Follow me on social media and subscribe to my email list to keep up to date on all of my latest projects!

Disclosure of Material Connection: Some of the links in the post above are "affiliate links." This means if you click on the link and purchase the item, I will receive an affiliate commission. Regardless, I only recommend products or services I use personally and believe will add value to my readers. I am disclosing this in accordance with the Federal Trade Commission's 16 CFR, Part 255: "Guides Concerning the Use of Endorsements and Testimonials in Advertising."