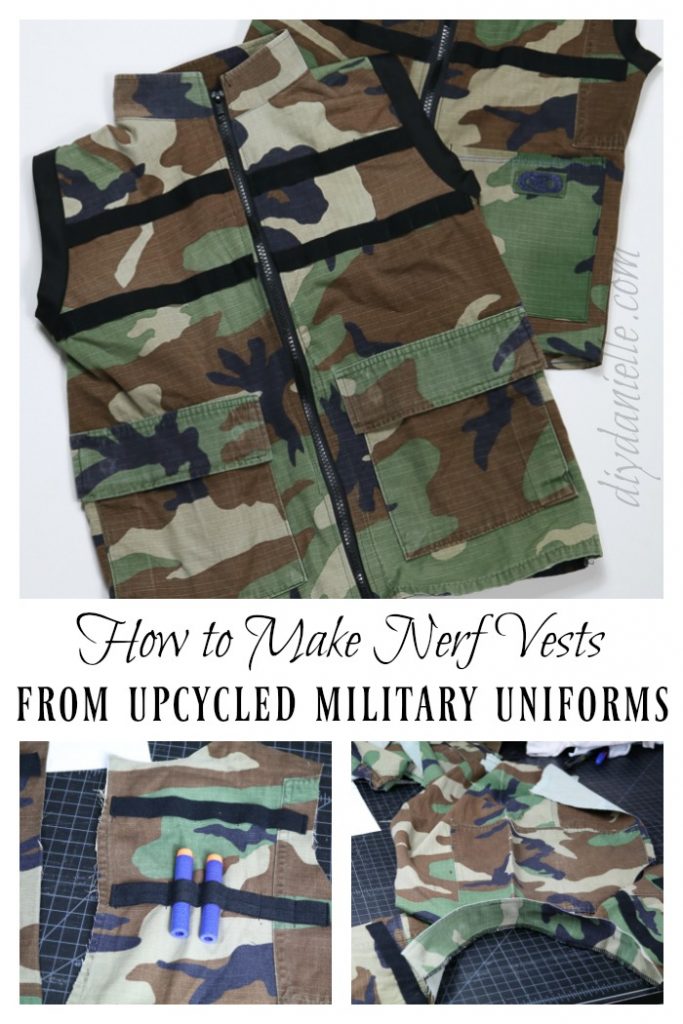 How to make a DIY Nerf gun vest from upcycled camo (Army fatigues). This easy project is the perfect gift to go with some Nerf guns and targets!
This post may contain affiliate links. Using these links helps support my blog. Thank you!
My husband was looking through Amazon when he came across this neat Elite Tactical Nerf Gun Vest. Of course, he shows it to my almost 6 year old and says, "Maybe mommy can make you one!" This was all a week after my c-section. So my son asks me to make him one… immediately… then gets sad when I let him know that it's not in the cards. Sorry kiddo, I can barely get out of bed. He did, however, have a birthday party coming up so I decided that I would make him and his brother vests as a gift. I'm hoping to get my husband to make some targets too because I am so tired of yelling at them to stop shooting at each other.
So I set out to plan and make this vest. He wanted camouflage fabric which I didn't have, but my husband had some old Army fatigues that he'd found at the thrift store a long time ago and used for paintball. I decided to upcycle one of the jackets into two Nerf vests and it worked out really well!
DIY Nerf Vest in Camo
Supplies for a Nerf Vest
Supplies listed below may include affiliate links to the products.
Jacket Zipper (open zipper, not closed)
Old Camo/Fatigues- I used a jacket, but pants would work too
Seam ripper, scissors, sewing machine, iron, etc.
Elastic (I used a black, thin FOE)
A vest pattern. I used this vest pattern but adjusted the instructions so there was no liner.
Tutorial for Making Your Own Upcycled Nerf Vest
Step 1: Take your camo/fatigues jacket and open it up. You can cut it apart at the seams if you want- I did this for the sleeves so I could use the sleeves for the smaller vest.
Identify where and how you want to place your pattern.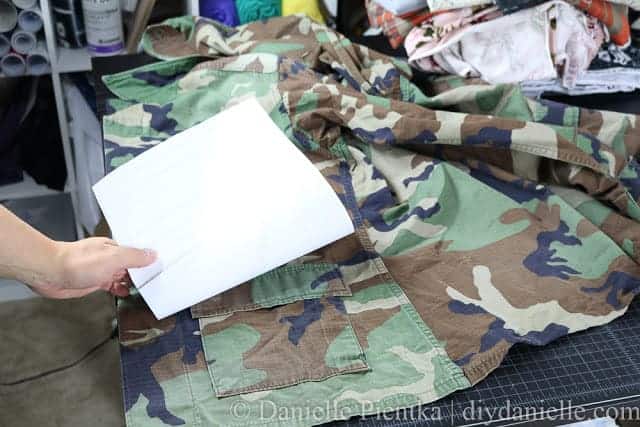 I wanted to get two Nerf vests out of this one jacket so I had to strategize how to get the most bang for my buck. For the size 8 jacket, I placed the pattern over the front pockets so I could use them for the vest – note that these pockets were sewn down on my jacket, but were legitimate pockets underneath. So I needed to just seam rip the pocket opening so it would be a functioning pocket.
Once you've decided on your pattern placement, cut your pattern pieces. I used
this vest pattern
, but
did not
use a liner fabric for the pattern. You could, but I think the weight of this fabric works well so it wouldn't need a liner. You could use any vest pattern for this project really… I'm just using it so the measurements are right.
I cut the 2 front pieces, one back piece (on a fold), and the collar piece. I actually used the original jacket collar for the size 8 and just trimmed it down to the right size.For one Nerf vest, I needed to piece together the camo because I didn't have a big enough cut for the front.
There were a few areas where there was a double layer of fabric and it was in a bad spot for sewing (the double layers are hard to sew through). As such I seam ripped the extra fabric and removed it to make everything easier to sew- this was mostly important when I sewed the zipper on.
Step 2: You want to add all of your "accessory" type pieces to the front and back pieces of the Nerf vest before sewing it together. I started by making pockets for the smaller jacket. For the big jacket, I used the pockets on the original jacket.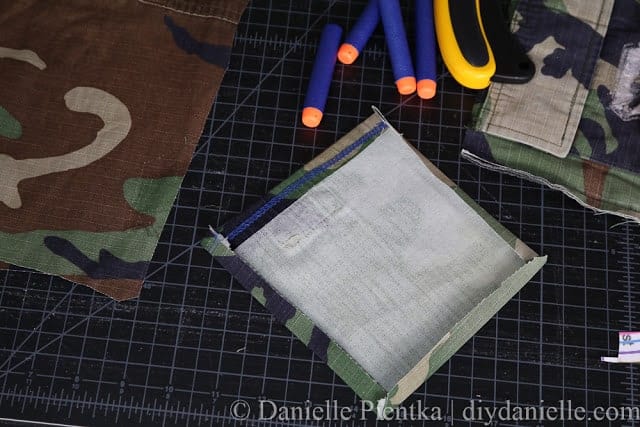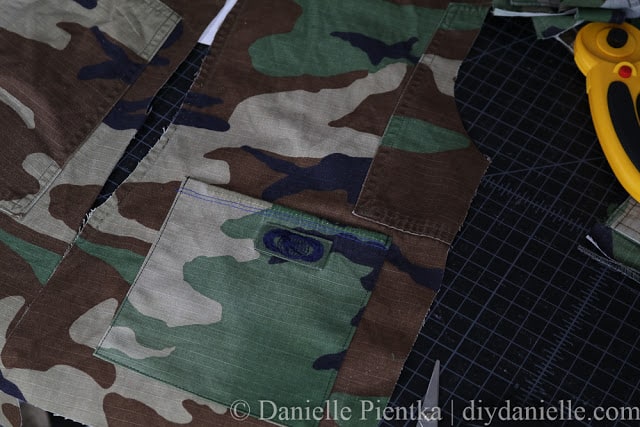 Once the pockets were sewn on, I took two cuts of my elastic (FOE) for each side of the vest and sewed them on.
I put darts inside them to make sure they were spaced far enough apart.
Once both ends of each elastic were sewn down, I marked 1″ increments on the FOE and sewed a straight line every 1″.
These elastics will hold single Nerf gun darts.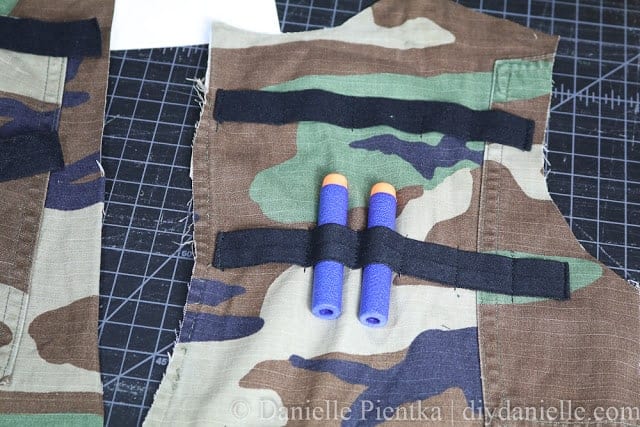 I considered making holsters for the guns on the back of the vest, but I didn't think they'd work very well so I decided not to add them.
Step 3: Face the back fabric and the front fabrics right sides together, pin where shoulders meet. Sew shoulders together. I serged but this fabric doesn't seem super prone to fraying so I think a straight stitch would work fine.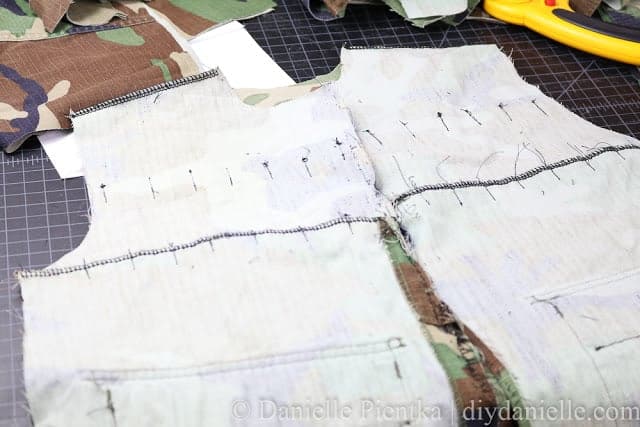 Step 4: Sew on your collar, right sides together. I top stitched. You also want to trim off any excess collar (with my pattern, there was excess collar, but that may not be the case with other patterns).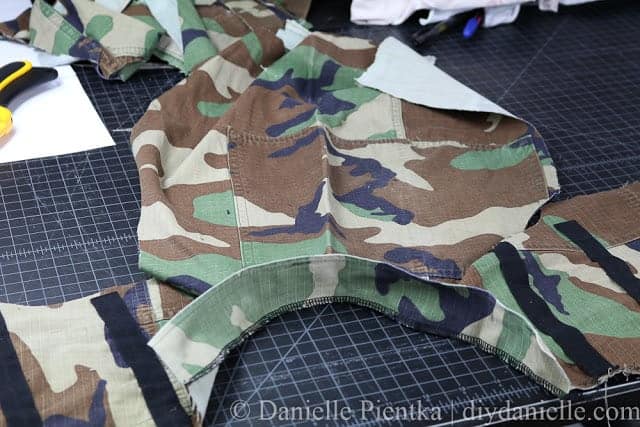 Step 5: Sew your zipper on.
Step 6:
Face your vest right sides together and pin at side seams. Sew.
Step 7: Finish bottom hem and the arm… hole… ? I used some bias tape to finish mine.
Are you loving the Nerf vest? My kids certainly love theirs!
Where to Buy a Nerf Vest
No time to make one? Buy one on Amazon by clicking on the vest you like below…
Please pin this post! It is SUPER helpful!
Thanks for taking the time to read this post! I really appreciate the time you've taken. Please share, like, and pin my post if you enjoyed it. Follow me on social media and subscribe to my email list to keep up to date on all of my latest projects!

Disclosure of Material Connection: Some of the links in the post above are "affiliate links." This means if you click on the link and purchase the item, I will receive an affiliate commission. Regardless, I only recommend products or services I use personally and believe will add value to my readers. I am disclosing this in accordance with the Federal Trade Commission's 16 CFR, Part 255: "Guides Concerning the Use of Endorsements and Testimonials in Advertising."