Did you LOVE Luisa in Encanto as much as I did? I made my own Luisa costume for Halloween to match my horse's donkey costume. Here's how.
Luisa was one of my favorite characters in Encanto… between feeling her strong woman vibe, her anxiety, and her need to be strong for everyone else, she really has my heart. I also just loved the unicorn donkeys. So this year, for our annual Halloween Haunted Trail, I decided to dress up as Luisa and ride my horse as the "donkey." Here's how I made the costume.
DIY Luisa Costume
While I could have purchased an adult Luisa costume, I decided to buy a normal tee-shirt and skirt to embellish using my Cricut and Iron On Vinyl. This just made more sense to me because I hate how low quality Halloween costumes are. This set should be something I can keep for cosplay or future Halloween events, or I can sell.
Supplies:
Red Ribbon: For the hair tie and the bow on the front of the shirt
Red HTV: Rather than try to sew ribbon through a tee-shirt, I'm opting to use red HTV to make the stitching around the hem on the shirt.
Cricut Every Day Iron On: Raspberry
Cricut Every Day Iron On:
Siser Easy Weed HTV: Wicked Purple
White Tee-Shirt: I bought a two pack with a black shirt because why not.
Sandals: I'm just going to wear riding boots rather than sandals. Authenticity isn't as important to me as keeping my toes. If you're not riding, just throw some sandals on.
Cricut Maker 3: https://cricut.pxf.io/GjNaNm
Cricut Heat Press or EasyPress: https://cricut.pxf.io/a1XyXR
Use the Discount Code DIYDANIELLE on cricut.com for 10% off any cutting machine or heatpress (no minimum). Excludes: materials/accessories/mystery boxes/etc. Applies to US/CA only, code expires 12/31/23.
Step 1: Hem the skirt if needed.
If you need to hem the skirt, use the excess to make the wrist bands.
Step 2: Add your iron-vinyl to the skirt.
Tutorial on Using Iron-On Vinyl
Step 3: Add iron-on vinyl to the shirt.
Step 4: Add white elastic to the hem of your shirt sleeves.
For true authenticity, I added white elastic to the hem of my shirt sleeves so they were similar to Luisa's.
Step 5: Sew white lace to the bottom of the shirt.
Step 6: Make the ribbon for the shirt and hand sew it on.
Step 7: Make the hair ribbon and tie hair up with it. Add bobby pins to keep it in place. (I skipped this because I didn't have time to finish it)
Step 8: Make the wrist bands with the fabric from hemming the skirt… I have a purple watch on one wrist so I just skipped the wrist bands.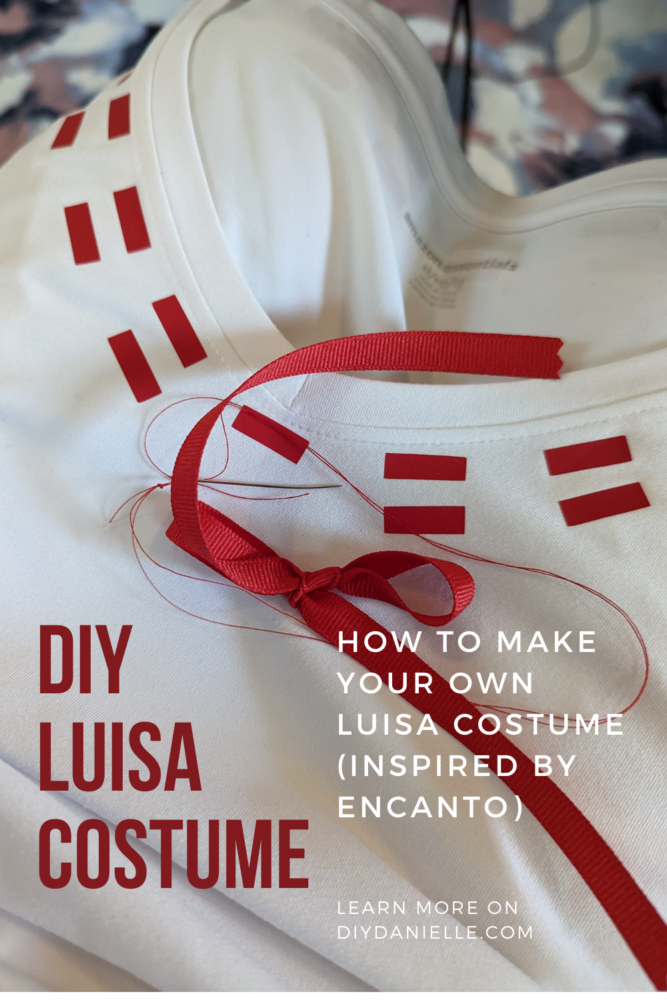 DIY Donkey Unicorn Costume
Check out these Halloween Costumes with Jeans!
Please share and pin this post! If you make this project, share it in our Stuff Mama Makes Facebook Group. We have regular giveaways for gift cards to craft stores. You can also tag me on Instagram @doityourselfdanielle; I love seeing everything you make!