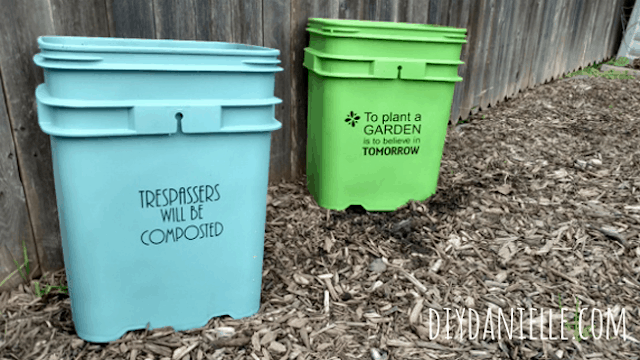 Take old kitty litter buckets and turn them into something useful: planters for your garden! It's a simple project and it will save you a TON of money on planters.

This post may contain affiliate links. Using these links helps support my blog. Thank you!
Someone was giving away a bunch of kitty litter buckets on Freecycle so I was able to get 5 for raised planters. I'm using them for tomatoes, and a couple of herbs. I want a MILLION more. Seriously. I love how they came out.
Supplies
Supplies listed below may include affiliate links to the products.
Tutorial
Clean your buckets carefully, inside and out. Remove any stickers.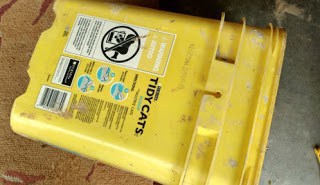 Use your screwdriver to make holes for drainage in the bottom of the buckets.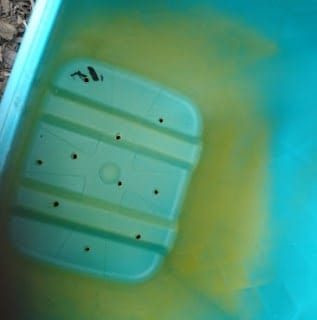 Using your spray paint, cover the exterior of the buckets. I also got the top part of the interior. I didn't waste paint on the areas that would be full of soil. You may need a couple of layers of paint, depending on what time of paint you use. Full disclosure: I used a different brand of spray paint which was a mistake, as usual. I added a link to GOOD plastic spray paint in the supplies. Use the Rustoleum 2x. I have had less issues with it than the other kinds I've tried. I just saw this stuff on sale and made the mistake of picking it up (sigh).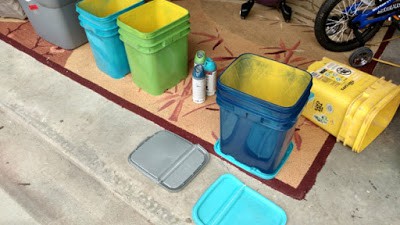 Let dry.
Add your Silhouette designs using 651 or permanent vinyl. This vinyl should stay on in the weather. Possibly better than the paint I used. I used transfer paper to transfer the designs onto my buckets.
I used some UV spray over this to protect it, but I don't think that would be necessary if you used good spray paint to begin with.
Love this? Pin it!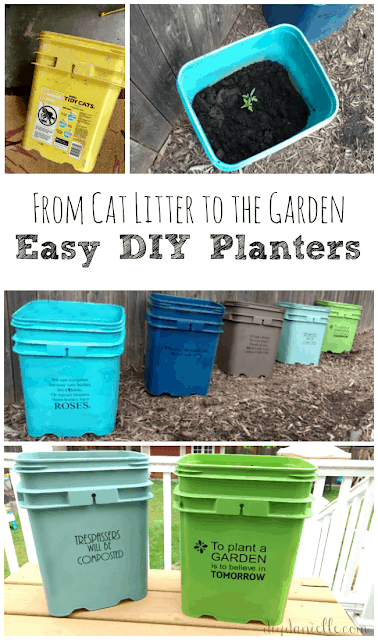 Thanks for taking the time to read this post! I really appreciate the time you've taken. Please share, like, and pin my post if you enjoyed it. Follow me on social media and subscribe to my email list to keep up to date on all of my latest projects!

Disclosure of Material Connection: Some of the links in the post above are "affiliate links." This means if you click on the link and purchase the item, I will receive an affiliate commission. Regardless, I only recommend products or services I use personally and believe will add value to my readers. I am disclosing this in accordance with the Federal Trade Commission's 16 CFR, Part 255: "Guides Concerning the Use of Endorsements and Testimonials in Advertising."