I found this doll cradle on Craigslist locally for $15 so I picked it up tonight so G will have a bed for "his baby." I was so excited to find something because everything I saw had pink plastic or pink bedding. I just didn't want to buy something new (or even used) that didn't really work for a boy. Not to say boys can't rock pink, but I'd rather have something neutral. And really?! Even with girls, do ALL girls like pink that much? I can't imagine having a playroom full of bright pink, but you walk down the girl aisle at the toy store and it's ALL pink. Come on now. Even a girl with a boy baby doll might want boy colors for the crib, stroller, etc.
Anyhow I decided to make G some accessories for his cradle to help him care for the baby. I used fabric that matches his crib bedding because… yeah. It's fun.
Blanket
I cut out two pieces of fabric 19″x19″ and then sewed them right sides together. I left a small opening, turned the fabrics right sides out, then top stitched. Done! Super easy!
Pillow
I was trying to decide if I should make a pillow seeing real babies don't get pillows, but I decided to because baby doll sets seem to have pillows, I think? I'm not sure. I hope I don't regret this when G thinks K needs a pillow to sleep. My pillow was pretty small… big enough for the doll, but I think I could've gone 10″x6″ safely and still had it fit.
I cut two pieces of fabric to be 7″x4″, pinned and sewed them right sides together, left a small space on the side to turn, stuffed, and then finished the pillow off by top stitching the opening closed (I opted to sew down both short sides).
Finished Products!
Every night before bed we give G a hug and tuck him in. We even help him put his head on his pillow (which he's more than capable of doing). So he went ahead and helped the baby by putting him on the pillow, then hugs and kisses him, and tucks him in. Of course, he wants us to take a turn too. Haha. He actually has been pretty insistent that I tuck the baby in about 99% of the time. Guess mommy is the pro?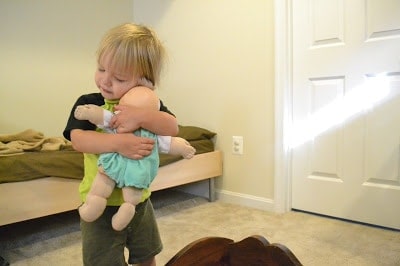 He LOVES his baby. I'm so excited to see what a great big
brother he's going to be!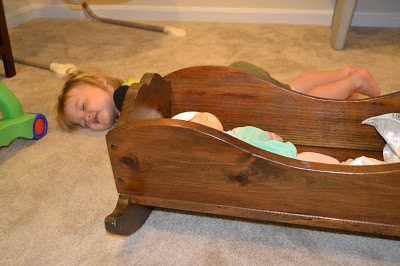 After tucking baby in, he lays down next to the cradle and pretends to fall
asleep. Apparently he's seen us do this a few times. Desperate times,
desperate measures. Daddy sometimes will fall asleep on the floor next to
the crib for nap time if G is having issues sleeping.