Wondering what felting is? Here's a guide to wool felting, types of felting, and what projects you can make with this process!
Felting is one of my favorite projects to work on recently… probably because I got some sheep because I like sheep, but then had wool coming out of my ears. I don't knit, crochet, or spin, and I have no talent for it, so I needed something else to do. I went down the rabbit hole of felting- and it's SO MUCH FUN. The types of felting I enjoy use very few supplies so it's not cost prohibitive like weaving.
What is Felting?
Felting is the process of making fabric or items out of fibers by connecting or interlocking the fibers.
It can be made with natural fibers like wool, alpaca, mohair, cashmere, or synthetic fibers. Most craft felt you find in stores (especially the kinds for kids crafts) are usually machine-produced and made of acrylic or other synthetic materials (unless otherwise noted). Felt can be used for crafts, apparel, decor, and practical reasons.
What is Wool Felting?
Wool felting is the process of turning wool roving (wool fiber that has been washed, combed, and carded so that the fibers are all facing the same direction, but not yet spun into yarn) into fabric or 3D sculptures by compacting and interlocking the wool fibers. Wool felt is one of the most common types of felt.
For those who aren't familiar with sheep or the process of creating wool roving, here's a quick explanation. Once or twice a year, we shear the sheep for their comfort. I go through the wool to pick out any vegetation or grossness, wash the wool, and comb it (this is called carding) into wool roving.
If I used yarn, I'd spin the wool roving into yarn. Then I would use the yarn in knitting, crochet, or weaving. It's all a very time intensive process. As a newbie to sheep, I've sent my wool out for washing and carding in the past, but I plan to wash and card my most recent batch.
Types of Felting: Needle/Dry Felting vs Wet Felting
There are two main types of felting: needle felting (also known as dry felting) and wet felting. Within those two categories, there are several different methods you can use for felting, depending on the intended use of the felt.
Needling/Dry Felting
Needle felting involves the use of a felting needle, which is a barbed or notched tool that helps compact and interlock the wool fibers to form a singular piece of fabric. Needle felting weaves the fibers together by agitating them so they mat together. You can use a single needle, a multi-needle tool, or a felting machine, depending on how much felt you're interested in creating at one time.
In the photo below, my son is needle felting soap. We started by wet felting the soap, waiting for it to dry, then needle felting designs on top. Usually you will poke a needle directly into the wool roving, but in this case you have to poke the needle to the side to avoid hitting the soap and breaking the needle.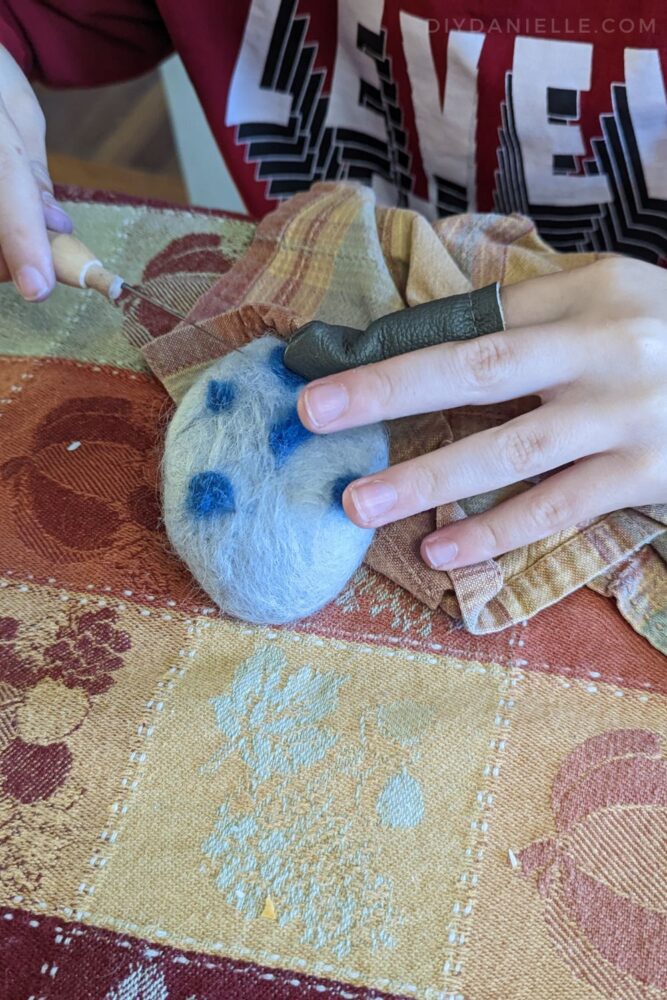 Wet Felting
Wet felting uses mild soap, water, and agitation to bind wool fibers into a continuous piece of fabric. It can also help repair previously felted items by patching holes or building up spots where the felt has thinned.
Wet felting can be done by hand or by using various tools, like special wooden blocks or textured plastic brushes and rollers for efficient agitation. It's up to your preference, so you can experiment with different tools and see what you like best! The type of tool you use also depends on the intended outcome.
As for the type of soap to use, something mild and gentle is best for wool. Olive oil soap, castile soap, or bars of laundry soap are popular choices for wet felting.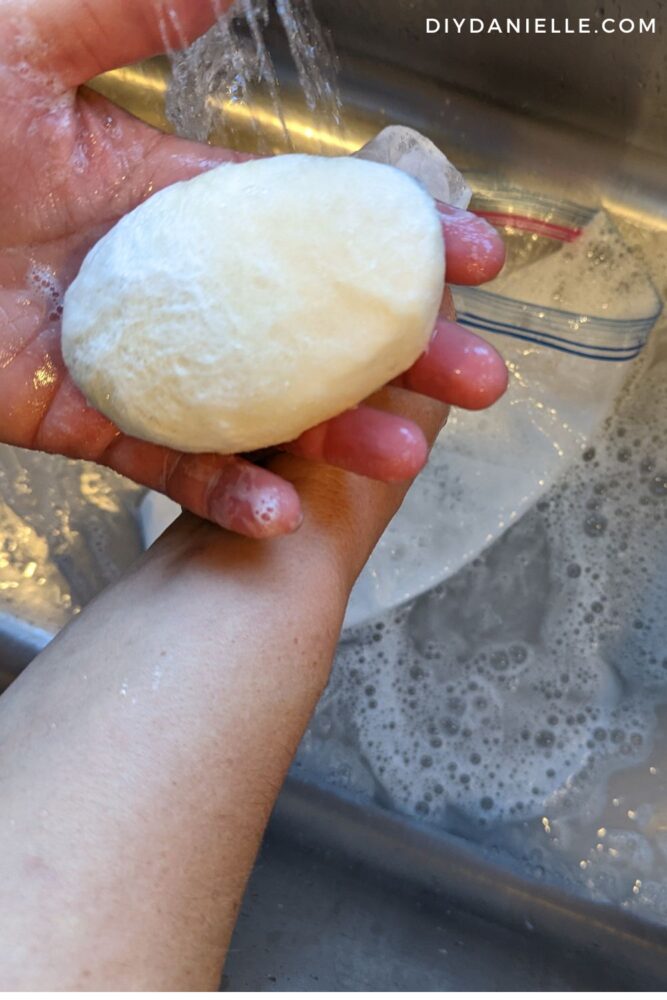 In the photo below, I have a couple of bars that I wet felted. They're drying on a towel.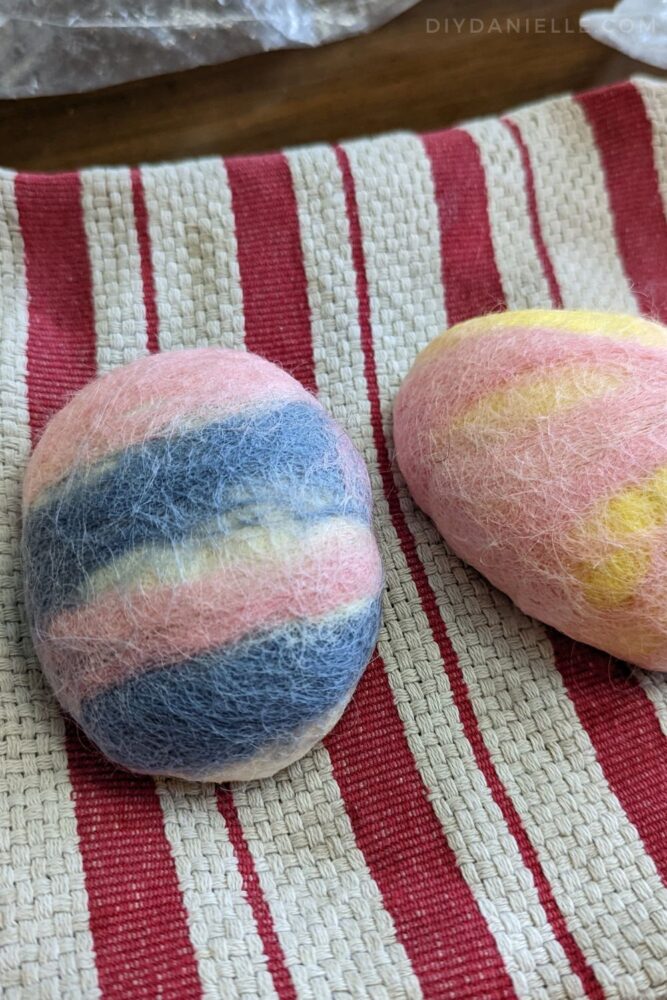 Basic Flat Felting
This method of wet felting involves agitating thin layers of wet wool to create flat, dense uniform sheets of interlocked felt. This method is great for hand-agitating without tools (though tools will make it more efficient and uniform), and the end result can be used for just about anything.
Mold Felting/3D Felting
Mold felting and 3D felting create shapes and objects with more dimension than flat wool felting. Mold felting requires that you agitate the felt around a mold to create a shape. 3D felting is similar, but doesn't have to rely on a mold, instead you build the felt on itself to create the desired shape.
Cobweb Felting
In cobweb felting, you create felt with a gauzy cobweb-like texture. Cobweb felt doesn't have a uniform structure, unlike standard thick sheets of flat felt. There are thinner spots and gaps across the felt as well as thicker, opaque areas. This type of felt is used mostly for decor and fashion items.
Nuno Felting
The nuno method was created within the last 30 years and includes interlocking layers of wool through a different fabric, usually one that's sheer or has an open weave. You can create a more lightweight wool felt with nuno, making it a popular choice for clothing or applications where the fabric needs to be more flexible than typical wool felt.
Things You Can Make With Wool Roving
Felt projects make great gifts, home decor, or items you can use every day. It's typically cheaper to make your own felt crafts than to buy them handmade from other sources! Here are some examples of felt projects you can make with wool roving:
Felt Pillows
Dress up your sofas, brighten your bedroom, and make cozy reading nooks a little more chic without breaking the bank–make your own felt pillows! You can make a cover for an existing throw pillow or stuff them with craft scraps, batting, or more wool roving.
Hats, Scarves, and Mittens
Keep little ears, fingers, and necks warm all winter long with custom homemade cold weather accessories. Wool roving can be molded or felted and sewn into cute hats, scarves, and mittens that insulate well thanks to the natural thermoregulation properties of wool. This isn't limited to accessories for littles–adults love warm felted wearables too!
Wool Dryer Balls
Say goodbye to disposable dryer sheets. Make your own eco-friendly wool dryer balls (with the optional addition of essential oils) instead to tackle static cling and add a hint of your favorite natural scent to your sheets, towels, and clothing.
Koozies and Cozies
Wool is naturally insulating. It's great for keeping cold drinks cold and hot drinks hot, all while protecting your skin from uncomfortable temperatures! Make wraps and holders for cold cans and bottles, hot mugs, tumblers, heating pads, hot water bottles, and ice packs.
Potholders and Trivets
Thick pieces of wool make great potholders and trivets to protect sensitive surfaces (like hands and wooden tabletops) from heat. Make sure to test your potholders for heat resistance before their first use!
3D Sculptures and Toys
You're not limited to flat items with wool–it's also great for building three-dimensional objects for decoration or play! Create bouncy balls with densely-compacted wool, felted stuffed animals, figurines, tactile alphabet sets, and more. Your imagination is your only limit here!
Felt Soap
Felted soap adds a fancy touch to the kitchen sink or bathroom counter. It also makes a great gift for any occasion, from holidays to birthdays. Check out my DIY instructions for felted soap here.
I have more specific instructions for both dry and wet felting specific designs onto soap here:
Felt Baskets
Felt makes the best soft-but-sturdy baskets to hold knick knacks, throw blankets, fresh diapers, books, toys. They can be tailored to the perfect size, shape, and color for their intended use, and themed or color-coordinated to match any existing decor.
House Slippers
Felt is soft enough to be comfortable, but substantial enough for daily use as slippers. You can combine different methods of felting and sewing to make the cozy house shoes of your dreams!
Wool Rocks
You can use an actual rock underneath, or foam, and create felted wool "rocks" for decor or seating. These look so nice and if you choose the right colors, look like an actual rock- without the weight.
Looking for more craft projects? Check out the crafting section for all kinds of sewing projects, woodworking inspiration, kid's crafts and more!
Make sure to check out my blog post: What is Wool? A Sheep's Tale to learn more about raising sheep and the process for making wool roving.
Please share and pin this post! If you make this project, share it in our Stuff Mama Makes Facebook Group. We have regular giveaways for gift cards to craft stores. You can also tag me on Instagram @doityourselfdanielle; I love seeing everything you make!