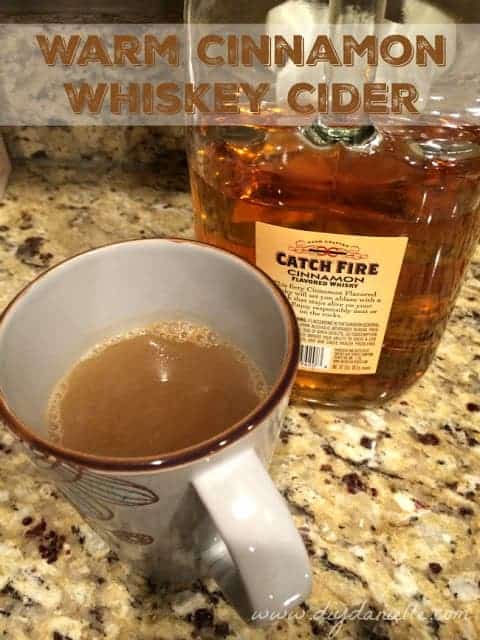 How to make your own hot cinnamon whiskey apple cider with Catch Fire Cinnamon Flavored Whiskey. This is so wonderful on a cold winter day.
Our weather has finally taken a turn for the worse. I'm *not* a fan of the cold… I grew up in New Hampshire, moved to Texas for grad school because I was COLD, and Maryland- where I currently live- is sort of my Goldilocks factor. It was "juuuuuussst right." I don't love the cold, but I DO love all the other things about winter… snow, like shoveling snow, Christmas, how fresh the air seems when it's cold out, and snow days. And there's nothing like a warm cup of something in front of the fireplace.
My husband has had this huge bottle of Catch Fire Cinnamon Flavored Whiskey that he's been enjoying, but it's a bit too strong for my taste by itself. But mixed with cider and heated up, it is WONDERFUL for a cold day.
Ingredients
Ingredients listed below may include affiliate links to the products.
Catch Fire Cinnamon Flavored Whiskey
Apple Cider
Recipe
This is pretty simple. We just heated up our apple cider on the stove. You can always add a sprinkle of cinnamon or a cinnamon stick to this as well.
Once it was warm, we poured 8 oz of apple cider into our mug and added our whiskey. I thought 1 shot of the whiskey was more than enough, but my husband usually uses 1.5 shots in his.
Between the heat of the cider and the kick of the whiskey, you'll warm up in no time!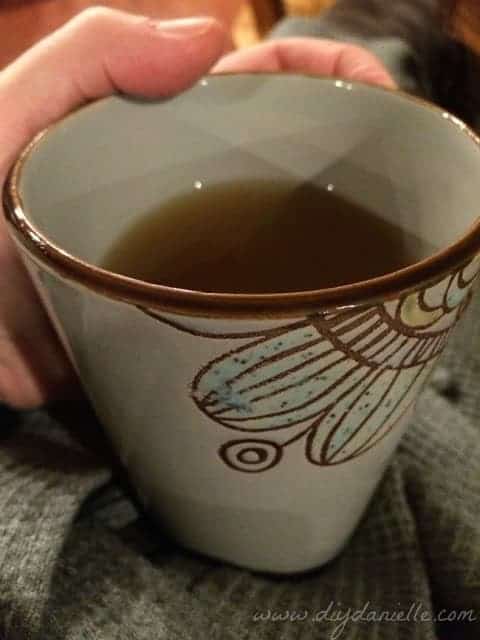 Thanks for taking the time to read this post! I really appreciate the time you've taken. Please share, like, and pin my post if you enjoyed it. Follow me on social media and subscribe to my email list to keep up to date on all of my latest projects!

Disclosure of Material Connection: Some of the links in the post above are "affiliate links." This means if you click on the link and purchase the item, I will receive an affiliate commission. Regardless, I only recommend products or services I use personally and believe will add value to my readers. I am disclosing this in accordance with the Federal Trade Commission's 16 CFR, Part 255: "Guides Concerning the Use of Endorsements and Testimonials in Advertising."