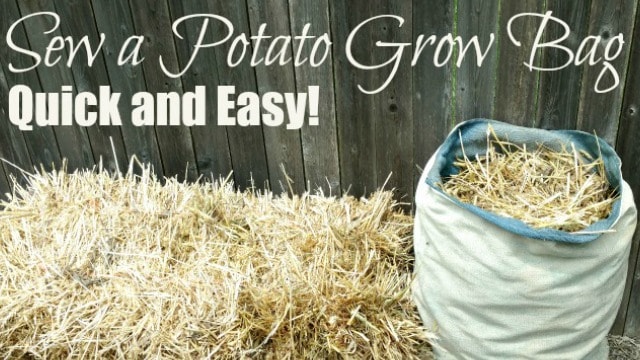 Potato grow bags are a great idea if you want to grow potatoes and have a limited amount of space. This tutorial will explain how to sew one quickly!
This post may contain affiliate links. Using these links helps support my blog. Thank you!

I needed a potato grow bag. I wanted to give potatoes another try where I failed the past two years. This, so far, is working great. It's tall enough to give my potatoes plenty of room to grow and wide enough to let in plenty of rain and sunshine. My only recommendation is to avoid colored burlap- the color didn't appear to be set in my burlap.
Supplies
Supplies listed below may include affiliate links to the products.
Outdoor friendly fabric, such as burlap or landscape fabric (a super cheap option).
Soil
Seed potatoes
No time to sew a grow bag? Buy a grow bag from Grower's House and have it shipped to your home!
Tutorial
I made my bag two layers because the burlap I was using has proven to not be super sturdy. I cut a round bottom and also the wall for both the inner and outer layer.I sewed the wall into a cylindrical shape, then sewed the bottom to it. I did the same for the other layer. Then I sewed the two together.
Fill with soil, plant your seed potatoes. Then you continue to add compost/straw/whatever to the bag as your potatoes grow. So far, mine look happy to be in the bag! Wooohoo! I would love potatoes this year.
Kind of wish I'd made three more of these. It's not too late, maybe I'll try to whip up another bag.
Video Tutorial
Love it? Pin it!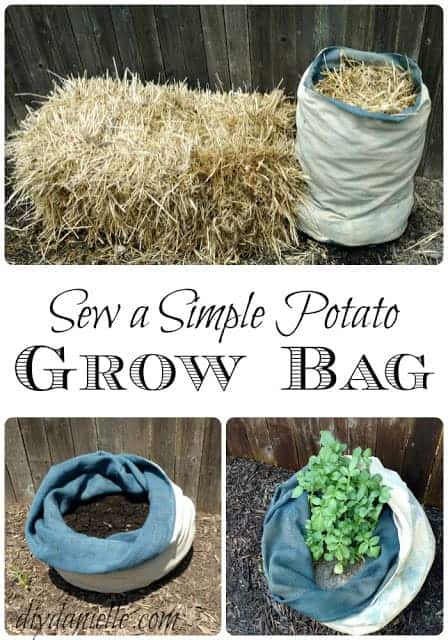 Thanks for taking the time to read this post! I really appreciate the time you've taken. Please share, like, and pin my post if you enjoyed it. Follow me on social media and subscribe to my email list to keep up to date on all of my latest projects!
Disclosure of Material Connection: Some of the links in the post above are "affiliate links." This means if you click on the link and purchase the item, I will receive an affiliate commission. Regardless, I only recommend products or services I use personally and believe will add value to my readers. I am disclosing this in accordance with the Federal Trade Commission's 16 CFR, Part 255: "Guides Concerning the Use of Endorsements and Testimonials in Advertising."