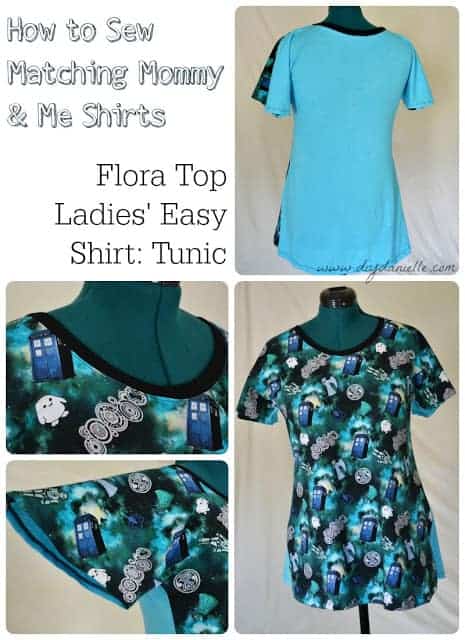 How to make matching shirts for you and your child. We love our matching Doctor Who shirts.

I feel like I've been missing out because I've got boys and there isn't much available for moms to match their sons. Actually, I'm guessing there isn't much for girls and mom either so I'm sure this will come in useful in that regard as well.
The best way to do this is to make your own clothes.
It's not terribly difficult to make these particular patterns and both patterns include great instructions to get your through the process.
All I needed to do was find two patterns that I liked, and use the same fabrics to make the two shirts.
Supplies
Some links may be affiliate links to products such as supplies or patterns.
I used two coordinating knit fabrics– a special order Doctor Who fabric and some teal knit.
Matching ribbing for collar
Sewing machine, thread, etc.
Patterns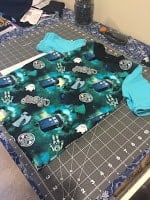 Pattern 1: Tunic Shirt (Mommy)
This is the Flora Top pattern that I purchased on Craftsy. I followed the tutorial exactly, except I used a different fabric for the back and front (due to my error in cutting the back piece, whoops).
Pattern 2: Toddler Shirt (4T)
This is a free pattern that I had lying around and have made shirts for my son with in the past. It's actually getting a bit small on him so I think I'll need to find a bigger size soon, but for now it worked. I believe it's this free Craftsy pattern. I used the instructions on the pattern. I used a different color sleeve fabric than the main shirt.
I LOVE how these both came out. The colors match well. I wish I hadn't messed up my cut of fabric for the back because I'm not sure I love the teal back to my shirt, but I messed up so that's done. It is nice to have matching shirts, however, that aren't EXACTLY the same.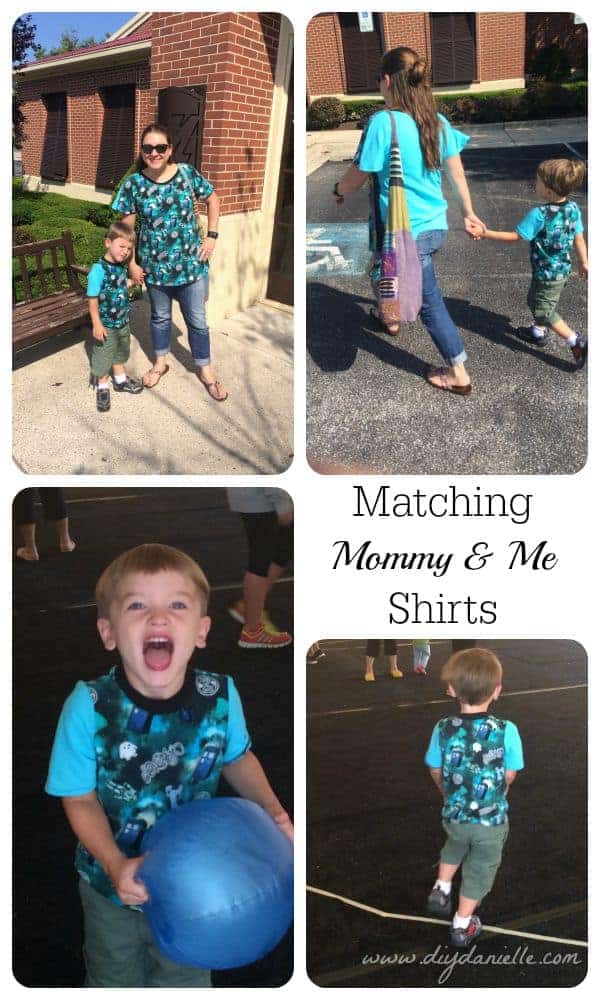 The best part is being able to present the shirts to your child and say, "Hey we get to match today!" My toddler was so excited and so was I. Maybe it's a bit cheesy, but it's fun to do this together. It's something they can see as "special" and every child wants to feel special to their parents.
Thanks for taking the time to read this post! I really appreciate the time you've taken. Please share, like, and pin my post if you enjoyed it. Follow me on social media and subscribe to my email list to keep up to date on all of my latest projects!

Disclosure of Material Connection: Some of the links in the post above are "affiliate links." This means if you click on the link and purchase the item, I will receive an affiliate commission. Regardless, I only recommend products or services I use personally and believe will add value to my readers. I am disclosing this in accordance with the Federal Trade Commission's 16 CFR, Part 255: "Guides Concerning the Use of Endorsements and Testimonials in Advertising."