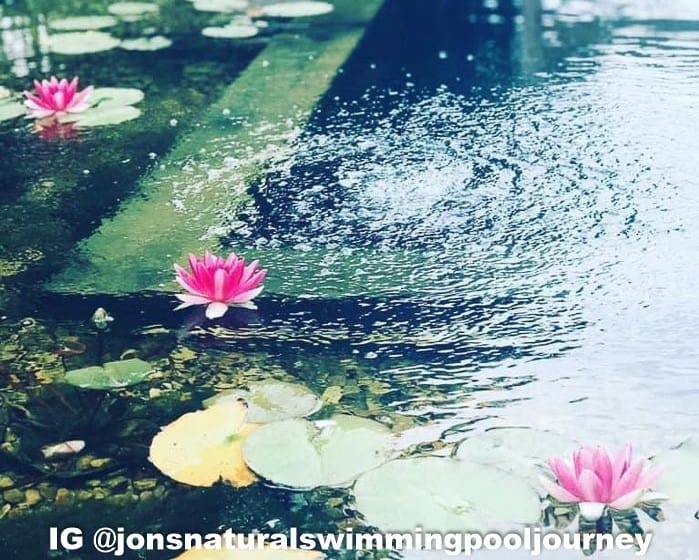 This family built a natural pool in their yard. "Swimming ponds" are an amazing way to add a chlorine-free swimming pool that blends in with nature.
This post may contain affiliate links which may earn me commissions should you click through them and take certain actions. As an affiliate for Amazon, Cricut, xTool, Home Depot, and other sites, I earn from qualifying purchases. Please DIY carefully. View my full legal disclosures here.
Please read the whole post so you don't miss any important information!
I'm in quite a few Facebook groups where people post their projects, whether it be woodworking, gardens, greenhouses, sewn clothing, and more. They're a FANTASTIC source of inspiration. When I saw Caroline post about her family's DIY swimming pond, I was BLOWN AWAY. This is EXACTLY what I want in our yard. I couldn't WAIT to spring this project on my husband. Bahaha.
What is a Swimming Pond or Natural Pool?
Swimming ponds, or natural pools, are a new-ish concept, particularly in the United States. They are generally man made "pools" that look and feel more like going to a local pond or lake to swim. Instead of harsh chemicals, they make use of a balanced ecosystem to keep the water clean.
I've discovered that there are a lot of natural ways to keep water clean. This is something I started investigating when we installed the pond at our old house. The UV light kept the water clear and pond plants helped clean the water. It's a sensitive balance, as are DIY swimming ponds, I'm sure. But it's SO worth it to have the natural look. I'd rather put my time into making sure a swimming pond is balanced with appropriate plants than measure out chlorine.
Needless to say, I was SUPER inspired by their story and project. It is an absolutely stunning addition to their backyard.
Caroline agreed to write up a bit about their process for building the pond and share her photos on my blog! Here's their story!
Our DIY Swimming Pond
Written by Caroline Mander, visit their IG channel: Jonsnaturalswimmingpooljourney
One day about 7 years ago on a family holiday in Cornwall with our four kids we were sat in our holiday accommodation in the rain and Jon put on a dvd he had been obsessively watching over the months before.
The kids looked disgruntled at the topic…
How to build your own natural swimming pond in your garden!!!!!!!!
We sat through the hour long DVD thinking it was just one of Jon's hair brain ideas that would never happen and laughed it off ..
He ordered loads of books and the reading began.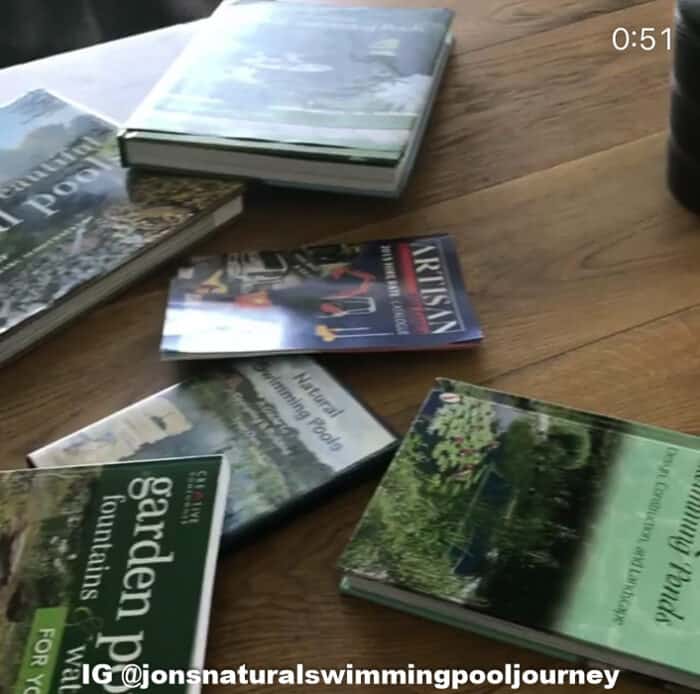 Two years ago this month he hired a mini digger while watching TV and Jonsnaturalswimmingpooljourney began ..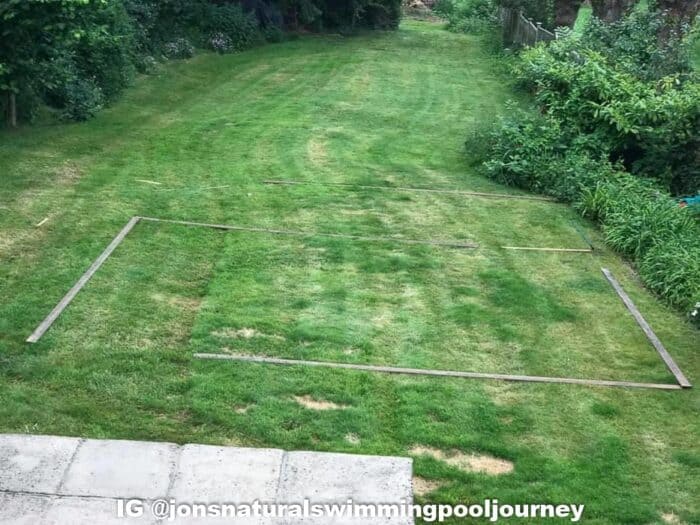 Jon's best buddy Mark ( aka Timmy ) was dragged in as Jon couldn't work out the levers on the digger let alone operate it and the enormous task of digging the hole began.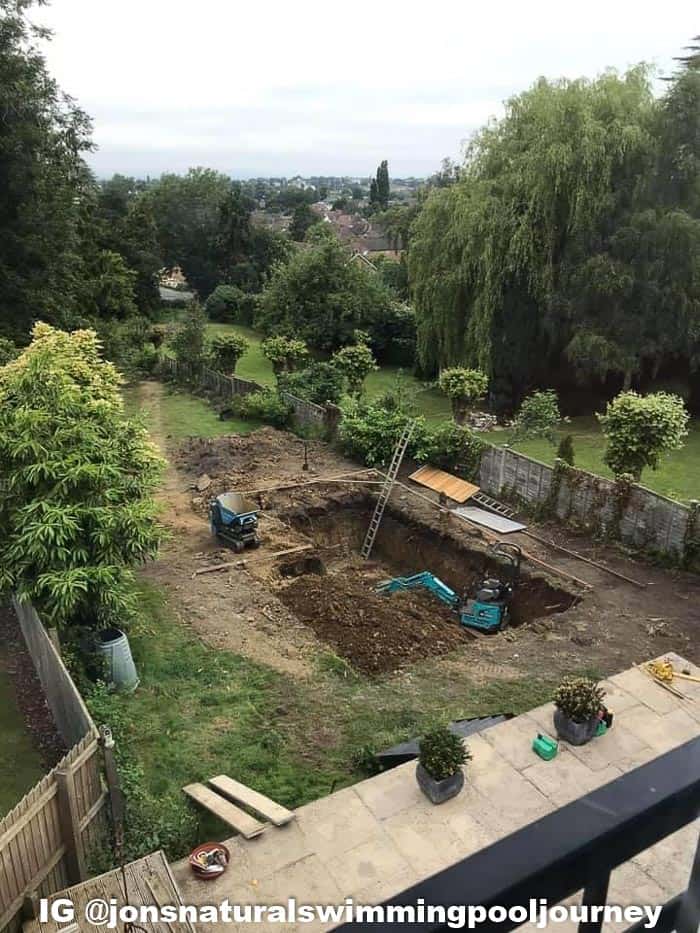 It took months to dig the hole as he decided he wanted it to be 7 foot deep so the kids (and he) could dive in. After the hole was dug, it was just down to us to make sure we transformed the dirty great hole into something.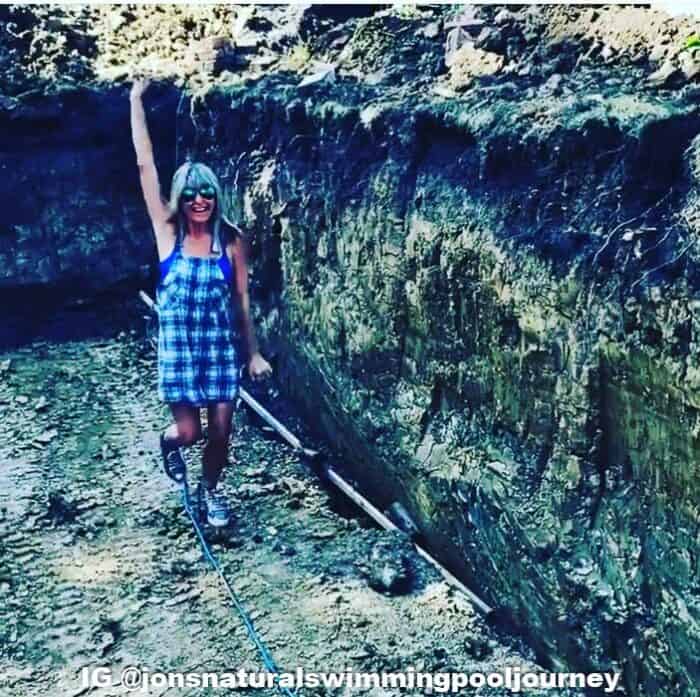 The way the natural pool works is in order to keep the water clean without chemicals, we needed to create two zones. One zone is the deep swimming zone and the second zone is the outer shallow area that would incorporate the filter system.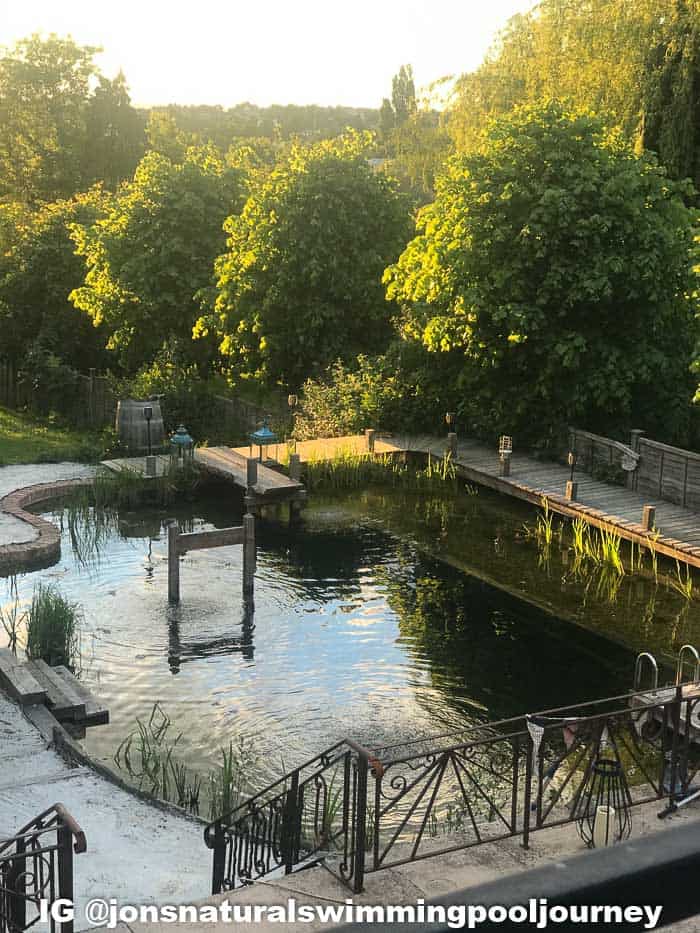 The filter system is basically gravel and plants. We used four air pumps in the corner of the deep zone which helped circulate water through gravel and plants.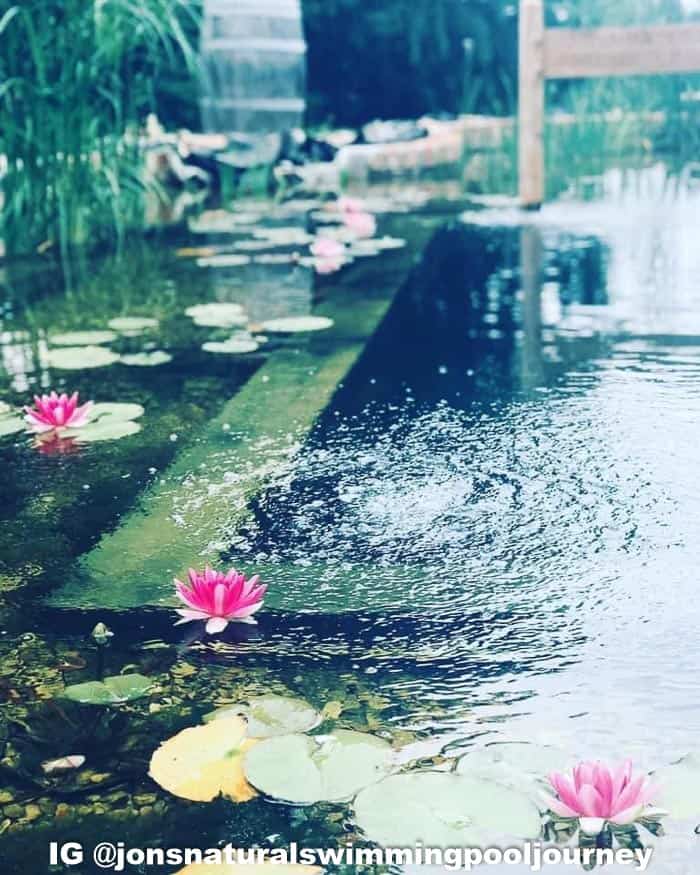 Two long years of incredible hard work (with lots of highs and lows and laughs) and we have the most beautiful natural swimming pond I could ever hope for.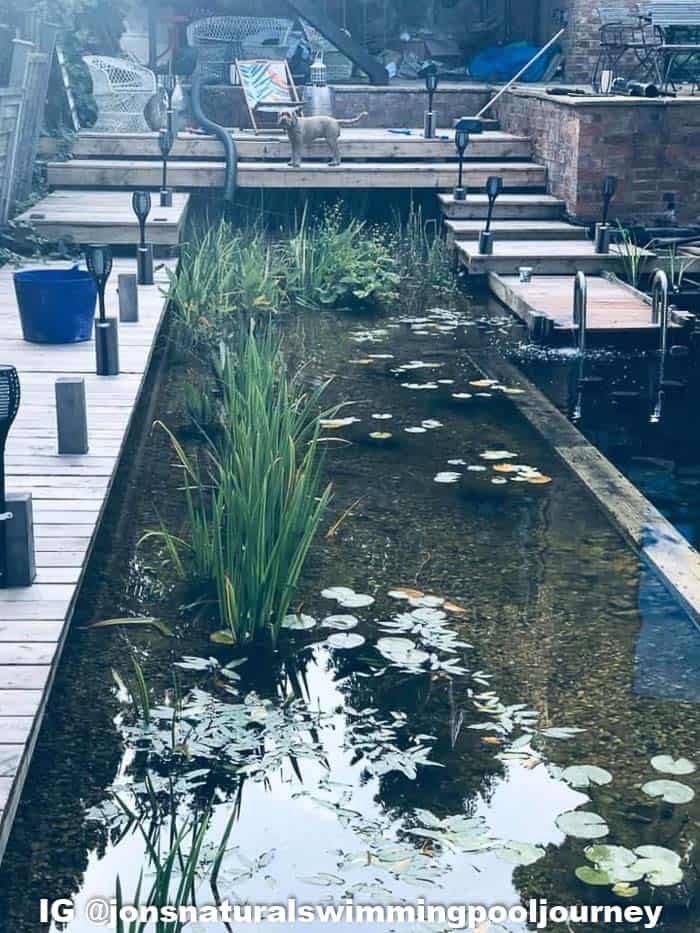 Our lives are 100% better living so close to nature and the wildlife home we have created makes me deeply happy.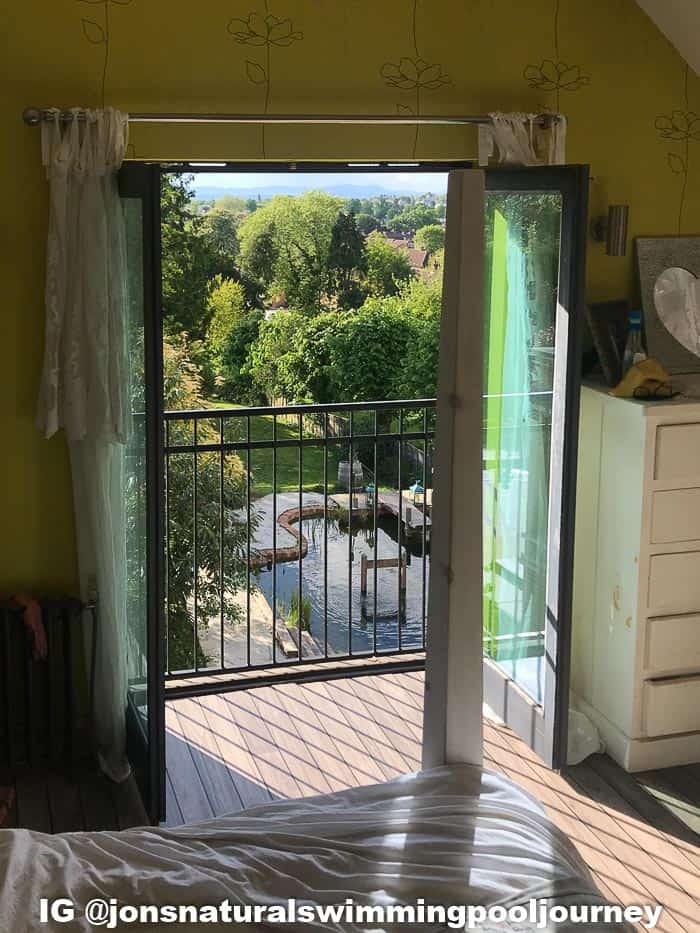 If you have a dream, however big, work hard and keep smiling and you can make it happen!
---
An Interview with Caroline and Jon
What part of the world are you located? Did your location have any particular impact on building or maintaining your natural pool?
We are in the U.K. Yes as we have no snakes or mosquitoes to contend with.
What was your biggest struggle for designing this natural pool?
The hardest challenge was access as the house drops down at the back. We had to build a very long ramp down the side of the house and could only get a micro digger through the narrow gap.
What kind of maintenance does your swimming pond require? Do you think it's easier/harder than a traditional pool to maintain?
I have waders and every now and then I go in and remove small amounts of alga (beats hoovering).
Is the natural pool all soil or did you line it?
We lined it with a very large pond liner.
Do you do anything particular in the winter with your pond? Does it ever freeze?
It has only frozen once. I take loads of photos as it looks beautiful in winter too!
I noticed you used wood for some of your design. Can you chat a bit about the use of wood under water and why it works?
It's untreated oak sleepers and as no oxygen gets it under water, it lasts for years (like on a ship).
What plants did you add to your pool? Did you add any critters such as fish or frogs?
We have water lillies, iris, and reeds. We don't have fish as they make too many nutrients which causes algae. We have one frog and several beautiful newts.
Thank you SO much to Caroline for sharing her husband Jon's project on DIYDanielle! I HIGHLY recommend checking out their Instagram feed, Jon's Natural Swimming Pool Journey, for LOTS of photos and video of their swimming pond. It's so beautiful it will make you weep (and potentially start hand digging).
For now, I'm going to live vicariously through their Instagram photos until I finally convince my husband and kids to start digging! My 8 year old decided he wanted an underground bunker and started digging… maybe I can redirect his efforts (wink).
Update from February 2023: We had an inground pool put in last year. While I wanted to go with a Natural Swimming Pool, there weren't many local contractors familiar with the process and I was concerned about the potential upkeep. The one contractor who was nearby told me that the natural pools could be more expensive or equally expensive as an inground. We choose a salt water inground pool. You can see photos of the pool building process here, although we didn't DIY any of it (and thank God we didn't!). With 3 kids and a small farm, I simply could not have managed this type of project.
Please share and pin this post!