How to create a migraine relief kit to help cope with headaches naturally. While medication can be a life saver, there are times in your life that you may not be able to take medication. When pregnant or breastfeeding, migraine relief can be difficult.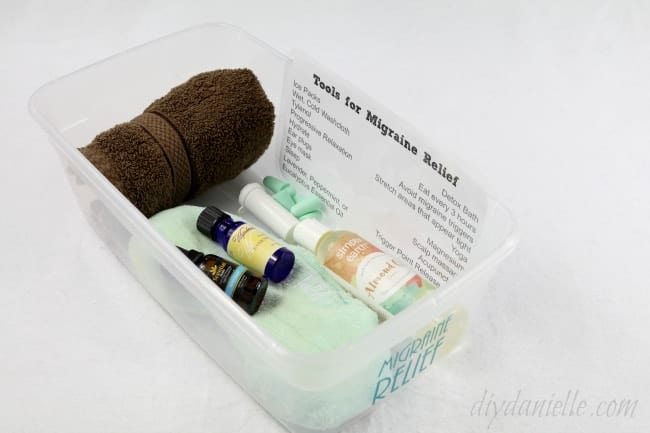 This post may contain affiliate links. Using these links helps support my blog. I am not a doctor, please talk to your doctor about these options to ensure they are safe for your individual needs. Thank you!
I get brutal migraines, but they have definitely decreased in frequency since the days I was on birth control pills (a potential side effect, unfortunately). That said, occasionally I still get a whopper and migraines are a whole different ballgame when you are pregnant, breastfeeding, and/or have loud children. The other day I had a terrible migraine with nausea and all I could take was Tylenol. I told my kids (who were quietly playing on the iPad) that I needed to lay down for a bit. Within 5 minutes, they were having band practice in my house. Because of course they were.
One of the things I wanted to put together for this organization series are some quick kits to make coping with different issues easier. When I was in school for social work, we always talked about helping clients create a toolbox for coping with their mental health symptoms. I figured a toolbox for health issues would be useful too! When I'm in the throes of pain, I don't always remember all of my tricks for relief. I'm always struggling to remember and I do not feel like staring at a computer screen for help.
Today I'm going to discuss the migraine toolbox that I put together.
DIY Migraine Relief Kit
Supplies listed below may include affiliate links to the products.
I used a plastic shoebox and made a labeled it with my instructions. Some of these items I can put into the box and others I'll need to fetch when I need them (ie. an ice pack).
Lavender, Peppermint, Eucalyptus Essential Oil
Ice Packs
Wet, Cold Washcloth
Tylenol
Progressive Relaxation
Hydrate
Ear plugs
Eye mask
Sleep
Detox Bath: Add Apple Cider Vinegar or Epsom Salts or Baking Soda to your bath.
Don't skip meals: Eat something every 3 hours. If you've identified migraine triggers, avoid those foods.
Stretching areas that appear tight (neck, shoulders, etc)
Magnesium
Scalp massage
Acupuncture
Physical Therapy
Chiropractor
*Note: Please check with a doctor before using any of these and look to see if they are safe during pregnancy/breastfeeding. Certain essential oils aren't safe for pregnancy and/or breastfeeding. I like to check any medications with
The Infant Risk Center
from Texas Tech University. They have a hotline you can call and their website is an excellent resource. And naturally, check to see if they're safe for YOUR body, even if you aren't pregnant or breastfeeding.
Tips and Tricks for Preventing Migraines Naturally
For the detox bath, I like to use warm water, but put a cold wash cloth over my head and eyes. I also turn the lights down and light a candle.
Sometimes I will chew peppermint gum or some ginger for the nausea. If you're chewing something, make sure not to tense your jaw too much. I also suffer from TMJ and jaw tension really triggers my migraines.
For the Trigger Point Release Tool or Neck and Shoulder Relaxer, I can't attest to if they'll work. My physical therapist had me lay on the trigger point release tool for 5 minutes and it certainly didn't hurt. I wasn't in the throes of a migraine at the time though. My thought is this… they appear to be pretty cheap (in terms of supply cost to make them) and the Trigger Point Release Tool I linked is the cheapest one on Amazon… the others were like $50! The neck and shoulder relaxer seemed more reasonably priced. So they might be worth a try, but I feel like both items are really overpriced for what they are. Just my two cents though and quite frankly, if it works then it's worth it!
Sometimes I confuse my sinus headaches with my migraines. I try to make sure I'm treating the right type of headache as I approach sinus issues differently.
Put what works for YOU in your kit. I'm putting what works for me. If you have any more tips, leave a comment below! I love new ideas.
More from the Organization Series:
Thanks for taking the time to read this post! I really appreciate the time you've taken. Please share, like, and pin my post if you enjoyed it. Follow me on social media and subscribe to my email list to keep up to date on all of my latest projects!

Disclosure of Material Connection: Some of the links in the post above are "affiliate links." This means if you click on the link and purchase the item, I will receive an affiliate commission. Regardless, I only recommend products or services I use personally and believe will add value to my readers. I am disclosing this in accordance with the Federal Trade Commission's 16 CFR, Part 255: "Guides Concerning the Use of Endorsements and Testimonials in Advertising."